William Gibson's acclaimed collection of essays, DISTRUST THAT PARTICULAR FLAVOR is now available in the UK as an audiobook! Published by W. F. Howes, here's the synopsis…
Distrust That Particular Flavor — an acclaimed nonfiction collection by William Gibson, bestselling author of NEUROMANCER William Gibson was writing fiction when he predicted the internet. And as his stories bled into reality so he became one of the first to report on the real-world consequences of cyberspace's growth and development.
Now, with the dust settling on the first internet revolution, comes Gibson's first collection of non-fiction — essays from the technological and cultural frontiers of this new world. These and many other pieces, collected for the first time in Distrust that Particular Flavour, are studded with revealing autobiographical fragments and map the development of Gibson's acute perceptions about modern life. Readers of Neal Stephenson, Ray Bradbury and Iain M. Banks will love this book.
The print and eBook editions of DISTRUST THAT PARTICULAR FLAVOR are published in the UK by Penguin.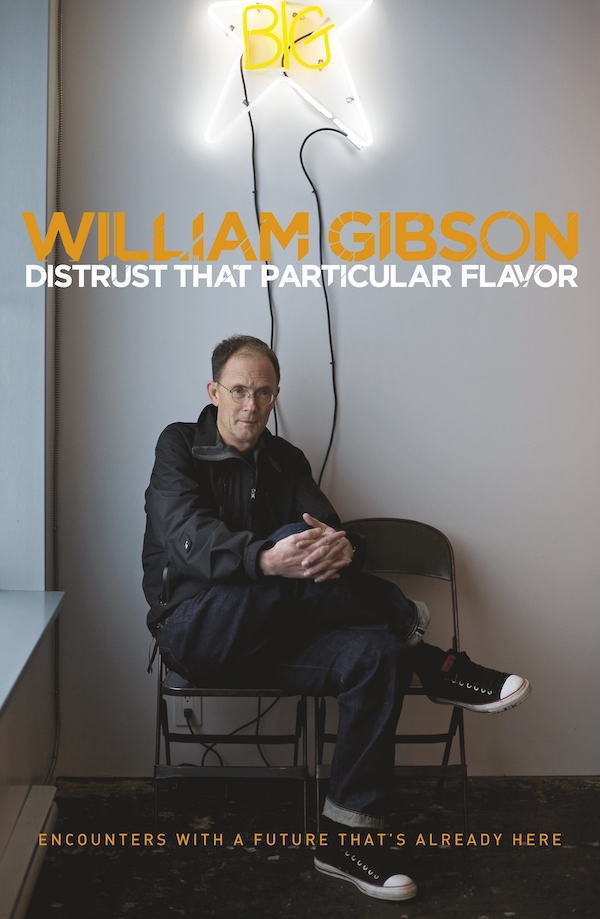 Here are just a few of the great reviews the collection has received…
'Gibson is a prophet and a satirist, a black comedian and an astounding architect of cool. He's also responsible for much of the world we live in.' — Spectator
'William Gibson's collected essays mark him out as a remarkable visionary.' — Guardian
'Gibson is, of course, one of our greatest science-fiction writers, exalted for his talent for depicting futures that are just around the corner… Gibson's writing enters the bloodstream like a drug, producing a mild hallucinogenic effect that lasts for hours… Such is the power of his prose that when I glanced up from the pages of this book and surveyed the street-side around me, I felt as if I were wearing Gibson-glasses…' — New York Times
'While his dark and glittering novels still provide the best introduction to his work for newcomers, anyone already in thrall to his sidelong perspective on the world will find lots to enjoy here.' — The Telegraph
'William Gibson is one of our finest science fiction authors, because he knows that people are the strangest products science has ever produced. And his new essay collection, DISTRUST THAT PARTICULAR FLAVOR, gives us insight into how he came to understand that so well, when many other SF authors struggle to see it. DISTRUST does not disappoint: Gibson completists will definitely need the book, but I also recommend it for Gibson newbies who want to get a grip on where he's coming from. Fans of Gibson's voice will recognize in his non-fiction the luminous, open-ended sound of his novels. Part of that sound comes from the nature of his ideas; the rest, from his skill in bringing the dream-state of our culture to us in lucid yet elusive prose… Gibson's fiction is in some ways deeply autobiographical: after reading this collection of lovely essays, it's clear where his characters get their joy for art, music, The Footage, and blue jeans of inscrutable provenance.' — io9.com
'… it's a testament to Gibson's clinical skills as a writer (and first-class observer) that he can make a fleeting, long-ago first impression sound like a revelation, albeit one on a very deliberately small scale… for all Gibson's self-effacement, he has highly evolved powers of observation… Though he's often lauded as a big-picture man, these pieces make one thing clear: He's even better with the little details.' — Onion AV Club
Zeno represents William Gibson in the UK and Commonwealth, on behalf of Nell Pierce at Sterling Lord Literistic.