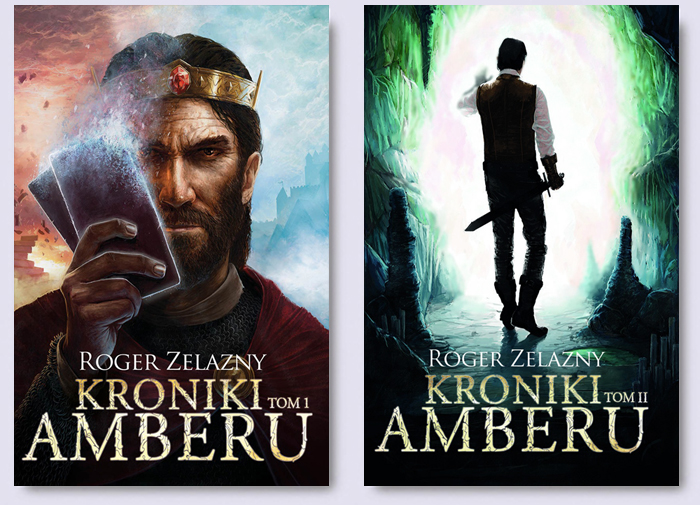 Roger Zelazny's Chronicles of Amber fantasy series is available in Poland in two omnibus editions! Published by Zysk i S-Ka Wydawnictwo as KRONIKI AMBERU TOM I and TOM II, here's the synopsis for the first volume…
Zielone oczy, ciemne włosy, łuskowe rękawice, miecz przy boku i peleryna spięta klamrą. Oto Corwin, książę Amberu. Przeżył kilkaset lat na Ziemi, a dziś wraca, by walczyć o tron prawdziwego świata.
Jedynym prawdziwym światem jest Amber, natomiast pozostałe, w tym i rzeczywistość ziemska, to światy-cienie.
Istnieją dwa światy — Amber i Dworce Chaosu. Pomiędzy nimi znajduje się nieskończona liczba cieni — rzeczywistości równoległych, które są tylko bladym odbiciem prawdziwych światów. Prawowitym następcą tronu Amberu jest książę Corwin. Na skutek wypadku stracił pamięć i nieświadom tego, kim jest, spędził na Ziemi wiele stuleci. Kiedy nagle okazuje się, że jeden z jego krewniaków chce go zabić, Corwin wie, że musi zrobić wszystko, by przypomnieć sobie swoją przeszłość. Dowiaduje się, że jego rodzina posiada niezwykłe zdolności, pozwalające na kontrolowanie rzeczywistości i podróżowanie pomiędzy wymiarami. Corwin postanawia wyjaśnić tajemnicę zniknięcia swego ojca, króla Oberona, i staje do brutalnej walki o należny mu tron.
The Chronicles of Amber includes the following novels: NINE PRINCES OF AMBER, THE GUNS OF AVALON, SIGN OF THE UNICORN, THE HAND OF OBERON, COURTS OF CHAOS, TRUMPS OF DOOM, BLOOD OF AMBER, SIGN OF CHAOS, KNIGHT OF SHADOWS and PRINCE OF CHAOS. Zelazny's Chronicles of Amber was also recently published in China (covers below). Here's a short English-language synopsis for the series…
Amber is the one real world, casting infinite reflections of itself – shadow worlds, which can be manipulated by those of royal Amberite blood. But the royal family is torn apart by jealousies and suspicion; the disappearance of the patriarch Oberon has intensified the internal conflict by leaving the throne apparently for grabs; and amnesia has robbed Corwin, Crown Prince of Amber his memory — even the fact that he is rightful heir to the throne.
Zeno represents Roger Zelazny in translation, on behalf of the Zelazny Estate.