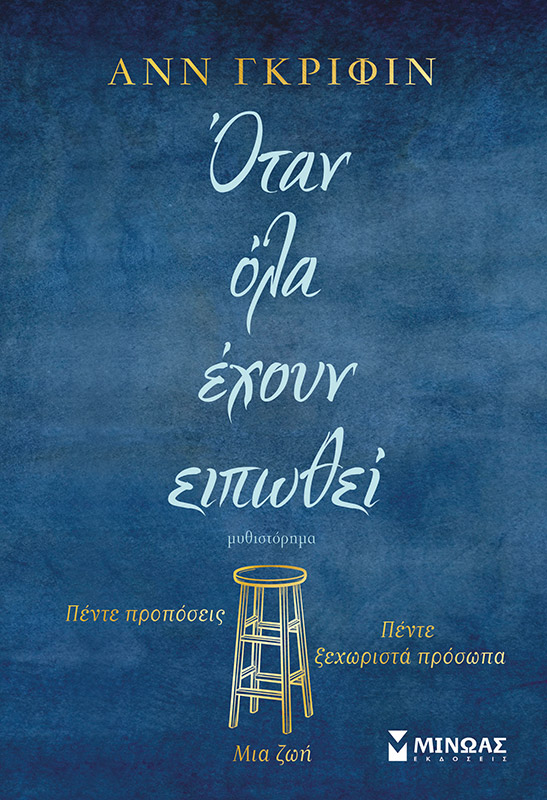 We're very happy to report that Anne Griffin's acclaimed, best-selling debut novel, WHEN ALL IS SAID continues its global conquest! A new Greek edition is now available, published by Εκδόσεις ΜΙΝΩΑΣ as Όταν όλα έχουν ειπωθεί. Here's the synopsis…
Μόλις κυκλοφόρησε, από τις εκδόσεις Μίνωας, το συγκινητικό και εντυπωσιακό βιβλίο της Ανν Γκρίφιν, το οποίο έχει χαρακτηριστεί ως το ντεμπούτο του 2019 από το περιοδικό Publishers Weekly. Το πρώτο βιβλίο της Ανν Γκρίφιν, Όταν όλα έχουν ειπωθεί, παραμένει από τις αρχές του 2019 το No 1 Best Seller στην Ιρλανδία, ενώ έχει συμπεριληφθεί στο Τοp 10 της Amazon.co.uk στη σύγχρονη λογοτεχνία και αποτελεί ένα από τα 43 πιο δημοφιλή αναγνώσματα του Goodreads.
Αν διάλεγες πέντε ξεχωριστά πρόσωπα που σημάδεψαν  τη ζωή σου, ποια θα ήταν αυτά; Αν σήκωνες το ποτήρι σου για να κάνεις μια πρόποση στο καθένα από αυτά,  τι θα τους έλεγες; Και τι θα είχες μάθει για τον εαυτό σου  όταν όλα θα είχαν ειπωθεί;
Στο μπαρ ενός πολυτελούς ξενοδοχείου σε μια μικρή πόλη της Ιρλανδίας κάθεται ο ογδοντατετράχρονος Μόρις Χάνιγκαν, έτοιμος να διηγηθεί την ιστορία του. Μόνος, ως συνήθως, σε μια βραδιά θα κάνει πέντε προπόσεις σε πέντε ανθρώπους που σήμαιναν πολλά για αυτόν και καθόρισαν την πορεία της ζωής του. Μέσα από τις ιστορίες που διηγείται –συναισθήματα που ποτέ δεν εκδηλώθηκαν, μια μυστική, καλά κρυμμένη τραγωδία, μια βαθιά αγάπη που ποτέ δεν εκφράστηκε– η ζωή ενός άντρα ξεδιπλώνεται με ένταση, ειλικρίνεια και γενναιότητα.
Συγκινητικό και συμπονετικό, το ντεμπούτο της πολλά υποσχόμενης νέας συγγραφέως της Ιρλανδίας είναι εντυπωσιακό. Η φωνή του Μόρις Χάνιγκαν θα συνεχίσει να αντηχεί ακόμα και όταν ολοκληρωθεί η ανάγνωση του βιβλίου, αφότου όλα θα έχουν ειπωθεί.
The novel is published in the UK and Ireland by Sceptre, in North America by St. Martin's Press, and widely in translation. Here's the English-language synopsis…
'I'm here to remember – all that I have been and all that I will never be again.'
At the bar of a grand hotel in a small Irish town sits 84-year-old Maurice Hannigan. He's alone, as usual -though tonight is anything but. Pull up a stool and charge your glass, because Maurice is finally ready to tell his story.
Over the course of this evening, he will raise five toasts to the five people who have meant the most to him. Through these stories – of unspoken joy and regret, a secret tragedy kept hidden, a fierce love that never found its voice – the life of one man will be powerfully and poignantly laid bare.
Heart-breaking and heart-warming all at once, the voice of Maurice Hannigan will stay with you long after all is said.
Here are just a few of the great reviews the novel has received so far…
'A hugely enjoyable, engrossing novel, a genuine page-turner. Maurice is a fabulous character, wonderfully flawed and completely engaging; his voice is familiar and real, full of sadness and regret and defiance, and unexpected tenderness.' — Donal Ryan, award-winning author of The Spinning Heart
'[An] impressively confident debut … Maurice Hannigan emerges as an engaging, compassionate creation' — Guardian
'Griffin's portrait of an Irish octogenarian provides a stage for the exploration of guilt, regret, and loss, all in the course of one memorable night.' — Kirkus
'Maurice's humor, his keen observations on class and family, and his colloquial language, as well as Griffin's strong sense of place, create the feeling of a life connected to many others by strands of affection and hatred.' — Publishers Weekly
'The most impressive aspects of this first novel from the pen of prize-winning short-story writer Anne Griffin are its rich, flowing prose, its convincing voice, and its imaginative and clever structure. She has complete mastery of her quite complex plot, and manages to imbue her sizeable cast of diverse characters with life and energy… Griffin is a writer of unusual confidence and authority, and a welcome arrival to the literary scene.' — Irish Times
'Anne Griffin's debut novel is a must read. Beautifully observed, masterful story telling – stunning!' — Graham Norton
'An extraordinary novel, a poetic writer, and a story that moved me to tears… There is something special here.' — John Boyne
'Beautiful. Intimate. Tearful. Aching and lyrical. So simply and beautifully told.' — Louise Penny