Some more James P. Blaylock news! Following on from Monday's announcement that two of the author's Langdon St. Ives novellas have been published as eBooks, we are happy to also report that BENEATH LONDON, the fourth novel in the series, is out now in Russia! Published by Аркадия as Подземелья Лондона, here's the synopsis…
Внезапное обрушение набережной Темзы открывает проход в таинственный подземный мир Лондона. Аристократ-изобретатель Лэнгдон Сент-Ив и его друзья решают исследовать неизвестные просторы, не зная, что им противостоит хладнокровный гений зла, перед которым демонический доктор Нарбондо покажется сущим ребенком! На стороне психопата-душегуба весь преступный мир британской столицы, смертоносные изобретения вивисектора Пиви и даже грибы-вампиры. Убийства и похищения ни в чем не повинных людей следуют одно за другим… Сумеет ли Сент-Ив избежать уготованной ему печальной участи и восстановить мир и покой на улицах Лондона…?

Аркадия has also published the first three novels in the series: Гомункул (HOMUNCULUS), Машина лорда Кельвина (LORD KELVIN'S MACHINE) and Айлсфордский череп (THE AYLESFORD SKULL).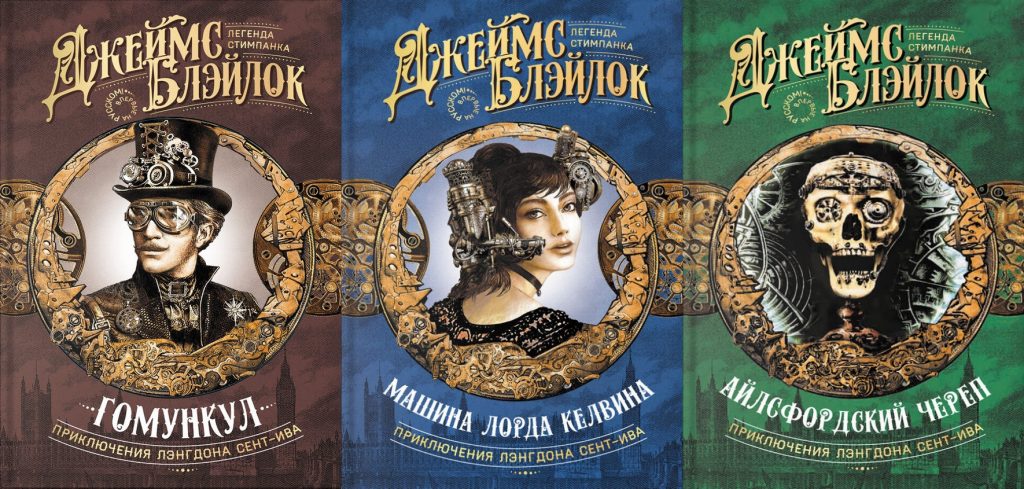 The novels are published in the UK and North America by Titan Books. Here's the English-language synopsis for BENEATH LONDON…
The collapse of the Victoria Embankment uncovers a passage to an unknown realm beneath the city. Langdon St. Ives sets out to explore it, not knowing that a brilliant and wealthy psychopathic murderer is working to keep the underworld's secrets hidden for reasons of his own.
St. Ives and his stalwart friends investigate a string of ghastly crimes: the gruesome death of a witch, the kidnapping of a blind, psychic girl, and the grim horrors of a secret hospital where experiments in medical electricity and the development of human, vampiric fungi, serve the strange, murderous ends of perhaps St. Ives's most dangerous nemesis yet.


Here are just a few of the many great reviews the Langdon St. Ives series has received…
'… the fastest, funniest, and most colorful and grotesquely horrifying novel that could ever be written about Victorian London.' — Tim Powers on HOMUNCULUS
'… every page is crammed with evidence of Blaylock's feverishly Gothic imagination. Think Charles Dickens by way of Mervyn Peake and M. John Harrison, and you'll have some notion of what's in store. The wheels of the plot spin manically fast, but at the same time the weight of description makes everything feel as if it's happening in slow motion. That might sound like a criticism, but the effect is strangely impressive and nightmarish. A steampunk Titus Groan.' — Starburst on HOMUNCULUS
'St. Ives's journey through time is very well handled, at once playful and thoughtful' — Publishers Weekly on LORD KELVIN'S MACHINE
'Blaylock allows us to see the mundane world through new eyes, to perceive the familiar as strange, and therefore exciting.' — Charles de Lint on LORD KELVIN'S MACHINE
'Nerve-wrenching, deeply moving, and sparked with comic touches… brilliantly achieved.' — Locus on LORD KELVIN'S MACHINE
'James P Blaylock has been underpublished on this side of the Atlantic, a state of affairs Titan are addressing with THE AYLESFORD SKULL (£7.99), the first of three titles by one of the founders of the steampunk genre… Blaylock throws in all the furniture of the genre: derring-do and cliffhangers, a vivid portrayal of Victorian London, a gallery of grotesque characters and the obligatory airship, but the strength of the novel is his rendering of St Ives caught between his love of the chase and his commitment to family.' — Guardian
'St. Ives has to be one of the most fleshed out Victorian characters ever written, and I'm sincerely hoping that Blaylock isn't finished with this scientist adventurer. THE AYLESFORD SKULL can easily stand alone without any knowledge of Blaylock's previous steampunk stories, but you'll want to hunt down additional St. Ives tales, I'm for certain.' — Wired.com