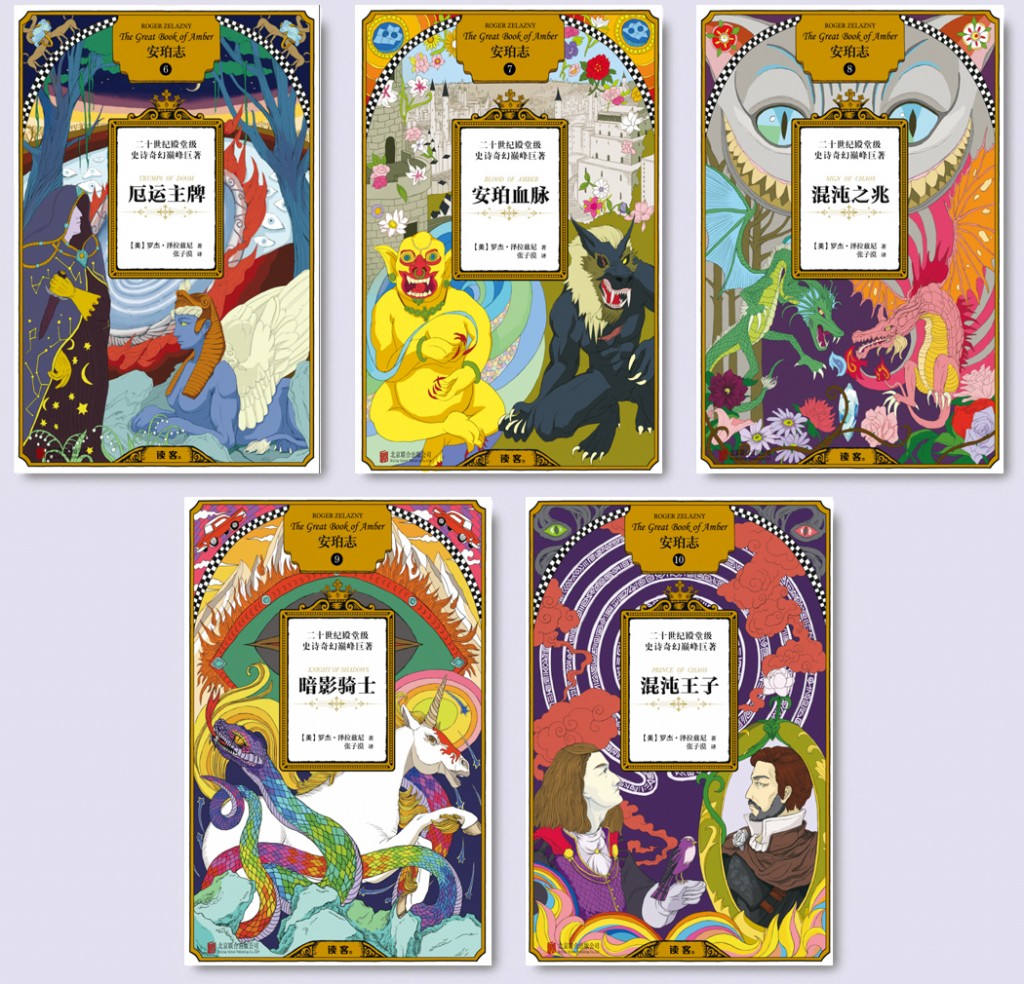 A year ago, we shared the first five Chinese covers for Roger Zelazny's classic Chronicles of Amber (安珀志) series. We're very pleased to now be able to share with you the final five, eye-catching covers (above). Published by Dook in the new year, the new covers are for TRUMPS OF DOOM (厄运主牌), BLOOD OF AMBER (安珀血脉), SIGN OF CHAOS (混沌之兆), KNIGHT OF SHADOWS (暗影骑士) and PRINCE OF CHAOS (混沌王子).
Here's the synopsis for 厄运主牌 (TRUMPS OF DOOM)…
科温的儿子梅林一直在影子中追寻父亲的足迹,在地球上也已生活多年,但每一年的4月30日,他都会遭到莫名的攻击,有人似乎想要置他于死地。在死于非命的女友家里,梅林无意间发现了几张纸牌,这些纸牌成了他解开谜团的线索。在他穿越影子寻求真相的途中,依然不断遭到骚扰、威胁和袭击,真相则变得愈加模糊了。梅林终于了解到,女友之死和每年暗杀行为的始作俑者是同一人,而他的目标,似乎是梅林的秘密发明——鬼轮。
And the English-language synopsis…
Merle Corey is a brilliant young computer designer in San Francisco. But, he is also Merlin, son of Corwin, vanished prince of Amber, and heir to his father's wonderous powers. And, someone is determined to kill him. Now he will begin a desperate race through Shadow, not only to escape the mysterious force that threatens his life, but to protect the deadly secret that could destroy both his worlds.
Zeno represents Roger Zelazny in translation, on behalf of the Zelazny Estate.