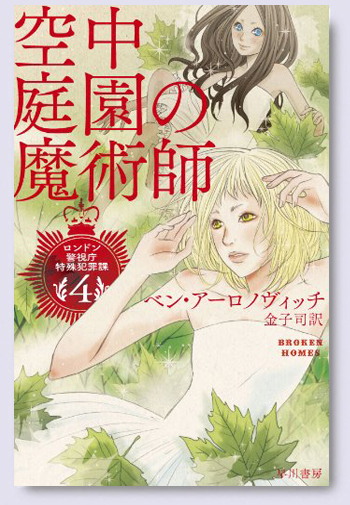 Today, we want to share with you the Japanese cover for Ben Aaronovitch's BROKEN HOMES, the fourth novel in his Peter Grant/Rivers of London urban fantasy series. Published by Hayakawa, 空中庭園の魔術師 is available now. Here's the Japanese synopsis…
ロンドン警視庁特殊犯罪課4 魔術に魅せられた建築家が設計したスカイガーデン・タワーに隠された、驚くべき秘密!?
きっかけはロンドン郊外で起きた交通事故だった。車内にあった謎の血痕から、やがて顔を散弾でつぶされた女性の死体が森の中で発見される。そして都市計画を担当する役人の不可解な投身自殺に、身体を内側から焼かれたプロの金庫破りの死体…すべての事件に"顔のない男"の魔手が見てとれた。事件を追ううちに、ピーターとレスリーはドイツから亡命した高名な建築家が設計した高層住宅"空中庭園(スカイガーデン)"へと行き着くが…
For those non-Japanese speakers, here's the English-language synopsis…
A mutilated body in Crawley. Another killer on the loose. The prime suspect is one Robert Weil; an associate of the twisted magician known as the Faceless Man? Or just a common or garden serial killer?
Before PC Peter Grant can get his head round the case a town planner going under a tube train and a stolen grimoire are adding to his case-load.
So far so London.
But then Peter gets word of something very odd happening in Elephant and Castle, on an housing estate designed by a nutter, built by charlatans and inhabited by the truly desperate.
Is there a connection?
And if there is, why oh why did it have to be South of the River?
Full of warmth, sly humour and a rich cornucopia of things you never knew about London, Aaronovitch's series has swiftly added Grant's magical London to Rebus' Edinburgh and Morse's Oxford as a destination of choice for those who love their crime with something a little extra.
BROKEN HOMES is published in the UK by Gollancz, as are the first three novels in the series – RIVERS OF LONDON, MOON OVER SOHO, and WHISPERS UNDERGROUND. Gollancz will also be published the highly-anticipated fifth book in the series, FOXGLOVE SUMMER, later this year. The series is published in Germany by DTV, and France by J'ai Lu. The first three novels were published by Del Rey Books in the US, and the second three novels are to be published by DAW Books.
For you enjoyment, here are the Japanese covers for the first three titles in the series…