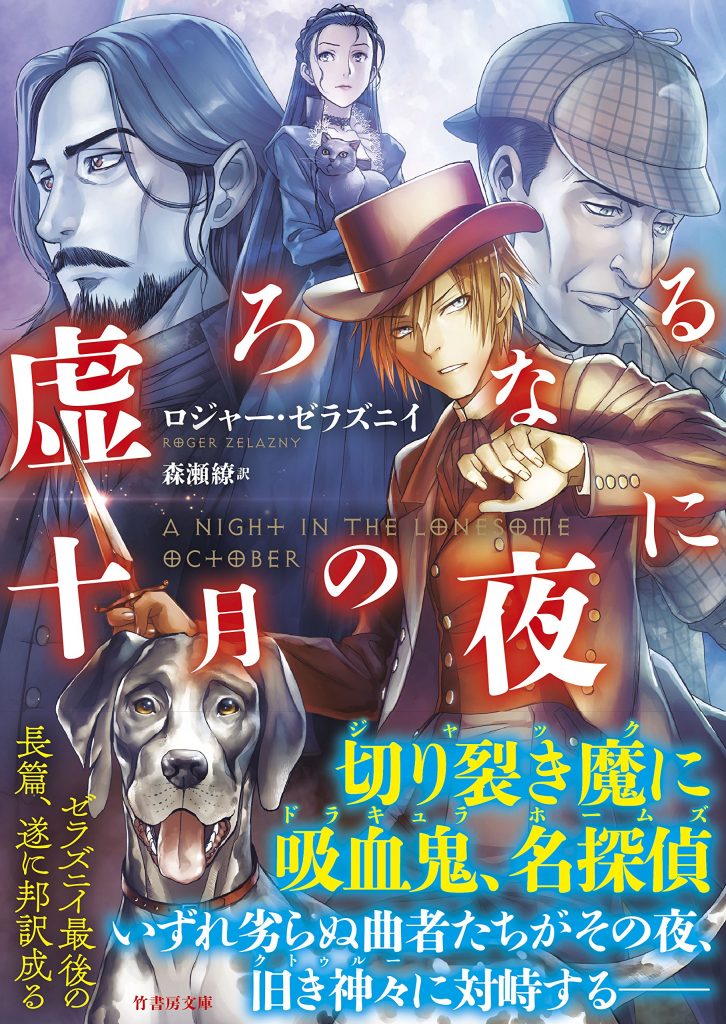 In case you missed it, Roger Zelazny's acclaimed, fan-favourite novel A NIGHT IN THE LONESOME OCTOBER is available in a Japanese edition. Published by 竹書房 (Takeshobo) as 虚ろなる十月の夜に, here's the synopsis…
切り裂き魔(ジャック)に吸血鬼(ドラキュラ)、名探偵(ホームズ)
いずれ劣らぬ曲者たちが旧き神々(クトゥルー)に対峙する――
十月の終わりの万聖節前夜(ハロウィーン)に、そのゲームは行われる。 《閉じる者(クローザー)》と《開く者(オープナー)》、旧き神々を崇拝する者たちとそれを阻止せんとする者たちの、 世界の変革と保持を巡る戦い──《大いなる儀式》が。
御主人(マスター)切り裂きジャックと使い魔である犬のスナッフもまた、《大いなる儀式》の参加者である。彼らが来た村には、ドラキュラ伯爵、フランケンシュタイン博士らの姿があり、使い魔たちは儀式へ向け情報を集めている。スナッフは魔女ジルの使い魔である猫のグレイモークと頻繁に情報を交換するが、果たして彼女たちが味方なのかすらもわからないのだ。そして儀式の日が迫る中、参加者たちの周りに名探偵シャーロック・ホームズの影が見え隠れする──。
著名なキャラクターたちとクトゥルー神話を融合させ、ネビュラ賞候補作ともなった、奇想横溢のゼラズニイ最後の長篇。
A NIGHT IN THE LONESOME OCTOBER is published in the UK by Farrago Books. Described by Neil Gaiman as 'One of Zelazny's most delightful books', here's the English-language synopsis…
All is not what it seems.
In the murky London gloom, a knife-wielding gentleman named Jack prowls the midnight streets with his faithful watchdog Snuff – gathering together the grisly ingredients they will need for an upcoming ancient and unearthly rite. For soon after the death of the moon, black magic will summon the Elder Gods back into the world. And all manner of Players, both human and undead, are preparing to participate.
Some have come to open the gates. Some have come to slam them shut. And now the dread night approaches – so let the Game begin.
The novel has also been translated widely; with recent new editions in Italy, Russia, Italy, and Ukraine.