Today, we wanted to draw your attention to the Korean editions of Roger Zelazny's Chronicles of Amber (앰버연대기). The first five novels are available, published by 달다 (Aladin):
NINE PRINCES IN AMBER — 앰버의 아홉 왕자
THE GUNS OF AVALON — 아발론의 총
SIGN OF THE UNICORN — 유니콘의 의미
THE HAND OF OBERON — 오베론의 손
THE COURTS OF CHAOS — 혼돈의 궁정, 완결
All five of the novels were translated by 최용준.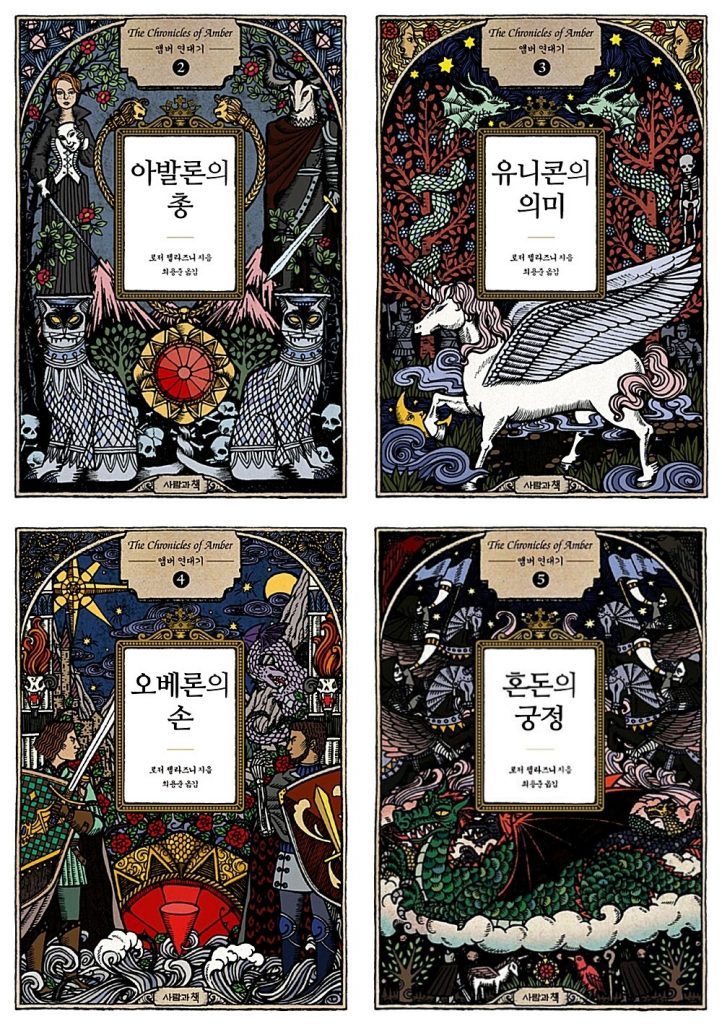 Here's the synopsis for the first novel, NINE PRINCES IN AMBER…
로저 젤라즈니의 판타지 소설. 1970년 다섯 권으로 이루어진 <앰버 연대기>의 1권 <앰버의 아홉 왕자>는 출간되자마자 판타지 팬들의 열렬한 지지를 받으며 <반지의 제왕> 이래 최고의 걸작 판타지라는 평가를 획득한 바 있다. 수차례 휴고 상과 네뷸러 상을 수상한 작가는 자신이 창조한 이 마법의 세계를 통해 상업적으로 큰 성공을 거두기도 했다.
완간이 되자마자 고전의 반열에 오른 작품이다. 우주의 원형인 진정한 세계 앰버와 앰버의 모습이 반영된 그림자 세계를 지배하는 절대왕국의 왕자들, 그들이 지닌 신적인 능력의 정수인 패턴을 바탕으로 <앰버 연대기>는 판타지 문학의 전통적인 소재인 질서와 혼돈의 대결을 다루고 있다.
이 책의 가장 큰 매력은 반전에 반전을 거듭하는 치밀한 플롯과 많은 철학적 상징과 은유, 현학과 아이러니한 상징으로 가득 찬 문학적 인유, 강렬한 신화적 상징성, 과학적 사유를 시적 상상력으로 그려낸 독창적인 문체에 있다. 독자와 평단, SF소설과 판타지소설계 등 가치관이 양립하는 서로 다른 집단들의 갈채를 받으며 화려하게 등장한 소설.
Here's the English-language synopsis for the novel…
Amber is the one real world, casting infinite reflections of itself – Shadow worlds, that can be manipulated by those of royal Amberite blood. But the royal family is torn apart by jealousies and suspicion; the disappearance of the Patriarch Oberon has intensified the internal conflict by leaving the throne apparently up for grabs.
In a hospital on the Shadow Earth, a young man is recovering from a freak car accident; amnesia has robbed him of all his memory, even the fact that he is Corwin, Crown Prince of Amber, rightful heir to the throne – and he is in deadly peril…
The Chronicles of Amber are available in the UK, published as two omnibuses by Gollancz, each containing five novels.