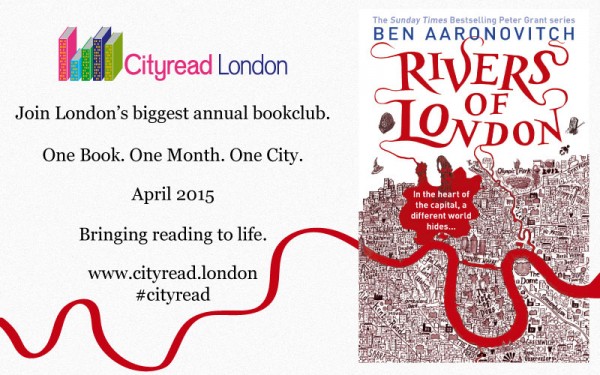 Here are Ben Aaronovitch's events for next week, continuing the tremendously successful RIVERS OF LONDON Cityread London month-long celebrations…
2:30-4:00pm — Kensington & Chelsea: Kensington Central Library — Ben will speak about RIVERS OF LONON, followed by a Q&A and book signing. You can book tickets for the event here.
6:30-8:00pm — Brent: Kilburn Library — Author talk
6:00-7:30pm — Hounslow: Chiswick Library — Author talk
2:00-4:00pm — Hammersmith & Fulham: Hammersmith Library — Author talk
6:00-7:30pm — Westminster: Charing Cross Library — Author talk
2:30-4:30pm — Ealing Central Library — Author talk
7:30-8:30pm — Hillingdon: The Great Barn —'Talking about his book Rivers of London, author Ben Aaronovitch will be interviewed by a local competition-winning student, scenes from his book will be acted out in a special Punch and Judy Show, and there will be opportunity for book signing. All this takes place in the beautiful Great Barn at Manor Farm in Ruislip. Tickets are free and can be booked in advance from any Hillingdon Library.' More details here.
11:15am-12:45pm — Harrow: Roxeth Library — Reading Group Session
6:00-8:00pm — Barnet: Chipping Barnet Library — 'Ben will be talking about his books, answering questions and signing. Contact the library on 020 8359 4040 for more information. Entry is FREE but book your place early to avoid disappointment!' More details here.
4:00-5:00pm — Camden: Swiss Cottage Library Gallery — 'Pictures from archive echoing themes of book and creative writing submissions displayed' and Author talk
A city-wide celebration of reading, Cityread London's 2015 title is Ben's magnificent debut, RIVERS OF LONDON. You can find more details of Ben's full schedule on his website. We mentioned in the past that there was a Cityreads London Goodreads group dedicated to RIVERS OF LONDON – so, if you've been enjoying the coverage, don't live in London, and want to take part, that's a great place to join in the fun.
The Peter Grant series is published in the UK by Gollancz, and so far includes RIVERS OF LONDON, MOON OVER SOHO, WHISPERS UNDERGROUND, BROKEN HOMES and FOXGLOVE SUMMER.
As a bonus, here's a short video-clip from London Live about the Cityread event and RIVERS OF LONDON…
And another clip, this time an interview with Ben, from 1000 Londoners…