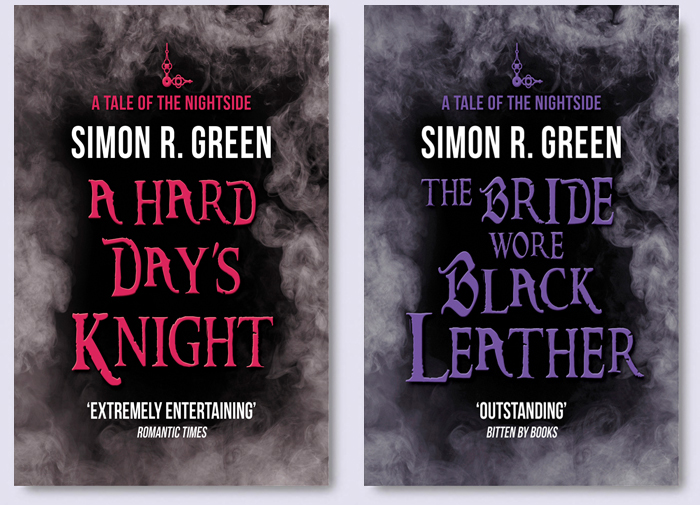 We're very happy to report that A HARD DAY'S KNIGHT and THE BRIDE WORE BLACK LEATHER are out in the UK today! The novels are the final two eBook re-issues in Simon R. Green's critically-acclaimed Nightside series, published by Jo Fletcher Books. Here's the synopsis for A HARD DAY'S KNIGHT…
John Taylor is a private detective – of sorts. He's good at finding things, though he wouldn't know a clue if he fell over it. But now something has found him, and he wishes it hadn't.
Excalibur, the legendary sword of King Arthur. It just turned up in the mail one day, and Taylor has no idea why – though he's certain it is a portent of perilous times to come. To find out why he was chosen to wield the sword, Taylor must meet with the Last Defenders of Camelot.
But to do so, he must first travel to a place he fears more than even the Nightside…
London Proper.
The Nightside series includes: SOMETHING FROM THE NIGHTSIDE, AGENTS OF LIGHT AND DARKNESS, NIGHTINGALE'S LAMENT, HEX AND THE CITY, PATHS NOT TAKEN, SHARPER THAN A SERPENT'S TOOTH, HELL TO PAY, THE UNNATURAL INQUIRER, JUST ANOTHER JUDGEMENT DAY, THE GOOD THE BAD THE UNCANNY, A HARD DAY'S NIGHT and THE BRIDE WORE BLACK LEATHER.
Here are just a couple of reviews for the final two Nightside novels…
'Readers who prefer their gore with huge melodramatic flourishes and a side of slyly amusing repartee will find John Taylor at least the equal of Jim Butcher's Chicago wizard PI Harry Dresden.' — Kirkus on A HARD DAY'S KNIGHT
'… superlative… ratchets up the stakes for series protagonist John Taylor in an intricate and action-filled plot that seamlessly blends crime and the supernatural… The pace never flags and the sardonic Chandleresque narration is perfectly suited to the Nightside's fantastical mean streets.' — Publishers Weekly on THE BRIDE WORE BLACK LEATHER
'This is an extremely entertaining read full of hilarious in-jokes…' — RT Book Reviews on A HARD DAY'S KNIGHT
'Simon R. Green walks us through his most thoroughly developed setting and its vast assortment of strange, devious, and downright weird characters… There are huge payoffs in the narrative and lots of affectionate farewells… Recommended.' — SF Revu on THE BRIDE WORE BLACK LEATHER
Later this year, Jo Fletcher Books will also be re-issuing Green's Secret Histories series. Check back in a month or so for more details.
Zeno represents Simon R. Green in the UK and Commonwealth, on behalf of the JABberwocky Literary Agency in New York.