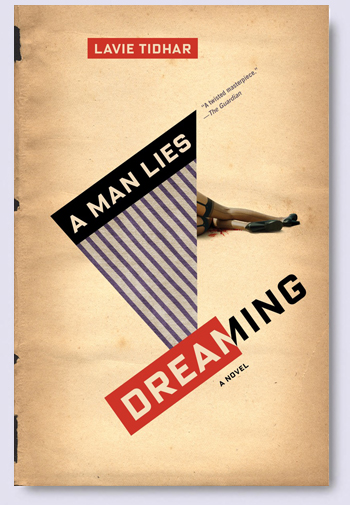 Lavie Tidhar's award-winning A MAN LIES DREAMING is out tomorrow in the US! Published by Melville House, here's the synopsis…
A noir thriller with a twist and a Holocaust novel infused with the spirit of shund—the dark Israeli pulp fiction that thrived in the years after World War II — the British Fantasy Award-shortlisted A Man Lies Dreaming is a radical literary experiment that brings alternate history to life. Lavie Tidhar has reimagined the rainy, atmospheric energy of London in the 1930s, and the troubled private detective with an unspeakable secret who roams its streets. As A Man Lies Dreaming unfolds and more of its mysteries come to the surface, we find ourselves drawn into a novel at once gripping and profoundly unsettling.
Critically-acclaimed in the UK already, the novel has also been garnering great praise in the US, too…
'A Chandler-esque mystery… a jarring tale of a grim, gray alternative world… Seldom will readers come across fantasy as well conceived and well written as this exceptional novel.' — Library Journal (Starred Review)
'When Tidhar writes of the Holocaust it is with brutal accuracy and a deep sensitivity… it's poetic and terrible… Many will find elements of this story deeply disturbing, not the least of which is a possible sympathy to Wolf… To top it all of course is Tidhar's voice itself — at times humorous, at times grim but never frivolous and always taught and controlled… As with his previous novels, Tidhar knows how to say a great deal in very little. There is eloquence and gravitas in the sparseness and brevity of noir fiction when it is good, and Tidhar's is quite incredible.' — Tor.com
'Wild, noir-infused alternative history from genre-bender Tidhar… A wholly original Holocaust story: as outlandish as it is poignant.' — Kirkus (Starred Review)
'Everything in this genre-bender works; intriguing historical characters are worked into expertly managed plots, and the visceral noir atmosphere is juxtaposed nicely against the drawing-room world of London's political scene.' — Booklist (Starred Review)
A MAN LIES DREAMING is published in the UK by Hodder, as a Ltd.Ed. by PS Publishing, and in Italy by Frassinelli.