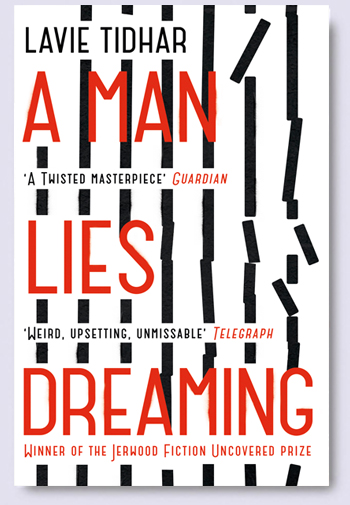 Lavie Tidhar's A MAN LIES DREAMING has racked up yet another award! This time, Ben Summers's composition for the UK edition has won the Academy of British Cover Design Award in Sci-Fi/Fantasy! The award was announced in the Bookseller.
The novel is published in the UK by Hodder, and is out now. Here's the synopsis…
The Man in the High Castle for the 21st century, A MAN LIES DREAMING is the award-winning novel by Lavie Tidhar, the next Philip K. Dick.
Deep in the heart of history's most infamous concentration camp, a man lies dreaming. His name is Shomer, and before the war he was a pulp fiction author. Now, to escape the brutal reality of life in Auschwitz, Shomer spends his nights imagining another world — a world where a disgraced former dictator now known only as Wolf ekes out a miserable existence as a low-rent PI in London's grimiest streets.
An extraordinary story of revenge and redemption, A Man Lies Dreaming is the unforgettable testament to the power of imagination.
Last year, A MAN LIES DREAMING won the Jerwood Fiction Uncovered Award. The novel has also been published as a Limited Edition from PS Publishing, and in Italy via Frassinelli. It is due out in the US next week, published by Melville House (covers below).
Here's just a small selection of the great reviews A MAN LIES DREAMING has received…
'Savagely funny… A MAN LIES DREAMING, by the Israeli-born novelist Lavie Tidhar, has not been published with the fanfare bestowed on Martin Amis's The Zone of Interest or Howard Jacobson's J, but it is their equal for savage humour… Those who enjoy laughter in the dark will relish Tidhar's parade of mordant ironies… This novel is weird, upsetting, unmissable.' 5* — Telegraph
'Like Tarantino, Tidhar may find that some people don't take him seriously. But the joke's on them. Seriousness is the least of it: A MAN LIES DREAMING is a twisted masterpiece.' — Guardian
'Theodor Adorno said that to write poetry after Auschwitz was barbaric. To which I would say, yes, but you can still write an excellent novel. A MAN LIES DREAMING is that novel.' — Philip Kerr
'Absolutely engrossing…a fascinating narrative… a must-read for anyone that likes books that make them think; it is complex, with plenty of meaty themes to mull over…' — A Fantastical Librarian
'It's good. It's damn good… a tight, masterful creation, an unexpectedly moving work.' — Jewish Book Council
'To call this a delightful book, would do it a disservice. None of Shomer's imagined characters are likeable. He has all kinds of misfortunes befall them, especially Wolf. At the start, a reader might wonder why these men who tried to exterminate Jews, have been given a relatively easy exile compared to the life which Shomer and his fellows are experiencing. Shomer, though, has a very devious fate awaiting Wolf… This is a book that fully deserves to be on an awards shortlist.' — British Fantasy Society