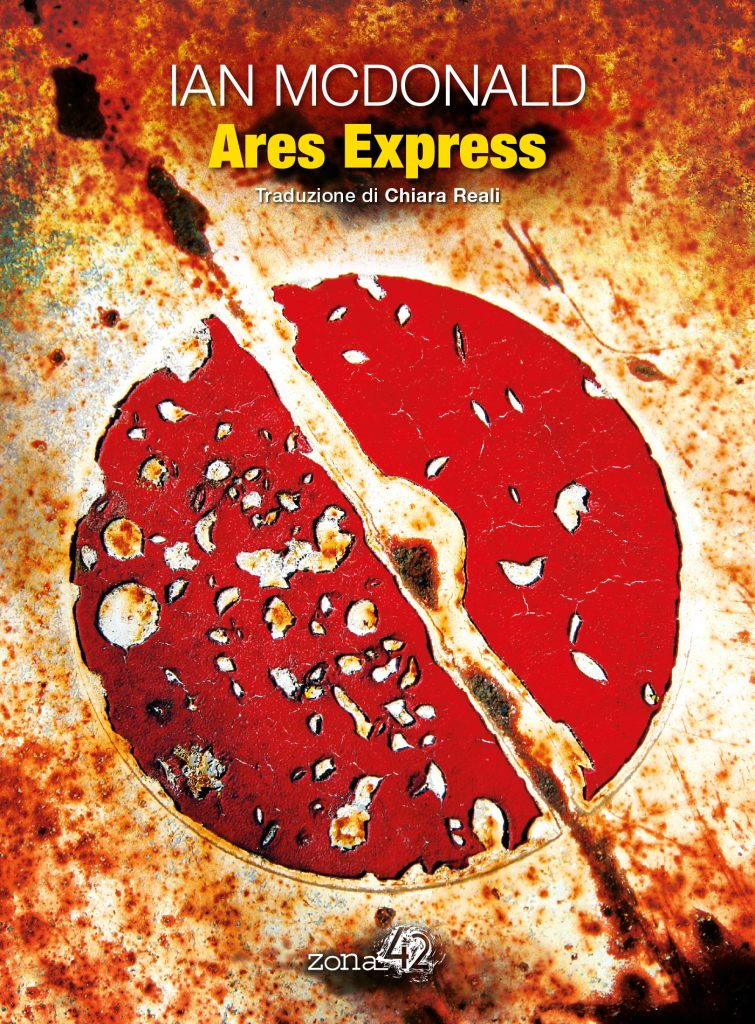 We're delighted to report that Ian McDonald and Lavie Tidhar have both been nominated for the Premio Italia 2019 award for Best International Novel!
Ian McDonald's ARES EXPRESS is published in Italy by Zona 42. Here's the synopsis…
"Dovresti cercare di fermarmi. Dovresti farmi ragionare, dirmi quanto male staranno tutti quanti, e non pensi all'onore della famiglia, e sarà uno scandalo tale che dovranno andare in giro senza tagliarsi i capelli per i prossimi tre anni. Poi, visto che non funzionerà, dovresti chiedermi se so cosa sto facendo e se so dove sto andando e dirmi che quello là fuori è un mondo enorme e pericoloso e che mi farò del male molto in fretta e finirò per tornare con la coda tra le gambe. E quando io ti risponderò che è tutto a posto tu dovresti addolcirti e dirmi che ti mancherò e che mi hai sempre amato e che avevi questo piano brillante di comprarti la libertà e avremmo avuto il nostro treno e saremmo partiti verso il tramonto in una nuvola di vapore."
Immagina treni grandi come quartieri, cattedrali volanti, deserti sconfinati attraversati da binari infiniti e città che si arrampicano per centinaia di piani sotto il tetto del mondo. Immagina una ragazza che vorrebbe solo guidare un treno, la sua gemella invisibile e una Storia da cui dipende il futuro – o i futuri – di un intero mondo. Immagina le meraviglie di un pianeta rutilante di colori, caleidoscopico nei molteplici panorami, con la sua corona di angeli e di intelligenze artificiali, gli artisti anarchici, le città desolate e quelle brulicanti di vita.
Ian McDonald mette in scena un'avventura governata dalle leggi ineluttabili della Narrativa, che — al solito — non sanno che farsene di un'Eroina Esuberante e Intraprendente (Ma Comunque Carina). Riuscirà Sweetness a piegare la Storia alla sua volontà, e a sopravvivere alle sfide che una dopo l'altra le si parano davanti?
Ares Express narra di uno strano mondo, così diverso, eppure così vicino al nostro, un luogo pittoresco e affascinante, dove si mescolano fantascienza e realismo magico, immaginazione e filosofia, azione scatenata e idee straordinarie.
Benvenuti nella vita di Sweetness Octave Glorious Honey-Bun Asiim XII Macchinista. Benvenuti su Marte.
ARES EXPRESS, the second novel in Ian's Desolation Road series, is published in English via the JABberwocky eBook Program. Here's the English-language synopsis…
Taking place in the kaleidoscopic future of Ian McDonald's Desolation Road, this novel is set on a terraformed Mars where fusion-powered locomotives run along the network of rails that is the planet's circulatory system and artificial intelligences reconfigure reality billions of times each second. One young woman, Sweetness Octave Glorious-Honeybun Asiim 12th, becomes the person upon whom the future – or futures – of Mars depends. Big, picaresque, funny; taking the Mars of Ray Bradbury and the more recent, terraformed Marses of authors such as Kim Stanley Robinson and Greg Bear, Ares Express is a wild and woolly magic-realist SF novel, featuring lots of bizarre philosophies, strange, mind-stretching ideas and trains as big as city blocks.
Lavie Tidhar's critically-acclaimed, multi-award-winning and -nominated novel CENTRAL STATION is published in Italy by Acheron Books. Here's the synopsis…
A Tel Aviv, un quartiere popolato da un milione di persone è sorto intorno alla base spaziale Central Station. Umani, robot e i misteriosi Altri sono tutti interconnessi in una pervasiva coscienza digitale chiamata "la Conversazione", e le molteplici culture si scontrano e si confondono fra reale e digitale. La vita può sembrare a buon mercato, ma le informazioni lo sono ancora di più.
Quando Boris Chong torna a Central Station, la ritrova in uno stato di caos. Le strade sono invase dalla droga religiosa chiamata Crucifixation. La sua ex compagna sta allevando un bambino dotato di poteri che lo rendono simile a un nuovo Messia. Suo padre è afflitto da un virus mentale multigenerazionale. Sua cugina è innamorata di un cyborg Robotnik. E una Vampira di Dati vagabonda lo ha seguito fin da Marte…
CENTRAL STATION is published in the UK and US by Tachyon Publications. Here's the English-language synopsis…
A worldwide diaspora has left a quarter of a million people at the foot of a space station. Cultures collide in real life and virtual reality. Life is cheap, and data is cheaper.
When Boris Chong returns to Tel Aviv from Mars, much has changed. Boris's ex-lover is raising a strangely familiar child who can tap into the datastream of a mind with the touch of a finger. His cousin is infatuated with a robotnik — a damaged cyborg soldier who might as well be begging for parts. His father is terminally-ill with a multigenerational mind-plague. And a hunted data-vampire has followed Boris to where she is forbidden to return.
Rising above them is Central Station, the interplanetary hub between all things: the constantly shifting Tel Aviv; a powerful virtual arena, and the space colonies where humanity has gone to escape the ravages of poverty and war. Everything is connected by the Others, powerful alien entities who, through the Conversation — a shifting, flowing stream of consciousness — are just the beginning of irrevocable change.
At Central Station, humans and machines continue to adapt, thrive… and even evolve.