James P. Blaylock's critically-acclaimed Langon St. Ives novellas have been made available in the UK for the first time! Joining a growing number of Jim's back catalog of novels, they are published as eBooks through JABberwocky eBook Program, they are available through most UK e-tailers. Here are the details…
Deep beneath the quicksands of Morecambe Bay lies a shifting graveyard of lost things, long sunk to the sea bottom. Pursued by the nefarious Dr. Narbondo, Langdon St. Ives and his stalwart companions descend beneath the sands in a diving chamber, and amid the debris of human bones and the wreckage of human lives, they search for an alien device, which, in the wrong hands, could change the course of human history and provide Narbondo with the means to enslave mankind…
THE AFFAIR OF THE CHALK CLIFFS
Deep within the cavern-riddled chalk cliffs above the English Channel there brews a threat to the very sanity of the people of Britain. A startling madness infects the members of the Explorer's Club in London, the debacle coinciding with the disappearance of Alice St. Ives and the murder of the lighthouse keeper at Beachy Head. Langdon St. Ives sets out to rescue his wife and to stop the accelerating train of events hurtling he and his friends into a dark tunnel of madness and death.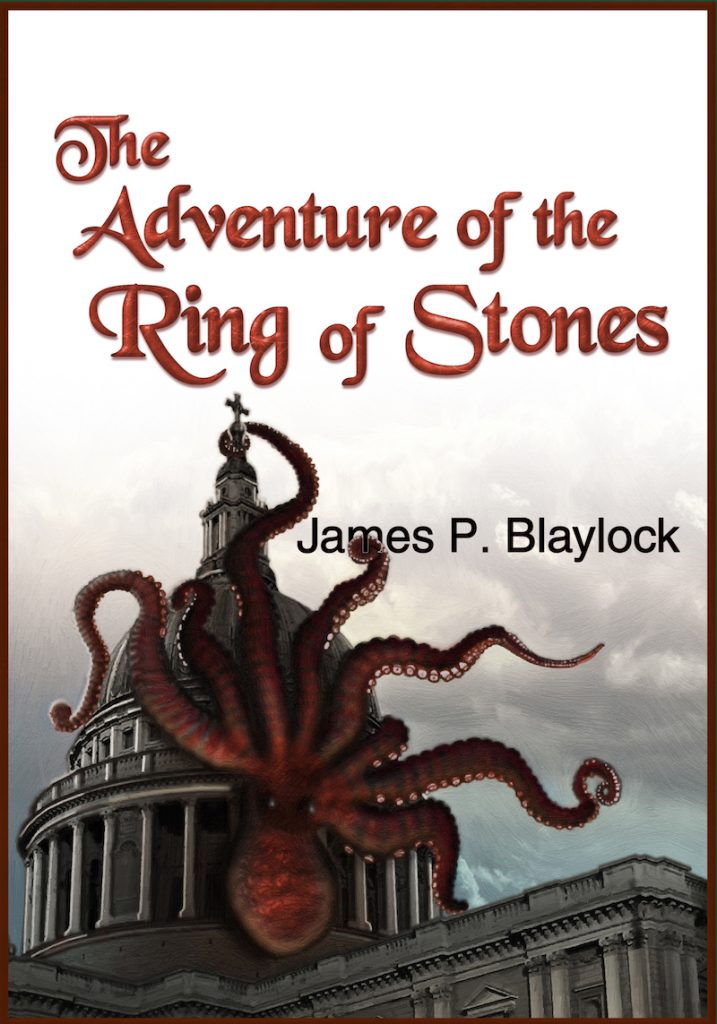 THE ADVENTURE OF THE RING OF STONES
A strange message summons Langdon St. Ives and his companions to the Half Toad Inn in Smithfield, London, and along with the eccentric but fabulously wealthy Gilbert Frobisher, they set out for an uncharted island in the Caribbean, carrying a map that promises a treasure that beggars description. What they find – a terrible, pagan god from the depths of the ocean – leads them back to London, carrying within the hold of Frobisher's steam yacht a fearsome, tentacled menace that threatens to devastate London.
Here are just a couple of reviews that these novellas have received…
'Slight but enjoyable novella… A battered old map, possibly drawn by St. Ives's long-missing companion, Bill Kraken, displays the location of a strange object that plunged to earth years earlier. Hilario Frosticos, longtime nemesis to St. Ives, is also in pursuit, and a series of amusing feints and counterfeints culminates in a frantic race to an underwater grotto. New readers will have no trouble getting oriented…' — Publishers Weekly on THE EBB TIDE
'While many recent novels have picked up the steampunk banner, this one fully delivers, offering action, farce, tender relationships, and prose full of genuine Victorian cadence and flavor.' — Publishers Weekly on THE AFFAIRS OF THE CHALK CLIFFS
'Fans of Blaylock will recognize and savour his trademark whimsy… an homage to the adventure tales of the Victorian era that were the inspiration for contemporary steampunk writing.' — Steampunk Canada on THE ADVENTURE OF THE RING OF STONES
'Has it all: pirates, experimental scientific equipment, double crosses, truly evil bad-guys, shoot-outs on land and the high seas, mythical beasts or not so mythical, coded diaries, erupting volcanoes, uncharted islands, murder, and lots and lots of mayhem. There's also steadfast loyalty, sacrifice, and true friendship. Who could ask for more in a novella? Well, okay, a great story with interesting characters; but that's a given — especially, if you've read other stories with St. Ives and his friends… A page turner from beginning to end and one that will have you engrossed until the final page.' — SF Revu on THE ADVENTURE OF THE RING OF STONES
The Langon St. Ives novels have been published by Titan Books in the UK and US, and so far include: HOMUNCULUS, LORD KELVIN'S MACHINE, THE AYLESFORD SKULL and BENEATH LONDON. The novels have been published in translation in select other territories.