Zeno clients William Gibson and Daryl Gregory have been nominated as finalists for the 2015 Campbell Award! The Award will be given during the Campbell Awards and Conference, which will be held over June 11-14, 2015. The books nominated are:
William Gibson's THE PERIPHERAL, which is published in the UK by Penguin. Here's the synopsis…
Flynne Fisher lives in rural near-future America where jobs are scarce and veterans from the wars are finding it hard to recover. She scrapes a living doing some freelance online game-playing, participating in some pretty weird stuff. Wilf Netherton lives in London, seventy-some years later, on the far side of decades of slow-motion apocalypse. Things though are good for the haves, and there aren't many have-nots left.
Flynne and Wilf are about to meet one another. Her world will be altered utterly, and Wilf's, for all its decadence and power, will learn that some of these third-world types from the distant past can be real badass.
Here's just a small selection from the great reviews THE PERIPHERAL has received…
'Gibson remains as unnervingly prophetic as ever, making his futures feel like they're just around the corner, products of humankind's inability to act when necessary, transforming a sci-fi whodunit into a work of fiction that feels both ahead of its time and frighteningly relevant to today's world.' 9/10* — Starburst
'Dramatic, scary, creepy,violent, and finally satisfying… like any really well-designed thrill ride or mystery tour (or sonnet or string quartet), as soon as you get off, you want to get right on for another go-round.' — Locus
'[A] slow-burning thriller, ambitiously structured on either side of an economic and ecological collapse… All of Gibson's characters are intensely real, and Flynne is a clever, compelling, stereotype-defying, unhesitating protagonist who makes this novel a standout.' — Publishers Weekly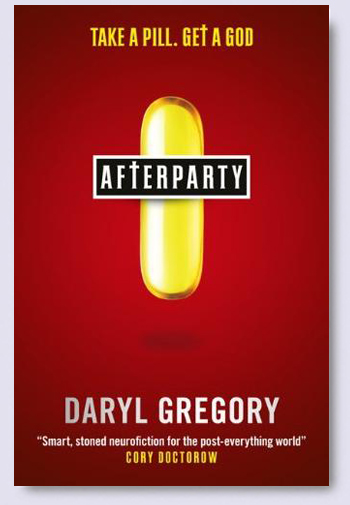 Daryl Gregory's AFTERPARTY, which is published in the UK by Titan Books. Here's the synopsis…
A near-future science fiction crime story about murder, drugs, neuroscience, more drugs, and God. It's Elmore Leonard and Philip K. Dick road-tripping down neural pathways, with Hunter S. Thompson howling in the back seat.
'Numinous' opens up a portal to God – or, at least, a convincing illusion of one. In a world where God is a drug, one woman has to get sober. Lyda Rose was one of the four neuroscientists who helped create Numinous, a breakthrough drug intended to treat schizophrenia. Since unwittingly overdosing on the drug, Lyda has been haunted by visions of an angel she calls Dr. Gloria. Treated in an asylum, Lyda has to remind herself that the doctor is merely a drug- induced manifestation of her own temporal lobe, but the angel is awfully hard to argue with. Afterparty follows Lyda's investigation into a series of Numinous-like overdoses. It is also about the ways that our brains can fool us, often for our own benefit.
Along the way the book asks twenty-first century questions: If personality, sexual orientation, religious belief, and morality can be chemically twisted, what is the self? Does free will exist? And is sin even possible?
Gregory's novels have always received plenty of rave reviews, and AFTERPARTY is no exception. Here are some examples…
'Brilliantly deft writing… A road-trip revelation for a new generation.' — SciFi Now (5* review)
'This taut, brisk, gripping narrative, dazzlingly intercut with flashbacks and sidebars, oozes warmth and wit. A hugely entertaining, surprising and perhaps prophetic package that, without seeming to, raises profound questions about the human mind and the nature of perception.' — Kirkus (Starred Review)
'Daryl Gregory's AFTERPARTY is a fantastic thrill ride, presenting an all-too-real future that upends our own world and replaces it with something far more strange. This is science fiction of the cutting edge, on par with stories such as William Gibson'sNeuromancer, McIntosh's Soft Apocalypse and Orphan Black.' — io9.com
Zeno represents William Gibson and Daryl Gregory in the UK and Commonwealth, on behalf of the Martha Millard Literary Agency.