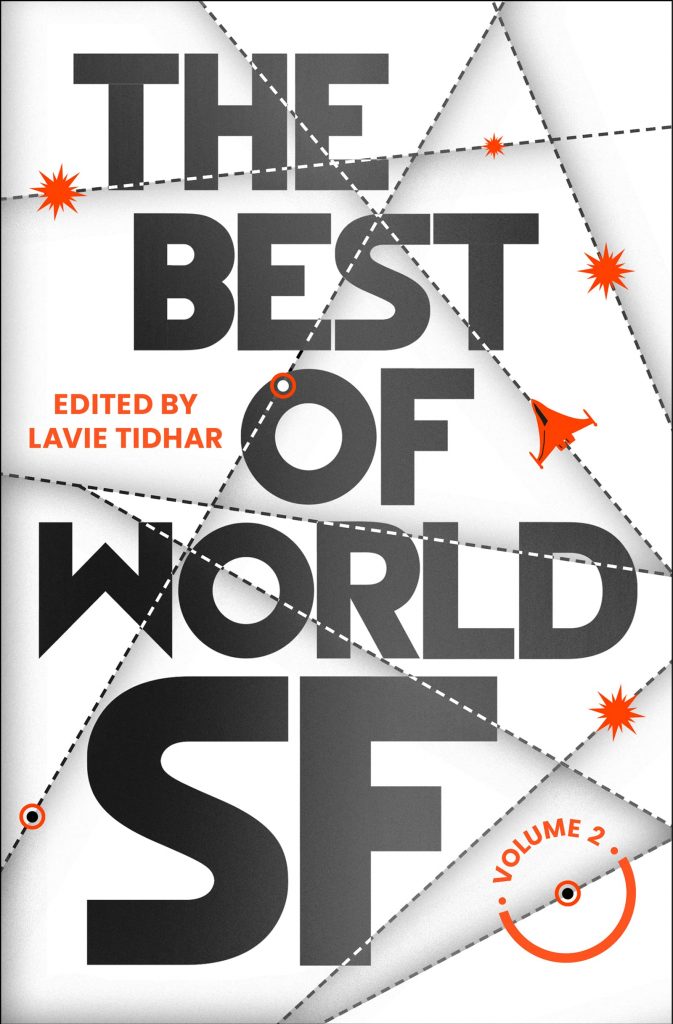 The paperback edition of THE BEST OF WORLD SF, Volume 2 is out this week! Edited by Lavie Tidhar, it is published by Head of Zeus/AdAstra on April 13th. Here's the synopsis…
Twenty-nine new short stories representing the state of the art in international science fiction.
The second annual instalment to the 'rare and wonderful' (The Times) The Best of World SF Volume 1, this collection features twenty-nine stories, including eight written exclusively for this collection. This is not a retrospective of what science fiction around the world used to look like. This is a snapshot of what some of it looks like now. And it's never been more exciting.
Navigating around the globe, The Best of World SF Volume 2 features writers from: Bahrain, Bangladesh, Barbados, Brazil, Bolivia, China, Czech Republic, Greece, India, Iraq, Italy, Jamaica, Japan, Korea, Malaysia, Mexico, Nigeria, Pakistan, Poland, Russia, Singapore, Uganda and Zimbabwe.
Each story has been selected by World SF expert and award-winning author Lavie Tidhar in a collection which traces the ever-changing meaning of the genre from some the most exciting voices writing today.
Here's the full Table of Contents…
Nadia Afifi, THE BAHRAIN UNDERGROUND BAZAAR (Bahrain)
Lavanya Lakshminarayan, THE TEN-PERCENT THIEF (India)
Frances Ogamba, AT DESK 9501 (Nigeria) *
Isabel Yap, MILAGROSO (The Philippines)
Saad Z. Hossain, BRING YOUR OWN SPOON (Bangladesh)
Yukimi Ogawa, BLUE GREY BLUE (Japan)
Xing He, YOUR MULTICOLORED LIFE (China), trans. Andy Dudak
Nalo Hopkinson, THE EASTHOUND (Jamaica)
Pan Haitian, DEAD MAN, AWAKE, SING TO THE SUN! (China), trans. Joel Martinsen *
Jacques Barcia, SALVAGING GODS (Brazil)
Edmundo Paz Soldán, THE NEXT MOVE (Bolivia), trans. Jessica Sequeira *
Dilman Dila, THE CLAY CHILD (Uganda) *
Natalia Theodoridou, TO SET AT TWILIGHT IN A LAND OF REEDS (Greece)
Bef, THE BEAST HAS DIED (Mexico), trans. Brian L. Price
Alberto Chimal, TWENTY ABOUT ROBOTS (Mexico), trans. Fionn Petch
Wole Talabi, THE REGRESSION TEST (Nigeria),
William Tham Wai Liang, KAKAK (Malaysia)
Usman T. Malik, BEYOND THESE STARS OTHER TRIBULATIONS OF LOVE (Pakistan)
Julie Novakova, A FLAW IN THE WORKS (Czech Republic), trans. by author *
Cassandra Khaw, WHEN WE DIE ON MARS (Malaysia)
Karen Lord and Tobias S. Buckell, THE MIGHTY SLINGER (Barbados/Grenada)
T.L. Huchu, CORIALIS (Zimbabwe)
Clelia Farris, THE SUBSTANCE OF IDEAS (Italy), trans. Rachel S. Cordasco
Agnieszka Hałas, SLEEPING BEAUTIES (Poland), trans. by author *
Samit Basu, WAKING NYDRA (India) *
Neon Yang, BETWEEN THE FIRMAMENTS (Singapore)
Bo-Young Kim, WHALE SNOWS DOWN (South Korea), trans. Sophie Bowman
Hassan Blasim, THE GARDENS OF BABYLON (Iraq), trans. Jonathan Wright
K.A. Teryna, THE FARCTORY (Russia), trans. Alex Shvartsman *
(Stories indicated with an * are original for this volume.)
Here are some of the reviews the first has volume received…
'This handsome volume from Head of Zeus is a major step on a 45-year journey to bring global speculative fiction to Anglophone attention… The print edition of THE BEST OF WORLD SF: Volume 1 is truly a thing of beauty, providing gravitas and a wider audience for the authors it collects… There are many striking stories in the collection… This anthology is just the start of a whole new game for speculative fiction authors around the world' — LA Review of Books
'An excellent, lovingly curated collection that is also uniformly well translated' — Financial Times
'Tidhar gives a cheerful, fannish introduction to the stories, drawn from 26 countries on five continents, and encompassing a dizzying range of tones and approaches' — The Times
THE BEST OF WORLD SF, Volume 1 is also out now in paperback, published by AdAstra/Head of Zeus.