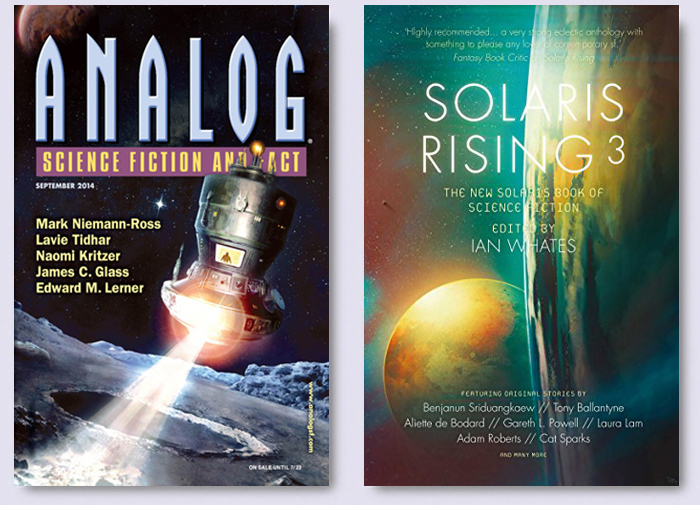 Today, we share with you the information about a pair of short stories by two clients of prodigious output.
In the September 2014 issue of Analog, you will find Lavie Tidhar's VLADIMIR CHONG CHOOSES TO DIE. The story offers 'a look at how AI might influence our end-of-life decisions'.
SOLARIS RISING 3, the third in the publisher's popular Science Fiction anthologies, includes Aliette de Bodard's THE FROST OF JADE BUDS. Here's the publisher's synopsis for the anthology…
Following the exceptionally well received Solaris Rising 1, 1.5 (e-only) and 2, series editor Ian Whates brings even more best-selling and cutting-edge SF authors together for the latest extraordinary volume of new original ground-breaking stories.
These stories are guaranteed to surprise,thrill and delight, and continue our mission to demonstrate why science-fiction remains the most exciting, varied and inspiring of all fiction genres. In Solaris Rising 1 and 2 we showed both the quality and variety that modern science fiction can produce. In Solaris Rising 3, we'll be taking SF into the outer reaches of the universe. Aliette de Bodard, Tony Ballantyne and Sean Williams are just three of the exciting names to appear.
SOLARIS RISING 3 is due to be published by Solaris Books in September 2014.