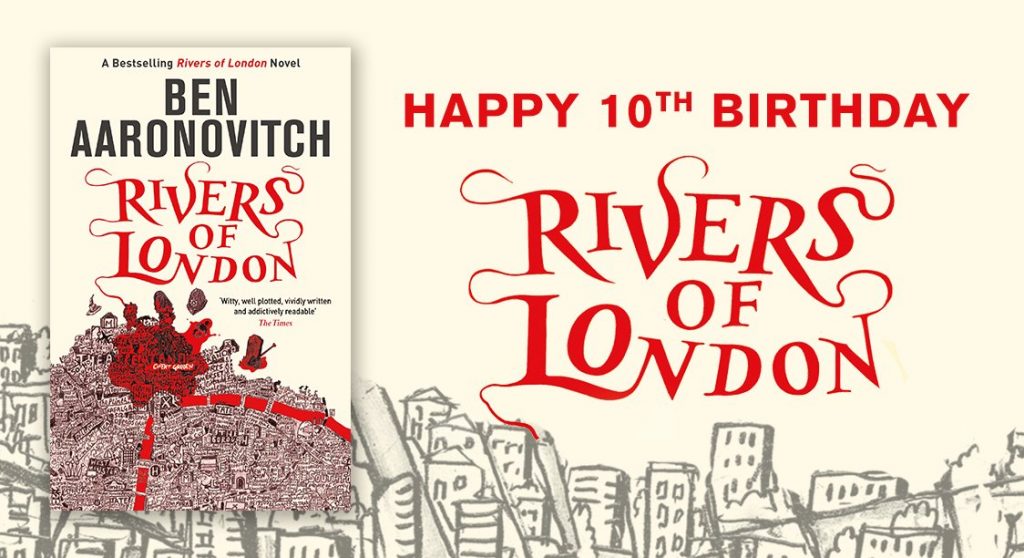 This year marks the tenth anniversary of Ben Aaronovitch's first Peter Grant novel, RIVERS OF LONDON. The critically-acclaimed and best-selling series is now up to its eighth novel, third novella, and eight comic series — and its popularity only continues to grow! The series as a whole has sold more than two million copies worldwide, and has been translated into 14 languages. (You can find many of the covers for these worldwide editions on his author page.)
To support this milestone achievement, Gollancz will be reaching out to fans, librarians, booksellers and many more to create an unmissable celebration of one of the most beloved series of recent times. The range of activities will span online and in the real world, with many exciting moments and content that fans of the series will not want to miss. Stay tuned for more information in the coming weeks ahead.
Not only this, as was reported today by The Bookseller, there are two special anniversary editions on the way! Here's a description of what fans can expect…
The tenth anniversary special edition of RIVERS OF LONDON will be a Demy Hardback featuring new artwork, specially commissioned endpapers, and an introduction by the author. This edition is perfect for longstanding fans and newcomers alike and will be published this August, the month of the tenth anniversary of the paperback edition of RIVERS OF LONDON. Alongside this, a Deluxe tenth anniversary limited edition of RIVERS OF LONDON will also be published in a very exclusive slipcased edition featuring sprayed edges, new artwork and an original RIVERS OF LONDON map.
Here's what Ben had to say about reaching this incredible milestone:
'My expectations for Rivers of London were modest making its surprise success all the more gratifying when it came. I'm amazed both that we are already at the tenth anniversary and that so many readers have gone out of their way to tell me how much they enjoy the books. I'm extremely grateful to John Berlyne my agent, and to all the people at Orion, Gollancz and my foreign publishers past and present for their hard work and support that made this series so successful. Not to mention the brilliant work by Kobna Holdbrook-Smith in reading the audio books. I should also mention the enthusiastic support I've had from booksellers and librarians across the country and beyond. But I am most grateful for all the thousands of readers who shelled out their own hard-earned cash to buy the books – the most important people of all.'