We're very happy to report that Ansible Editions has published a new collection of essays by Algis Budrys! Including essays written between 1955-96, BEYOND THE OUTPOSTS is out now. Here's the synopsis…
Beyond the Outposts: Essays on SF and Fantasy 1955-1996 brings together a great many of Algis Budrys's standalone essays, reviews, appreciations, state-of-the-art reports, personal memoirs and thoughts on the mechanics of writing.
Beyond the Outposts includes the introduction and five essays published in the long-out-of-print and now very scarce Budrys collection Outposts: Literatures of Milieux (Borgo Press, dated 1996, released 1997). Those items form only a small part of this very substantial compilation of the author's writings on sf and fantasy, most of the rest never having been previously collected. Except for part of one Galaxy magazine article that Budrys chose to reprint – in edited form with a new commentary – there is no overlap with the two long series of review columns for Galaxy and F&SF collected in Benchmarks: Galaxy Bookshelf (1985), and the three-volume Ansible Editions set Benchmarks Continued (2012), Benchmarks Revisited (2013) and Benchmarks Concluded (2013).
Among the major pieces here are "Paradise Charted", a tour-de-force potted history of the science fiction genre that filled some seventy pages of the special SF issue of TriQuarterly magazine; "Literatures of Milieux", a highly individual attack on the problem of defining our genre; the long series of "On Writing" columns written for Locus magazine; "Non-Literary Influences on Science Fiction", exploring in disquieting depth how magazine stories were routinely cut, padded or rearranged for production reasons beyond the control of author or editor; and "Obstacles and Ironies in Science-Fiction Criticism", casting a cold eye on the very thing that Budrys did best. Lighter notes are struck by mordant book and film reviews plus touches of sheer personal fun.
This is the fourth collection of Budrys's essays published by Ansible Editions. The other three make up Algis's BENCHMARKS series: CONTINUED, REVISITED, and CONCLUDED.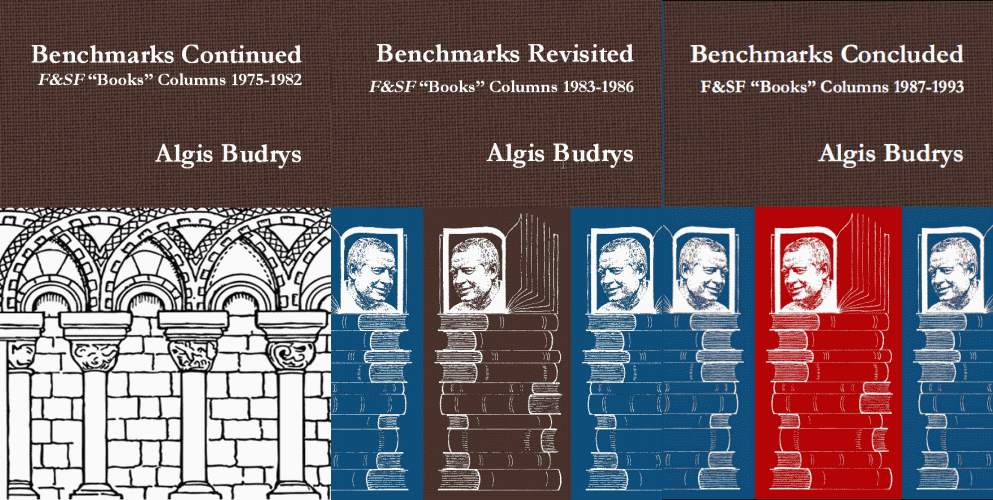 Zeno represents Algis Budrys on behalf of the Budrys Estate.