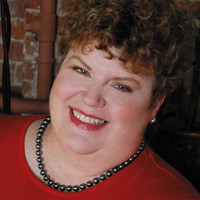 Charlaine Harris has been inducted into the Arkansas Entertainers Hall of Fame! Harris is author of the international bestselling Sookie Stackhouse series, which was adapted by HBO into the TV series True Blood. All of us here at Zeno send our congratulations to Charlaine — it is a very well-deserved honour. The local ABC affiliate ran a story, here.
The aforementioned Sookie Stackhouse series, which began with DEAD UNTIL DARK and ended — 13 books later — with DEAD EVER AFTER, is published in the UK by Gollancz. Here's the synopsis for the first novel…
Meet Sookie Stackhouse, a telepathic cocktail waitress in the quiet rural town of Bon Temps, Lousiana: she's found a boyfriend, and her life will never be the same again!
Sookie Stackhouse is a small-time cocktail waitress in small-town Louisiana. She's quiet, keeps to herself, and doesn't get out much — not because she's not pretty, she's a very cute bubbly blonde, or not interested in a social life — she really is… but Sookie's got a bit of a disability. She can read minds. And that doesn't make her too dateable.
And then along comes Bill: he's tall, he's dark and he's handsome — and Sookie can't 'hear' a word he's thinking. He's exactly the type of guy she's been waiting all her life for. But Bill has a disability of his own: he's fussy about his food, he doesn't like suntans and he's never around during the day…
Yep, Bill's a vampire. Worse than that, he hangs with a seriously creepy crowd, with a reputation for trouble — of the murderous kind.
And then one of Sookie's colleagues at the bar is killed, and it's beginning to look like Sookie might be the next victim…
The author's most recent series, Midnight Texas, is also published in the UK by Gollancz, and includes MIDNIGHT CROSSROAD and DAY SHIFT. Here's the synopsis for MIDNIGHT CROSSROAD…
A new, darker world — populated by more strangers than friends. But then, that's how the locals prefer it?
Welcome to Midnight, Texas, a town with many boarded-up windows and few full-time inhabitants, located at the crossing of Witch Light Road and Davy Road. It's a pretty standard dried-up western town.
There's a pawnshop (someone lives in the basement and is seen only at night). There's a diner (people who are just passing through tend not to linger). And there's new resident Manfred Bernardo, who thinks he's found the perfect place to work in private (and who has secrets of his own).
Stop at the one traffic light in town, and everything looks normal. Stay awhile, and learn the truth…
Zeno represents Charlaine Harris in the UK and Commonwealth, on behalf of the JABberwocky Literary Agency in New York.