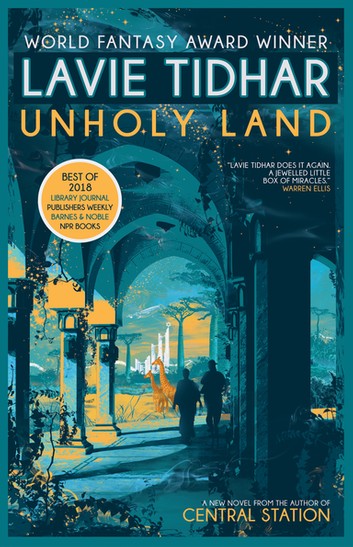 We're very happy to report that Lavie Tidhar's latest novel, UNHOLY LAND, has been selected as a Best Book of 2018 by a slew of publications! Specifically, the novel is…
An NPR Best Book of 2018
A Library Journal Best Book of 2018
A Publishers Weekly Best Book of 2018
A Guardian Best Book of 2018
A Barnes & Noble Favorite Science Fiction and Fantasy Book of 2018
Published by Tachyon Publications, UNHOLY LAND is out now in the UK and US. Here's the synopsis…
Lior Tirosh is a semi-successful author of pulp fiction, an inadvertent time traveler, and an ongoing source of disappointment to his father.
Tirosh has returned to his homeland in East Africa. But Palestina — a Jewish state founded in the early 20th century — has grown dangerous. The government is building a vast border wall to keep out African refugees. Unrest in Ararat City is growing. And Tirosh's childhood friend, trying to deliver a warning, has turned up dead in his hotel room. A state security officer has identified Tirosh as a suspect in a string of murders, and a rogue agent is stalking Tirosh through transdimensional rifts — possible futures that can only be prevented by avoiding the mistakes of the past.
From the bestselling author of Central Station comes an extraordinary new novel recalling China Miéville and Michael Chabon, entertaining and subversive in equal measures.
Here are just a few of the great reviews UNHOLY LAND has received so far…
'Readers of all kinds, and particularly fans of detective stories and puzzles, will enjoy grappling with the numerous questions raised by this stellar work.' — Publishers Weekly (PW Picks: Books of the Week, October 15, 2018)
'Lavie Tidhar is a genius at conjuring realities that are just two steps to the left of our own — places that look and smell and feel real, if just a bit hauntingly alien. UNHOLY LAND develops slowly. It begins with banal strangeness (this Palestinia, so like and unlike modern-day Israel) and leans gently into it… This is a story that gets weirder the deeper you get into it; that cultivates strangeness like something precious. It has three narrators: Investigator Bloom, Tirosh and a woman, Nur, who works as a field agent for the Border Agency. There are echoes of Chabon's The Yiddish Policeman's Union in it, wild strains of P.K. Dick and Roger Zelazny's Chronicles of Amber. But UNHOLY LAND is its own thing. Something that no one but Tidhar could've written. Gorgeous in its alienness, comfortingly gray in its banality, and disquieting throughout.' — NPR
'… adventurous readers will appreciate this well-written and ambitious book. It should find a place at any library that offers high-quality literary fiction.' — Booklist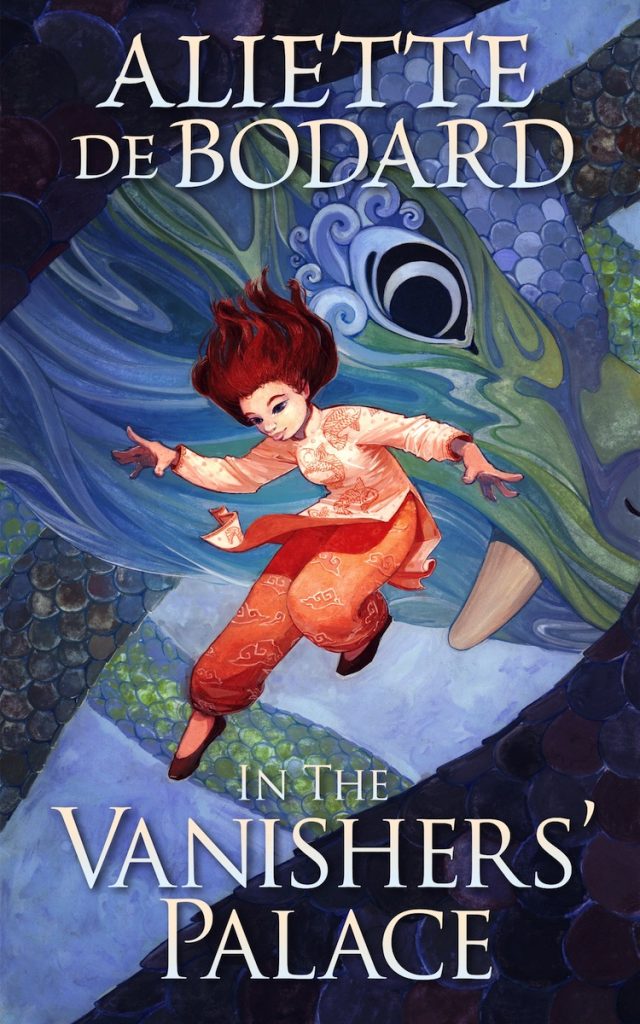 Aliette de Bodard's IN THE VANISHERS' PALACE was also selected by the Guardian as a Best Fantasy Book of the year! Published via the JABberwocky eBook Program, the novel was met with an avalanche of great reviews (and we see new ones on a daily basis via our Twitter feed). Here's the synopsis…
A dark retelling of Beauty and the Beast from the award-winning author of the Dominion of the Fallen series.
When failed scholar Yên is sold to Vu Côn, one of the last dragons walking the earth, she expects to be tortured or killed for Vu Côn's amusement. But Vu Côn, it turns out, has a use for Yên: she needs a scholar to tutor her two unruly children. She takes Yên back to her home, a vast, vertiginous palace-prison where every door can lead to death. Vu Côn seems stern and unbending, but as the days pass Yên comes to see her kinder and caring side. She finds herself dangerously attracted to the dragon who is her master and jailer. In the end, Yên will have to decide where her own happiness lies — and whether it will survive the revelation of Vu Côn's dark, unspeakable secrets…
'This intriguing, Sapphic, Vietnamese take on Beauty and the Beast is recommended for fans of De Bodard's previous works or readers who enjoy diverse, lushly described fantasy.' — Library Journal
'Another stellar offering by Bodard. Her signature intensity is on display in this tale of people (and dragons) struggling to survive in the ruins of an alien conquest. Emotionally complex relationships interweave with richly drawn and deftly nuanced world-building.' — Kate Elliott, Author of the Court of Fives series
'A transformative experience. With dragons.' — Fran Wilde, Hugo and Nebula nominated author of The Bone Universe and The Gemworld series
You can find a short piece by Aliette on the 'Inspirations and Influences' for the novel at Book Smugglers.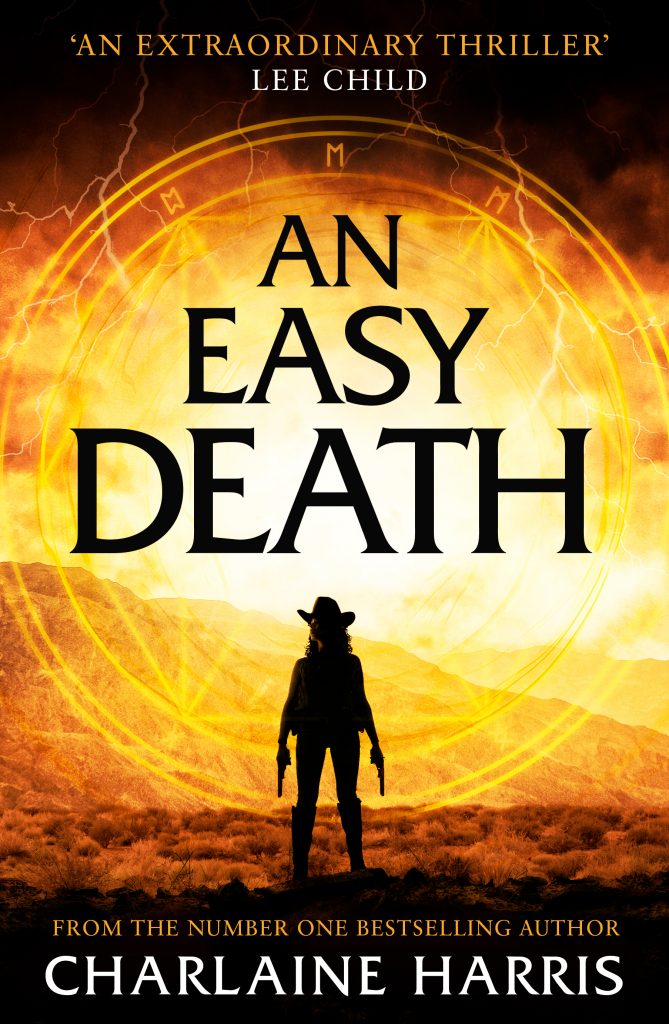 Charlaine Harris's AN EASY DEATH was picked as a Best Fantasy Novel of 2018 by Time Magazine, and also received a nod from Barnes & Noble. The novel is published in the UK by Piatkus Books. Here's the synopsis…
An electrifying new thriller centered on a young gunslinging mercenary, Lizbeth Rose.
Set in a fractured United States, in the southwestern country now known as Texoma, this is a world where magic is acknowledged but mistrusted. Battered by a run across the border to Mexico, gunslinger Lizbeth Rose takes a job offer from a pair of Russian wizards.
She may be young, but Gunnie Rose has acquired a fearsome reputation and the wizards are at a desperate crossroads, even if they won't admit it. They're searching frantically to locate the only man whose blood they believe can save their tsar's life.
As the trio journey through an altered America, they're set upon by enemies. It's clear that a powerful force does not want them to succeed in their mission. Lizbeth Rose is a gunnie who has never failed a client, but her oath will test all of her skills and resolve to get them all out alive.
The Dark Tower meets True Blood in this gritty and wildly entertaining tale of Gunnie Rose. A woman fighting unimaginable odds to keep her people alive after the disintegration of America, this is a surefire hit for fans of The Walking Dead or Westworld.
AN EASY DEATH has also been met with a blizzard of great reviews. Here are just a few of them…
'In this fast-paced thriller fueled by magic and gunslinging, no one can be trusted. Harris's vividly detailed story will leave readers enthralled with the fascinating setting and a heroine who's sure to be a new fan favorite.' — Publishers Weekly (Starred Review)
'[A]lluringly gritty' — Time
'Harris's vividly detailed and bleak alternate history novel, set in a broken-up United States after Franklin Roosevelt is assassinated, stars a heroine who's sure to be a new fan favorite.' — Publishers Weekly (Most Anticipated Books of Fall 2018)
'Narrator Lizbeth is a pragmatic young woman with an unshakeable work ethic who doesn't let her gender define her and isn't given to emotional outbursts, but there are just enough moments to remind readers that the loss of those she loves, and her desire to keep those she has left safe, is ultimately her driving force. Harris…populates her gritty, immersive new world with genuinely interesting characters, and chilling moments of horror — of both the human and supernatural kind—punctuate this relentlessly paced road trip. A refreshing and cinematic, weird Western starring a sharp-as-nails, can-do heroine. Harris' many fans will surely follow Gunnie Rose anywhere.' — Kirkus
'It's a thrill ride through a world transformed by magic and altered politics, with an excellent kick-ass guide in Gunnie Rose, making this a strong start to a new series.' — Locus
'AN EASY DEATH offers up a world worth exploring and a character you'll want to explore it with.' — LB&N's Sci Fi and Fantasy Blog
'Another great story from Charlaine with magical fun characters, an interesting premise and great storytelling. Gunnie is a character you root for and look forward to reading more adventures with.' — Red Carpet Crash
'Harris has a remarkable talent for world building… In all, this looks like another winning series from a sure-bet author.' — Booklist
Zeno represents Charlaine Harris in the UK and Commonwealth, on behalf of the JABberwocky Literary Agency in New York.