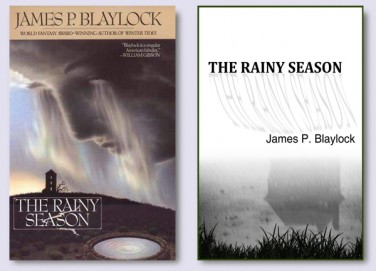 James P. Blaylock's classic novel RAINY SEASON has been included in a list of ten essential novels that showcase the literary side of Orange County! The list, compiled by Orange County Magazine, is included in their April issue.
Here's the synopsis for RAINY SEASON…
It's a gray, wet winter in southern California, and Phil Ainsworth is alone. The sudden death of his young wife has left him shaken, and he gets eerie sensations as he roams around the big, old house he inherited from his mother. He's sure he's seen people snooping around his property, by the old well that, in this wet weather, always seems ready to overflow. How much is real and how much is in his head? That's the question.
A late-night phone call brings more bad news: Phil's sister has died, leaving her ten-year-old daughter Betsy an orphan and naming Phil as guardian. It seems like a bad time to bring a child into this unhappy house, but Phil had always promised he'd take care of Betsy — and now she's all the family he has left.
What he can't know is that Betsy is a very special child. She has the ability to sense the powerful emotions of the past, to hear voices of the dead, and to see the uncanny powers that are closing in around this house…
RAINY SEASON is available in eBook in the UK via Gollancz's SF Gateway, and in the US via the JABberwocky eBook Program. It is also available as an audiobook from Audible. Please contact for further rights information. Here's just a handful of the great reviews the novel has received since its original publication, in 1999…
'Blaylock allows us to see the mundane world through new eyes, to perceive the familar as strange and therefore fascinating — for what it is as well as for what it might be.' — Charles de Lint
'The central conceit of this elegant, accomplished contemporary ghost story is that fuentes–springs in which children have been ritually drowned — are portals of inexact time travel. Ambitious plotting and characterization augment Blaylock's (WINTER TIDES) lush language (ripples in a well "cast a hundred shifting shadows… crisscrossing in geometric confusion"). This is one ghostly tale that stands on very solid ground.' — Publishers Weekly
'[A] seamlessly produced… intriguing and absorbing work from a major talent.' — Kirkus
'Blaylock continues to extend his range, this time with a novel of quiet — but not entirely psychological — horror. Blaylock constructs what might be described as a leisurely page-turner: one wants to find out what comes next but doesn't feel compelled to rush onward to do so. Fans of horror in general — especially those who don't demand a high body count — as well as dedicated Blaylock fans will be well pleased.' — Booklist
'The author of WINTER TIDES continues to display an uncanny talent for low-key, off-kilter drama, infusing the modern world with a supernatural tint. Blaylock's evocative prose and studied pacing make him one of the most distinctive contributors to American magical realism. Recommended for most libraries.' — Library Journal