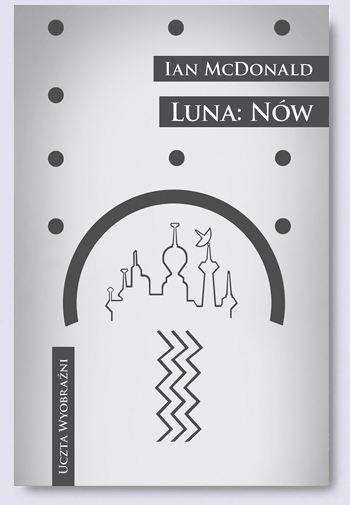 Ian McDonald's latest novel, LUNA: NEW MOON, has been incredibly well-received (as we were sure it would be). Published last year by Tor Books in the US and Gollancz in the UK, we're happy to share with you details of two new editions. First, the Polish edition (above), which is due to be published by MAG on April 13th, 2016. Here's the synopsis for LUNA: NÓW…
Po misternie utkanych fabułach z intrygującym spojrzeniem na przyszłość krajów takich, jak Indie, Brazylia i Turcja, Ian McDonald zwrócił się ku Księżycowi. Luna to wciągający thriller o pięciu rodzinnych korporacjach uwikłanych w zaciętą walkę o hegemonię nad surowym księżycowym środowiskiem. Na Księżycu bardzo łatwo zginąć, ale dzięki bogactwu jego złóż równie łatwo się tu dorobić. To fantastyka, która idealnie przemówi tak do fanów Kima Stanley'a Robinsona, jak Kena Macleoda.
Ten pierwszy tom z planowanych dwóch zrobi z Księżycem to samo, co Rzeka Bogów z Indiami, a Dom Derwiszy z Turcją – odmaluje barwną, intensywną, nadzwyczajną, a jednocześnie wiarygodną przyszłość.
Second, the US audio edition, published by Blackstone. Here's the English-language synopsis…
The scions of a falling house must navigate a world of corporate warfare to maintain their family's status in the moon's vicious political atmosphere.
The moon wants to kill you — whether it's being unable to pay your per diem for your allotted food, water, and air, or just getting caught up in a fight between the moon's ruling corporations, the Five Dragons. You must fight for every inch you want to gain in the moon's near-feudal society. And that is just what Adriana Corta did.
As the leader of the moon's newest "dragon," Adriana has wrested control of the moon's helium-3 industry from the Mackenzie Metal Corporation and fought to earn her family's new status. Now, at the twilight of her life, Adriana finds her corporation, Corta Helio, surrounded by the many enemies she made during her meteoric rise. If the Corta family is to survive, Adriana's five children must defend their mother's empire from her many enemies — and each other.
LUNA: NEW MOON is published in the UK by Gollancz, and in the US by Tor Books. Here's just a handful of the great reviews the novel has been receiving…
'McDonald… begins his superb near-future series… scintillating, violent, and decadent world. McDonald creates a complex and fascinating civilization featuring believable technology, and the characters are fully developed, with individually gripping stories. Watch for this brilliantly constructed family saga on next year's award ballots.' — Publishers Weekly (Starred Review)
'No one writes like Ian McDonald, and no one's Moon is nearly so beautiful and terrible… Ian McDonald's never written a bad novel, but this is a great Ian McDonald novel… McDonald's moon is omnisexual, kinky, violent, passionate, beautiful, awful, vibrant and crushing. As the family saga of the Cortas unravels, we meet a self-sexual ninja lawyer, a werewolf who loses his mind in the Full Earth, a family tyrant whose ruthlessness is matched only by his crepulance, and a panoply of great passions and low desires. LUNA: NEW MOON is the first book of a two-book cycle. Now I'm all a-quiver for the next one.' — BoingBoing
'Almost monolithic in its ambition. In its gravitas and tension and, alas, tragedy, it's damn near Shakespearian… a setting so brilliantly built and deftly embellished that buying into it isn't ever an issue; a vast cast of characters as satisfying and sympathetic individually as they are as part of McDonald's elaborate ensemble; and a plot composed of so many threads that you never know where it's going to go — except that when it ends, it's destined to end terribly… a world as wicked as it is convincing… only a matter of time before CBS sets about broadening the appeal of this magnificent bastard of a book.' — Tor.com
'Fans of cerebral, high-concept science fiction will love this exploration of society on the moon many decades after it has been colonized. The focus is more on concept and plot than on character, but the former are compelling enough to make this an addictive page-turner. Including the stories of many characters gives the reader important insights into different facets of society, and although the book starts at a slow pace, it accelerates into a mesmerizing political thriller.' — RT Book Reviews
'LUNA provides an amazing, futuristic universe set in 2110…The story is innovative and fresh, on top of being pleasantly well written…The best part of this book, hands down, would have to be the diversity of the characters.' — Portland Book Review