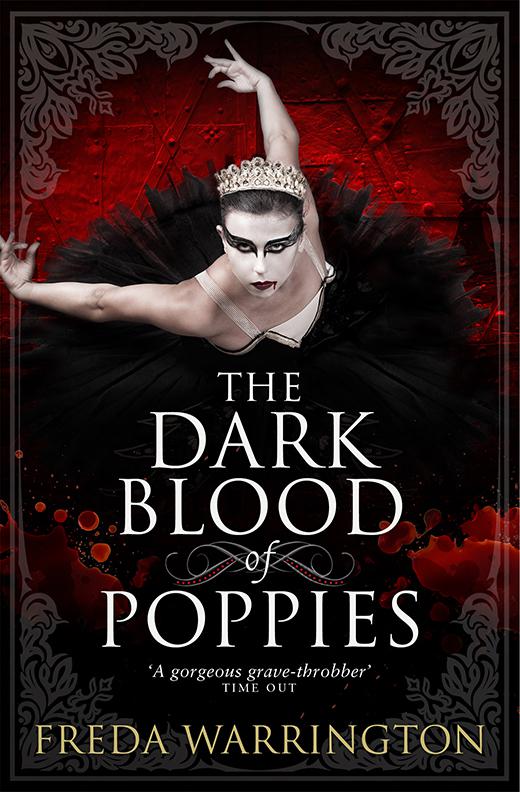 The mass market paperback edition of Freda Warrington's fourth Blood Wine novel is out tomorrow in the US! THE DARK BLOOD OF POPPIES, the third novel in the critically-acclaimed vampire horror/romance series, is published by Titan Books. Here's the synopsis…
The ballerina Violette Lenoir has fallen victim to the bite of the vampire Charlotte. Her fire and energy have fuelled a terrifying change and a dreadful realisation; that Violette has become Lilith, the demon mother of all vampires. Haunted both by what she has done and by Violette's dark sensuality, Charlotte and her immortal lover Karl are drawn towards the dancer and the terrible destiny that has fallen on her shoulders. But other, far more dangerous shadows are gathering around Violette. To the vampire Sebastian and to the dark heirs of Kristian, she threatens to wreak havoc with their plans to bring all of mankind under their dark wings. Innocently embroiled in the endgame, courtesan extraordinaire Robyn Stafford finally meets her match as she is torn between the two ultimate lovers: Sebastian, and Violette…
Titan has published all four of the books in the series, in both the US and UK: A TASTE OF BLOOD WINE and A DANCE IN BLOOD VELVET are also available in MMPB; the final volume in the series, THE DARK ARTS OF BLOOD, is available in trade paperback.

Here are just a few of the great review the series has received…
'The third book in Freda Warrington's brilliantly evocative Blood Wine Sequence, and for me at least, possibly one of the best… I've yet to end any review of one of Freda's books without referring to the impressive style of her writing — it's smart, compelling, and simply fabulous… So easy to recommend this, and any of the others in the Blood Wine Sequence.' — British Fantasy Society on THE DARK BLOOD OF POPPIES
'The series is among the best of those spawned by the wave of fashionability which has caught up 'revisionist' vampire fiction in the last twenty years. All three volumes have been written with an emotional fervour and vividly Decadent style which are perfectly suited to the subject-matter and all three have maintained a sense of philosophical enquiry which patiently, perceptively and politely raises questions about the reasons for our fascination with the vampire and related mythological figures… The series so far adds up to one of the most striking and most intriguing exercises in modern fantasy fiction; it may yet be further augmented.' — Vector on THE DARK BLOOD OF POPPIES
'A great novel, which is entertainingly frightening, splendidly romantic and erotic, and darkly suspenseful. The true Queen of the vampire novel.' — Black Tears Magazine on THE DARK BLOOD OF POPPIES
'Areally, really splendid read… It's a story that plays out over cups of tea and glasses of brandy in the drawing rooms of chic London townhouses and glittering stately homes, and here again Warrington shows her writer's chops, layering in exquisite period detail. Sometimes the effect is playfully satirical… but more often it's lusciously picturesque; and, with the characters barrelling around in Hispano-Suizas and the like, it's all attractively reminiscent of the lux, country house horror of Hammer's The Devil Rides Out. On this evidence, Freda Warrington is like a cross between Anne Rice and Kim Newman – she has the sweep of one, the cleverness of the other. Titan will be reissuing the other titles in the series throughout the year, and they're not to be missed.' — Starburst on A TASTE OF BLOOD WINE
'Channeling the tone of a Gothic romance, Warrington presents a 1920s version of Bram Stoker's Dracula that focuses on the vampires rather than their stalkers… The first of Warrington's Blood Wine series will sate those hungry for classically melodramatic vampire sagas.' — Booklist on A TASTE OF BLOOD WINE
'Afull-blooded gothique that rips more than bodices… Warrington's vampire dynasty has the grandeur of a cobwebbed cathedral, and her plot is forged in operatic passions. Treating her subjects with theatrical intensity, she creates lush images, awash in colour and shadow, and the ideal gothic mood is preserved; a dark romance to lose yourself in.' — Time Out on A DANCE IN BLOOD VELVET
'Sexy, brooding and epic in scope, once you have encountered Warrington's undead, others will pale by comparison.' — British Fantasy Society on A DANCE IN BLOOD VELVET
'In the style of authors such as Anne Rice, Warrington has made a tale that beats convention and shows readers what is more likely to happen to vampires than in many other novels. It is great to see that what were once 90's novels have been re published for a fresh audience who have already indulged in the Twilight novels. The cover art for this one and the other three is striking and beautiful in a gothic way and tells a lot about the kind of novels they are. This is for those who want to curl up with a good book…' — Fantasy Book Review on THE DARK ARTS OF BLOOD
'I can't praise this series enough, the author's writing is poetic, enduring, and consumes you hook, line, and sinker. A superb ending to a marvellous series, and highly recommended.' — British Fantasy Society on THE DARK ARTS OF BLOOD
The first three novels in the series are also available via Audible.