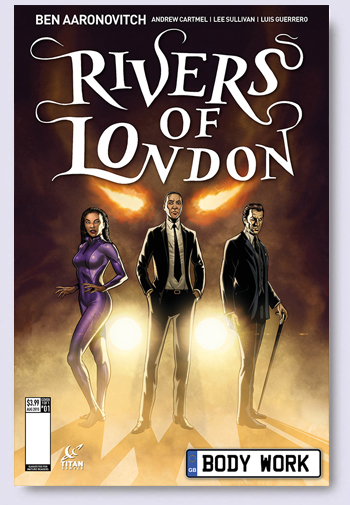 Above is the cover for RIVERS OF LONDON: BODY WORK #1, the first issue in the new comic series based on the world created by Ben Aaronovitch. The series is co-written by Ben and Doctor Who show runner Andrew Cartmel, with art by Lee Sullivan. Due to be published by Titan Comics in July 2015, there has already been some great buzz about the series — including the cover reveal on io9.com and a piece on Wired. The comic series is set between the fourth and fifth books (BROKEN HOMES and FOXGLOVE SUMMER). Here's a short description of the plot…
Peter Grant has come a long way since first entering the special branch of London's Metropolitan Police. With his hard-earned powers and a flair for the supernatural, it's his job to investigate those shadowy crimes that involve urban vampires, weird folk in the Underground and, in this case, why cars are suddenly taking on lives of their own and killing innocent people!
Ben Aaronovitch's Peter Grant Series has been a phenomenal success. The first novel, RIVERS OF LONDON, was this year's very successful Cityread London title.
The series currently includes: RIVERS OF LONDON, MOON OVER SOHO, WHISPERS UNDERGROUND, BROKEN HOMES, FOXGLOVE SUMMER and the upcoming THE HANGING TREE. The series is published in the UK by Gollancz.