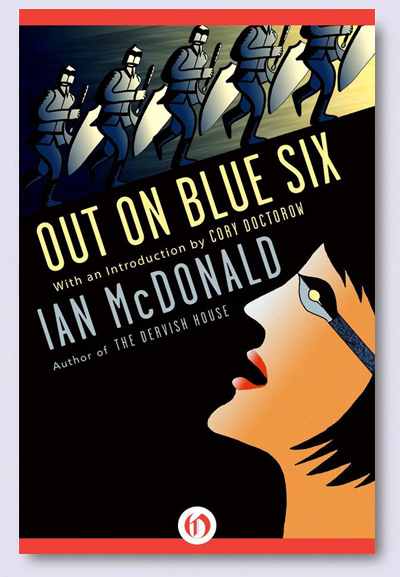 'For ten years, I've been singing the praises of OUT ON BLUE SIX, Ian McDonald's 1989 science fiction novel that defies description and beggars the imagination… as you'll read, this book is one of those once-in-a-generation, brain-melting flashes of brilliance that makes you fall in love with a writer's work forever.'
… So wrote Cory Doctorow, recently, about Ian McDonald's OUT ON BLUE SIX, a novel that has as much impact today as it did when it was first published in 1989. Here's the synopsis…
In a far-future city where happiness and stability are law, a group of rebels will fight for what it means to be human.
The Compassionate Society was designed as a utopia, where people's genetic predispositions and aptitudes—rather than random choice—guide their lives, and pain of any kind is illegal. In the self-contained city, happiness is the most cherished value, and the Ministry of Pain swiftly prosecutes anyone who interferes with the contentment of another. For many of its citizens—who were matched to their jobs, spouses, and friends—the Compassionate Society is perfect. But to Courtney Hall, a political cartoonist, it is a place of stifling mediocrity. When her satirical work makes her a target of the government, Courtney goes on the run, only to discover an entire underground network of dissidents, each fighting against the stagnation imposed by the Compassionate Society—a struggle that could stand as humanity's last chance for growth, innovation, and ultimately, survival.
Thrilling and inventive, Out on Blue Six is Ian McDonald's engrossing story of free will and self-determination, and of the true value of a life ruled not by fear, but by hope.
As Doctorow points out in his post, the novel has been out of print for a long while, but has just been re-issued by Open Road Media in eBook format. Doctorow was asked to write the introduction to the new edition (you can read that introduction if you follow the link, above).
Open Road Media has also published eBook editions of SCISSORS CUT PAPER WRAP STONE, SACRIFICE OF FOOLS, KING OF MORNING QUEEN OF DAY and THE BROKEN LAND.
In related eBook news, the JABberwocky eBook program will be releasing more of Ian's backlist titles over the course of 2014, including: CHAGA, KIRINYA, TENDELEO'S STORY, DESOLATION ROAD, ARES EXPRESS and EMPIRE DREAMS.