This Thursday (27th), E.J. Swift will be giving a talk as part of the Terra Fiction convention in Amsterdam!
Terra Fiction is the second installment of FIBER's ongoing Coded Matter(s): Worldbuilding project. These lecture events question the design of contemporary world visions and technological narratives, which are contributing to greater socio-economic inequality and environmental destruction
Swift is the author of the critically-acclaimed Osiris Project trilogy and, most recently, the new novel PARIS ADRIFT. The Osiris Project novels are published in the UK by Del Rey, and available in the US via the JABberwocky eBook Program. PARIS ADRIFT is published in the UK and US by Solaris Books.
Here are some of the reviews Emma's books have received so far…
'[A]n effervescent blend of revisionist history, fantasy and science fiction… Hallie's newfound family and bar life is utterly charming, and it's this that holds your attention even as the plot meanders. The stakes — world-destroying as they may be — never feel higher than whether Hallie will make it through a shift at Millie's.' — Washington Post
'E.J. Swift's PARIS ADRIFT is her best novel yet: a time-travelling adventure that, despite the cosmic stakes, is bravely and beautifully intimate. Despite the apocalyptic backdrop, PARIS is also wistfully hopeful – a novel of ordinary, extraordinary heroism… PARIS ADRIFT uses science fiction's largest and most unwieldy mechanic for its smallest and most intimate stakes: this isn't about the world, it is about Hallie. PARIS is a story about significance at every level, individually and collectively; ultimately, whether that's in time, life, or simply one's outlook – this is a poetic demonstration of how little changes make big differences. Despite being a novel that's – literally! – timeless, you couldn't find a work more wonderfully fitting for 2018.' — Pornokitsch
'[A] really gripping book that was also really thought provoking and moving… [The novel] deals with many themes which are very relevant right now and Hallie's time travel to a bleak 2042 felt too plausible… [I] loved reading about Hallie's expeditions to 1875. Paris really came alive for me and I just loved all the sub stories going on, particularly Millie's. PARIS ADRIFT also touches on what it's like to feel adrift and alone in this big world, whether we're living the best versions of ourselves. This story is about getting lost in order to find yourself. There's a good message in this book, that doing small deeds to help strangers can have huge effects later on and the future is something we should all be thinking about.' — British Fantasy Society
'Swift (the Osiris Project series) delivers both an unusual take on time travel and solid characters, including a fantastic protagonist… Swift keeps things moving briskly, throwing out innocuous tidbits while scene setting that lead to surprising later payoffs.' — Publishers Weekly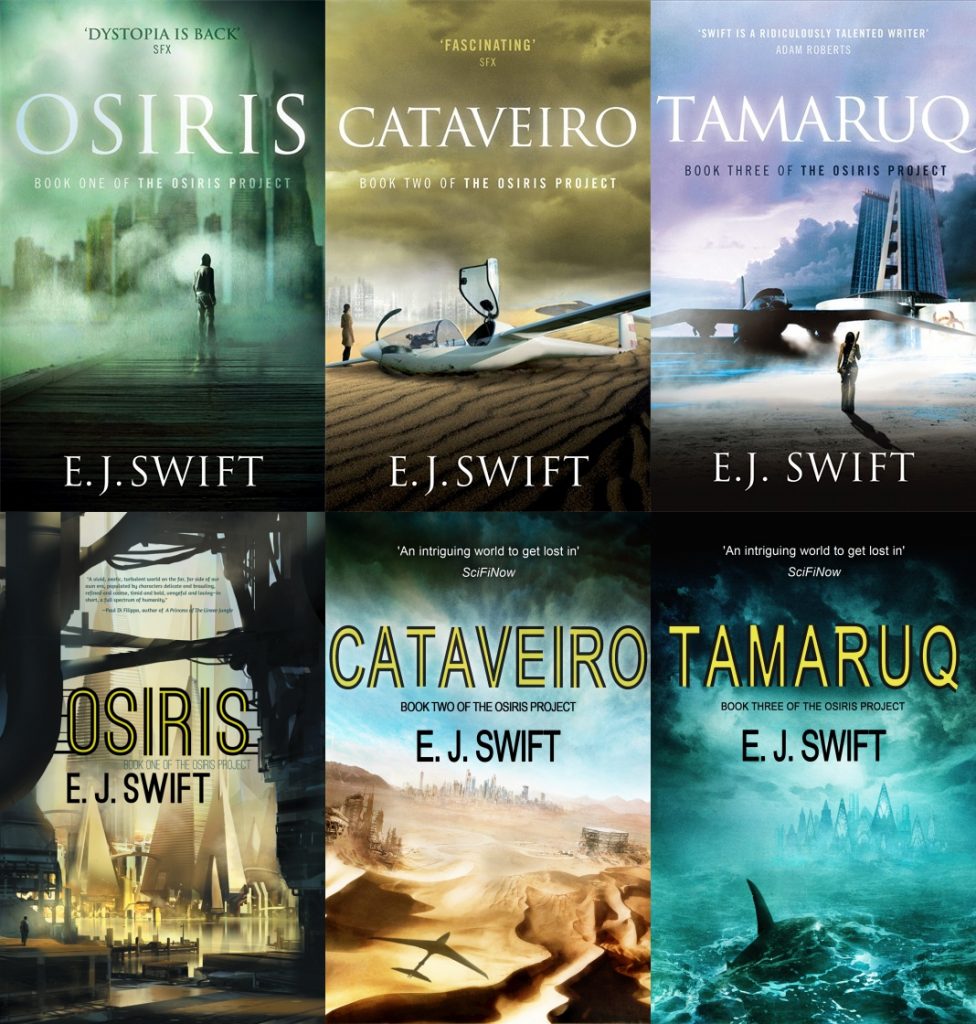 'Marvelously well done. A glittering first novel: a kind of flooded Gormenghast treated with the alienated polish of DeLillo's Cosmopolis. The result is a gripping novel, beautiful, politically engaged and wholly accomplished. Swift is a ridiculously talented writer… the fact that it's her first novel is belied by how accomplished and well-written it is.' — Adam Roberts on OSIRIS
'What a bare summary of the novel's premise obscures is the amount of space Swift creates for her protagonists to simply live in their world and experience it for us – in other words, how textured the novel is. The world-building has a playfully oceanic flavor throughout… but is most compelling when it is sketching out the psychology of Osiris' citizens… Swift demonstrates a much more sophisticated control of pace and tone, an ability to rapidly shift gears within scenes, and a willingness to undercut one scene with another: most notably, the prologue removes ambiguity from one of the major questions facing the protagonists and requires Swift to show one character in particular as much more obsessive and less sympathetic than would otherwise be the case. In the end it's that choice, perhaps, more than anything else in this nuanced, intriguing, occasionally frustrating book, that makes me think Night Shade have found another worthy writer…' — LA Review of Books on OSIRIS
'A fantastic blend of world-building, excellent storytelling and complex characters… An engrossing story from start to finish… OSIRIS would still be good if all it had was world-building, but it offers so much more by way of plot and storytelling. The thrust of the narrative is the motivation of the characters… forces readers to ask themselves what it would take to spur them to action. Now combine this with the other interesting elements of the book like political intrigue, subterfuge, the way the story is told from alternating viewpoints… and you can see why OSIRIS shines. It's that kind of impressive storytelling that makes OSIRIS hard to put down, and when you have to put it down, something that you remain eager to pick up again.' — SF Signal
'… the soulful latest instalment in The Osiris Project and a superior sequel… new lead characters, a fresh story and some real action… CATAVEIRO has a soulful, lonely quality as Taeo and Ramona embark on their solitary missions, haunted by memories of the past and visions of what lies ahead… Their imperfections keep them grounded and likeable, preventing EJ Swift from slipping into predictable and clichéd characterisation… as dystopian fiction goes it is an intriguing world to get lost in.' — SciFiNow
'E. J. Swift is an awesome author… stunning…' — Tor.com on TAMARUQ
'A series I find myself sad to have finished… but I've thoroughly enjoyed visiting the world that Swift has created. I've fallen in love with her characters and found myself turning page after page to see what happens to them. It was all depicted so vividly that I found it to be a really immersive series… a brilliant setting with wonderful characters…' — SF Crowsnest on TAMARUQ