Today, we want to share with you some recent Stephen Vines content. Above, you can watch his interview with Benedict Rogers for Hong Kong Watch.
Earlier this month, he also took part in a Council on Foreign Relations roundtable on The Future of Hong Kong, which you can watch below…
Stephen has also written about his departure from Hong Kong for The Guardian and the Hong Kong Free Press. He was also a guest on BBC Radio 4's The Media Show, and joined a discussion on the subject of 'Reporting on the ground in China'.
When I arrived in Hong Kong in 1987 as the Observer's south-east Asia correspondent, the foreign editor said he saw it as being a base, not the kind of territory that would generate much news but it was a safe place to be, communications were good and I was unlikely to have any visa problems. I thought I might stay a couple of years and move on. Thirty-five years later, I have, with great sadness, moved on and no one in their right mind can possibly assert that Hong Kong is a safe place for journalists… [Guardian]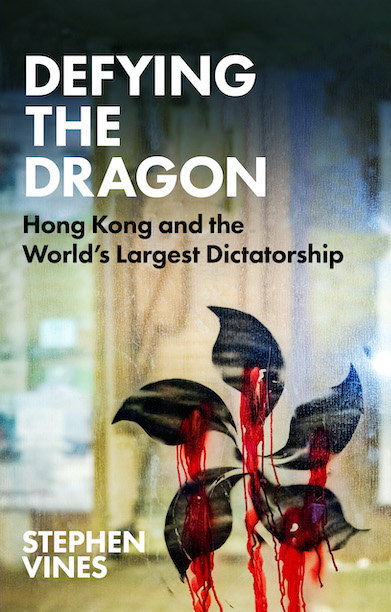 Vines is the author of, most recently, DEFYING THE DRAGON, published by Hurst Publishers (UK) and Oxford University Press (North America). Here's the synopsis…
Defying the Dragon tells a remarkable story of audacity: of how the people of Hong Kong challenged the PRC's authority, just as its president reached the height of his powers. Is Xi's China as unshakeable as it seems? What are its real interests in Hong Kong? Why are Beijing's time-honoured means of control no longer working there? And where does this leave Hongkongers themselves?
Stephen Vines has lived in Hong Kong for over three decades. His book shrewdly unpacks the Hong Kong-China relationship and its wider significance — right up to the astonishing convergence of political turmoil and international crisis with Covid-19 and the 2020-21 crackdown.
Vividly describing the uprising from street level, Vines explains how and why it unfolded, and its global repercussions. Now, the international community is reassessing relations with Beijing, just as Hong Kong's rebellion and China's handling of the pandemic have exposed the regime's weakness. In a crisis that has become existential all round, what lies ahead for Hong Kong, China and the world?
Here are just a few of the great reviews the book has received so far…
'A detailed chronicle of Hong Kong's fight in the face of repression. Anyone who cares about Hong Kong and China will definitely want to read this book.' — Joshua Wong, Hong Kong's most famous democracy advocate
'A definitive, compelling account of a drama that has gripped the world. Vines interweaves frontline reporting, insights from key players and a local's knowledge to chronicle Hong Kong's defiant challenge to the might of Xi Jinping's China.' — Philip Sherwell, Asia correspondent, Sunday Times
'A superb book about Beijing's ruthless and depressing efforts to stamp out Hong Kong's freedoms, erode its rule of law and attack its identity as an open society. Vines, a brave and distinguished journalist, sets this sad story of a great international city within the brutal politics of the Chinese regime.' — Lord Chris Patten, last British governor of Hong Kong
'One of the most important stories of our times of the fight against authoritarian regimes. The best way to understand China is through the lens of Hong Kong's struggles.' — Nathan Law, leading democracy activist
'A compelling narrative set against two major crises facing China—control of Hong Kong and unprecedented international pushback. With his signature dry wit and razor-sharp pen, Vines skewers Quislings, dysfunctional bureaucracies and self-interested elites, arguing that we shouldn't bet against Hongkongers just yet.' — Sharon Hom, Executive Director of Human Rights in China and Adjunct Professor, New York University
'Written with honesty and integrity, [DEFYING THE DRAGON] chronicles a critical moment in Hong Kong's history as the city prepares for an unclear future.' — South China Post Magazine