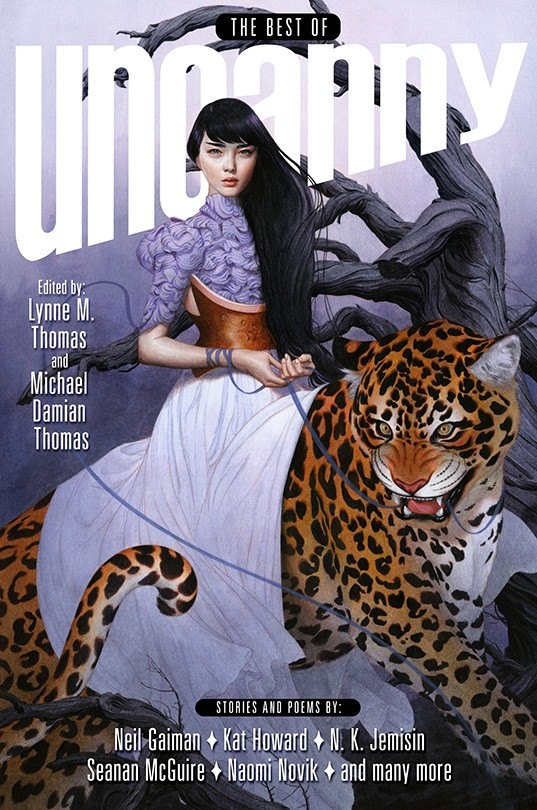 To ring out the end of the year, we wanted to draw your attention to the BEST OF UNCANNY collection, which was recently published by Subterranean Press. Specifically, because it includes Aliette de Bodard's CHILDREN OF THORNS, CHILDREN OF WATER — a short story set in the author's Dominion of the Fallen world! The story, which is set between the first and second novels in the series, was first published in Uncanny Magazine #17 (July-August 2017). Here's the synopsis…
In a Paris that never was, a city of magicians, alchemists and Fallen angels struggling to recover from a devastating magical war…
Once each year, the House of Hawthorn tests the Houseless: for those chosen, success means the difference between a safe life and the devastation of the streets. However, for Thuan and his friend Kim Cuc, — dragons in human shapes and envoys from the dying underwater kingdom of the Seine — the stakes are entirely different. Charged with infiltrating a House that keeps encroaching on the Seine, if they are caught, they face a painful death.
Worse, mysterious children of thorns stalk the candidates through Hawthorn's corridors. Will Thuan and Kim Cuc survive and succeed?
The Dominion of the Fallen novels are THE HOUSE OF SHATTERED WINGS, THE HOUSE OF BINDING THORNS, and THE HOUSE OF SUNDERING FLAMES. They are published by Gollancz in the UK, and Roc Books (#1-2) and JABberwocky (#3).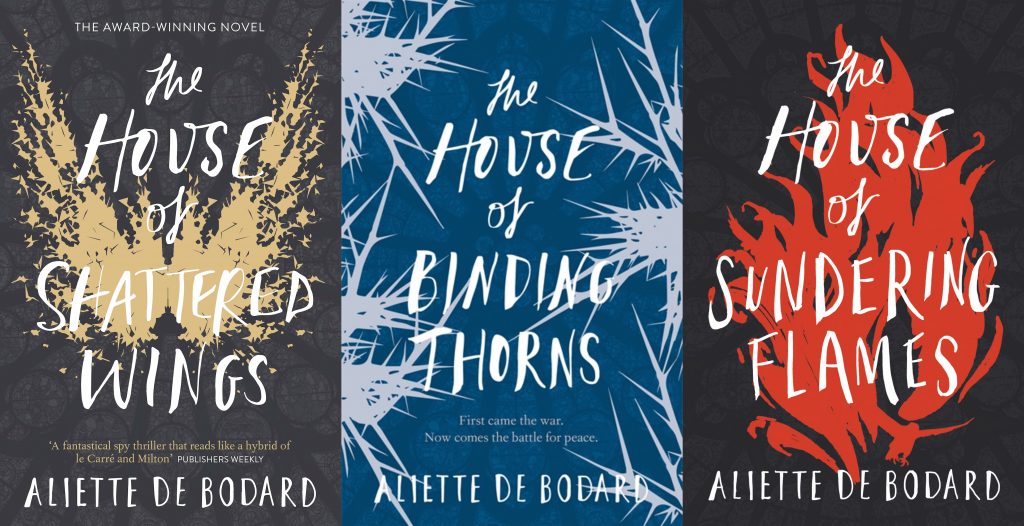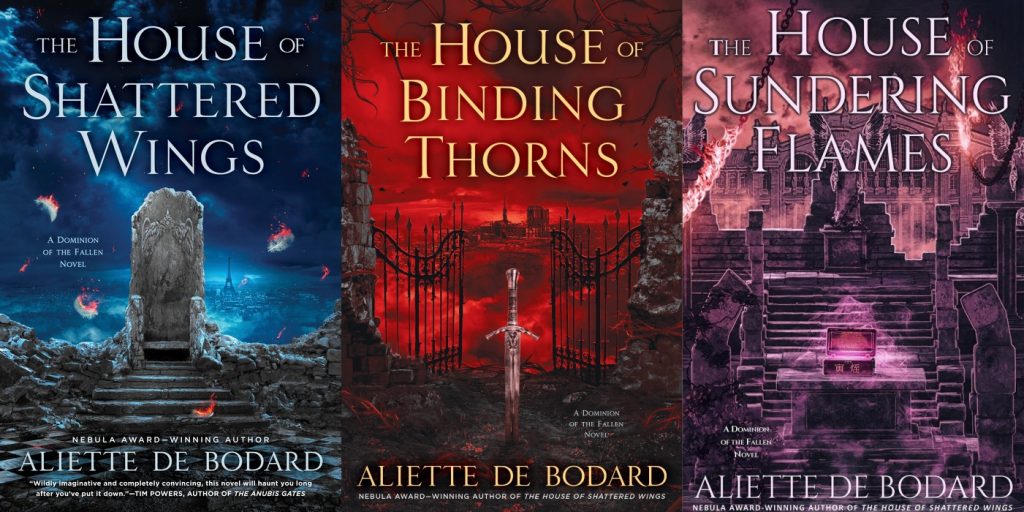 The short story was also available as a pre-order reward from the author before THE HOUSE OF BINDING THORNS was published. Here is the cover for that version…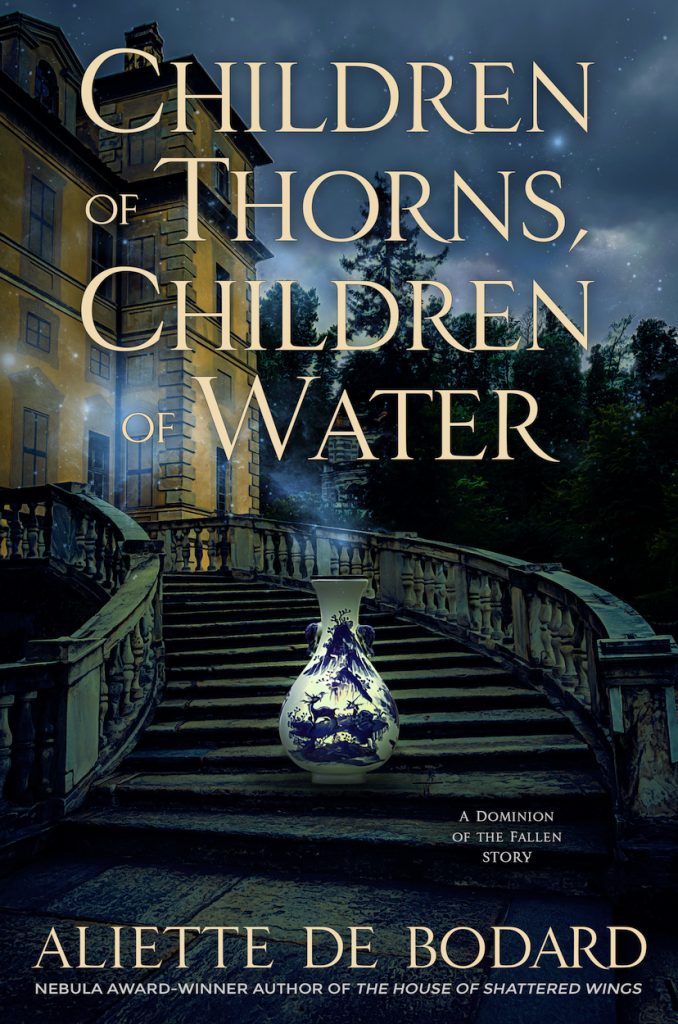 Here are just a few of the reviews the series has received so far…
'Will grab readers and force them to pay attention to the amazing writing and the phenomenal characters. de Bodard will sweep you up into the dark and dirty world Paris has become. The characters are very vivid and will stay with you until long after the last page, as each of them is fighting and longing for something. The writing style rendered the characters' feelings and emotional turmoil beautifully. Watching Philippe and Isabelle work through their "connection" is fascinating and lovely. There's so much going on, and every character has their own past, their own tragic history. It's a whirlwind, it's heartbreaking and it's one of the best fantasy novels of 2015.' — RT Book Reviews (Top Pick August 2015) on THE HOUSE OF SHATTERED WINGS
'A gripping tragedy of forlorn individuals caught up in an angelic version of the Cold War… The story holds up well as a standalone, with clear possibilities but no pressing need for a sequel. De Bodard aptly mixes moral conflicts and the desperate need to survive in a fantastical spy thriller that reads like a hybrid of le Carré and Milton, all tinged with the melancholy of golden ages lost.' — Publishers Weekly (Starred Review) on THE HOUSE OF SHATTERED WINGS
'De Bodard… has spun a fascinating Paris of decay and cruelty. ­Phillippe is a marvel of a character, unreliable as a narrator but compelling in his flaws and his deep well of homesickness.' — Library Journal (Starred Review) on THE HOUSE OF SHATTERED WINGS
'De Bodard's writing is very precise, like a well-oiled machine. The tempo is piston perfect, with the prose style having a strong and steady rhythm throughout. The emotional journey is relatively predictable (especially when we get into a marriage sequence), but the narrative is not. In other words, you can pretty much tell that the big emotions are coming, but the how and the why is what keeps you on edge. This is not a villains book; this is a powerful sequel that shows us that the incredibly complex world of the last novel is even more involved than we first expected. Strong stuff which you won't stop reading till the end.' — Starburst on THE HOUSE OF BINDING THORNS
'The author spins a tale that's rich, emotional and gripping, and delivers that rare thing: a superior sequel… This is an incredibly rich novel. Even as the scheming, double-crossing and action set pieces unfold, the author never loses sight of the people whose lives are on the line… There's just so much going on here: social commentary, myths and fairytales that often feel under-represented in genre fiction, a gripping genre adventure and an affecting love story. The author has gone from strength to strength and we can't wait for this story to continue.' — SciFi Now (5/5*) on THE HOUSE OF BINDING THORNS
'Truly beautifully balanced: between new and old, birth and death, beauty and ugliness, inside and outside, beginning and, yes, ending. It walks the line, and walks it fine.' — Tor.com on THE HOUSE OF BINDING THORNS
'If you've loved the previous entries in this series, consider it a must read. If you haven't, know that it delivers an intoxicating blend of gothic mystery, apocalyptic fantasy, and Vietnamese myth—meaty, singular, and satisfying.' — B&N Sci-Fi & Fantasy Blog on THE HOUSE OF SUNDERING FLAMES