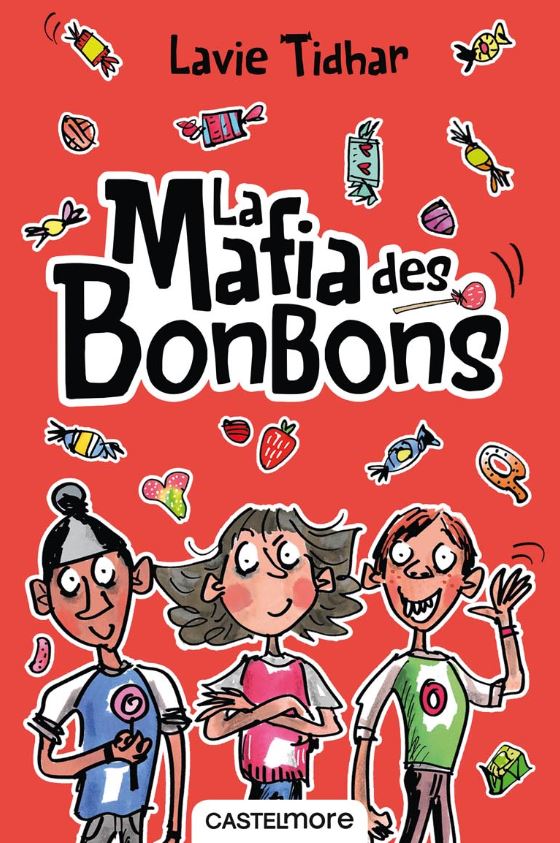 Next month — September 19th, to be exact — Castelmore are due to publish the French edition of Lavie Tidhar's critically-acclaimed first book for young readers, CANDY! Published in France as LA MAFIA DES BONBONS, here's the synopsis…
Quand Charlie et la Chocolaterie rencontre Le Faucon maltais!
Dans une ville où les bonbons sont un crime et où tous les gâteaux ont été prohibés, Nelle Faulkner est une jeune détective privée de douze ans à la recherche de son prochain client.
Quand le célèbre gangster Eddie de Menthe lui demande son aide, Nelle accepte donc aussitôt l'affaire.
Mais son enquête la plonge elle et ses amis dans le plus poisseux et le plus embrouillé des mondes : celui du trafic clandestin de bonbons!
Nelle résoudra-t-elle l'affaire ou risque-t-elle la crise de foie?
CANDY is out now in the UK, published by Scholastic. The wonderful interior illustrations and cover are by Mark Beech. The novel is also forthcoming Germany, due to be published by Loewe in October. Here's the English-language synopsis…
Guard your chocolate! Imagine living in a place where Mars bars are banned and sweeties are totally outlawed. Ugh – how depressing! In this miserable place, is it any wonder that gangsters trade in illegal sweeties? We can't even blame them. Nelle Faulkner is a twelve-year-old private detective looking for her next client. So when notorious candy gangster Eddie de Menthe walks in and asks her to find a missing teddy bear, Nelle takes the case. But as soon as the teddy turns up, Eddie himself goes missing. Can Nelle track him down before all of them come to a sticky end?
Here are just a couple of the great reviews CANDY has received so far…
'A perfectly pitched noir take on Charlie and the Chocolate Factory… delightful premise… as with Tidhar's earlier work, his playful approach to genre is in service to the story's hidden depths. He uses the trappings of noir detective tales to tell a subversive children's story about corruption, the exploitation of vulnerable communities, and the limits of justice. The end result is a novel that for all its joyous sense of fun still packs a surprising emotional and philosophical punch… The whole thing is tied together by Tidhar's wonderful character work and his excellent prose… engages in some beautiful, chocolate and candy themed descriptions which perfectly capture the playground noir aesthetic. Tidhar's characters are drawn with surprising depth and sympathy, with only a few key scenes and interactions he is able to penetrate to the core of loneliness and desperation for belonging that inspires so many of his candy thugs and bullies, giving them believable humanising moments. Most importantly, we never lose sight of the characters as children, which is necessary for the novel to carry off its conceit.' — Fantasy Faction
'Delicious pastiche of "noir" fiction from SF author Lavie Tidhar, set in a city where everything sweet and sugary is banned. Private eye Nelle searches for a lost teddy bear and uncovers a Chinatown-style conspiracy. You could think of it as The Malteser Falcon, or perhaps Double Inde-mint-y.' — Financial Times (Summer Books of 2018)
'… original, highly-enjoyable and tempting twist on what happens when the town suffers from the symptoms of sugar withdrawal… Mark Beech's joyful illustrations add tastes of humour, quirk and life to complement Lavie's brilliant and charismatic characters; infused with an infectious influence of the collaboration between Dahl and Blake. Like a mini Miss Marple meets Maynards… this mouthful of mystery will leave every reader feeling like a child in a sweetshop; just craving to read more from Lavie!' — The Reader Teacher
Lavie's previous and next novels — CENTRAL STATION and UNHOLY LAND, respectively — are  published by Tachyon Publications (the latter due in November 2018).