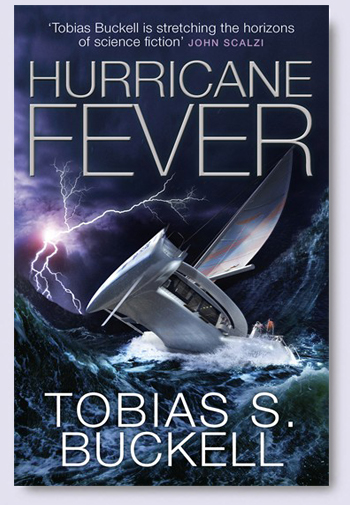 Today, Del Rey UK publish Tobias Buckell's highly-anticipated HURRICANE FEVER, the follow-up to ARCTIC RISING. A thrilling return to Buckell's near-future Earth, it offers an expertly-crafted blend of James Bond-meets-Michael Crichton action and adventure. Here is the synopsis…
When a freelance spy is yanked out of comfortable retirement aboard his boat following the death of a friend, he stumbles upon a deadly terrorist plot to use a private space delivery platform in Barbados to launch a deadly genetic virus.
As one of the largest hurricanes to hit the Caribbean sweeps through the area, one man must battle the world's deadliest natural phenomenon, mercenaries and a deadly biological agent, to save the world.
Can't get to a bookstore, yet? Well, to whet your appetite, Tor.com have helpfully published an excerpt from HURRICANE FEVER. Below are a couple of early reviews…
'A stormy, aptly named thriller set in the Caribbean of the near future… The stakes are higher than one might expect, and even the specter of racism comes into play. Buckell has written a smart and well-constructed tale that's filled with excitement and the flavor of the Caribbean isles… So don't wait for a dark and stormy night to read this novel; you'll have plenty of fun.' — Kirkus, Starred Review
'Buckell solidly links the political and the personal, both exemplified by subtle race-related interactions (for instance, at upper-crust parties, Roo is frequently mistaken for a servant). The scenes of sailing and spying action move quickly, and the climax, set on a supersized satellite-launching cannon, is one white cat shy of a Bond movie.' — Publishers Weekly
HURRICANE FEVER is published in the US by Tor Books, also this week.
Zeno represents Tobias Buckell in the UK and Commonwealth, on behalf of the JABberwocky Literary Agency in New York.