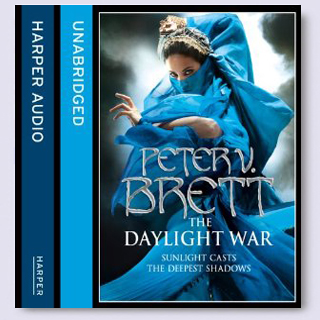 We're very happy to announce that a new narrator for Peter V. Brett's UK audiobooks has been announced! After auditioning a string of talented actors, Peter selected Colin Mace for new editions of all of his Demon Cycle fiction. Colin will be re-recording the three novels to date – THE PAINTED MAN, THE DESERT SPEAR and THE DAYLIGHT WAR – plus Brett's two short stories set in the same world, THE GREAT BAZAAR and BRAYAN'S GOLD (also collected in a very nice hardcover edition). All of the novels, as well as the audio editions, are published in the UK by Voyager Books, Harper Collins.

The Sunday Times-bestselling series continues to go from strength to strength, and we believe these new audio editions will become fan-favourites, too. We'll be sure to keep you updated on the release dates of these new editions as soon as it becomes available.
Zeno represents Peter V. Brett in the UK & Commonwealth on behalf of JABberwocky Literary Agency in New York.