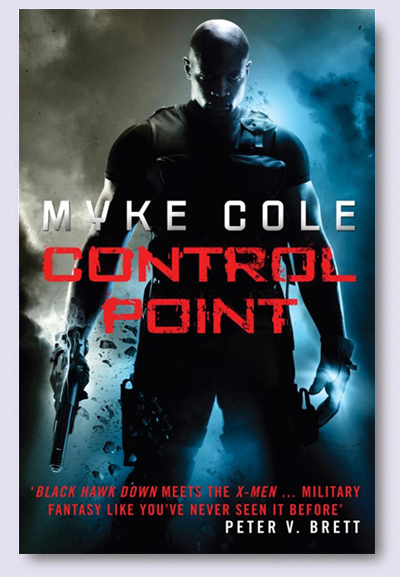 There's no better time to check out Myke Cole's Shadow Ops – his critically-acclaimed, fan-favourite guns-n-sorcery series! Not only was the final volume in the trilogy, BREACH ZONE, published in January, but Amazon UK have included the first novel, CONTROL POINT, in their February Kindle Deals!
Here is the synopsis…
All over the world people are 'coming up latent' – developing new and terrifying abilities. Untrained and panicked, they are summoning storms, raising the dead, and setting every?thing they touch ablaze.
US Army Lieutenant Oscar Britton has always done his duty, even when it means working alongside the feared Supernatural Operations Corps, hunting down and taking out those with newfound magical talents. But when he manifests a rare, startling power of his own and finds himself a marked man, all bets are off.
On the run from his former colleagues, Britton is driven into an underground shadow world, where he is about to learn that magic has changed all the rules he's ever known… and that his life isn't the only thing he's fighting for.
Cole's Shadow Ops – CONTROL POINT, FORTRESS FRONTIER, and BREACH ZONE – are published in the UK by Headline. Here's just a sample of the praise that has been heaped onto the series…
'Cole's definitely got a hit on his hands. He's found that perfect recipe, incorporating magic, military, and mayhem without sacrificing either realism or the sense of wonder. I can't wait to see what comes next.' — Tor.com on CONTROL POINT
'A furious ride on the front line … a non-stop thrill ride that's almost impossible to put down … one of 2012's most exciting debuts.' — Fantasy Faction on CONTROL POINT
'A compelling story connected to well-conceived world building … an absolute blast to read … I predict Myke Cole's debut is going to be a monster success.' — Staffer's Book Review on CONTROL POINT
'A solid improvement from CONTROL POINT, with a fantastic set of new characters… [FORTRESS FRONTIER is] a superb sequel.' — SF Signal
'Cole wraps up the Shadow Ops trilogy with a magical battle royale… This action-filled, adrenalin-powered adventure, which enthusiastically embraces the tropes of tales about meta-powered minorities and the distrusting majorities who oppress them, provides a fitting end for the trilogy.' — Publishers Weekly on BREACH ZONE
'The author has really pulled out all the stops for this one, and written a really fantastic novel… BREACH ZONE is like a perfect blend of Marvel's Avengers and the [Lord of the Rings'] Battle for Helms Deep. Only, better… Myke Cole is a fantastic new talent, and if each of his novels improves on the last, it won't be long before we see him climbing ever-higher on the bestseller list. Highly recommended.' — Civilian Reader

Zeno represents Myke Cole in the UK and Commonwealth on behalf of the JABberwocky Literary Agency in New York.