A little while ago, Jonathan Strahan interviewed Lavie Tidhar for Coode Street's "Ten Minutes With…" series of podcast episodes. You can listen to the interview on the podcast's website, but we've also embedded the interview below…
Lavie's latest novel, the acclaimed BY FORCE ALONE, is out now in the UK (Head of Zeus) and due to be published in North America in August 2020 (Tor Books). In case you've missed the coverage, here's the synopsis…
Britannia, AD 535.
The Romans have gone. While their libraries smoulder, roads decay and cities crumble, men with swords pick over civilisation's carcass, slaughtering and being slaughtered in turn.
This is the story of just such a man. Like the others, he had a sword. He slew until slain. Unlike the others, we remember him. We remember King Arthur.
This is the story of a land neither green nor pleasant. An eldritch isle of deep forest and dark fell haunted by swaithes, boggarts and tod-lowries, Robin-Goodfellows and Jenny Greenteeths, and predators of rarer appetite yet.
This is the story of a legend forged from a pack of self-serving, turd-gilding, weasel-worded lies told to justify foul deeds and ill-gotten gains.
This is the story – viscerally entertaining, ominously subversive and poetically profane – of a Dark Age myth that shaped a nation.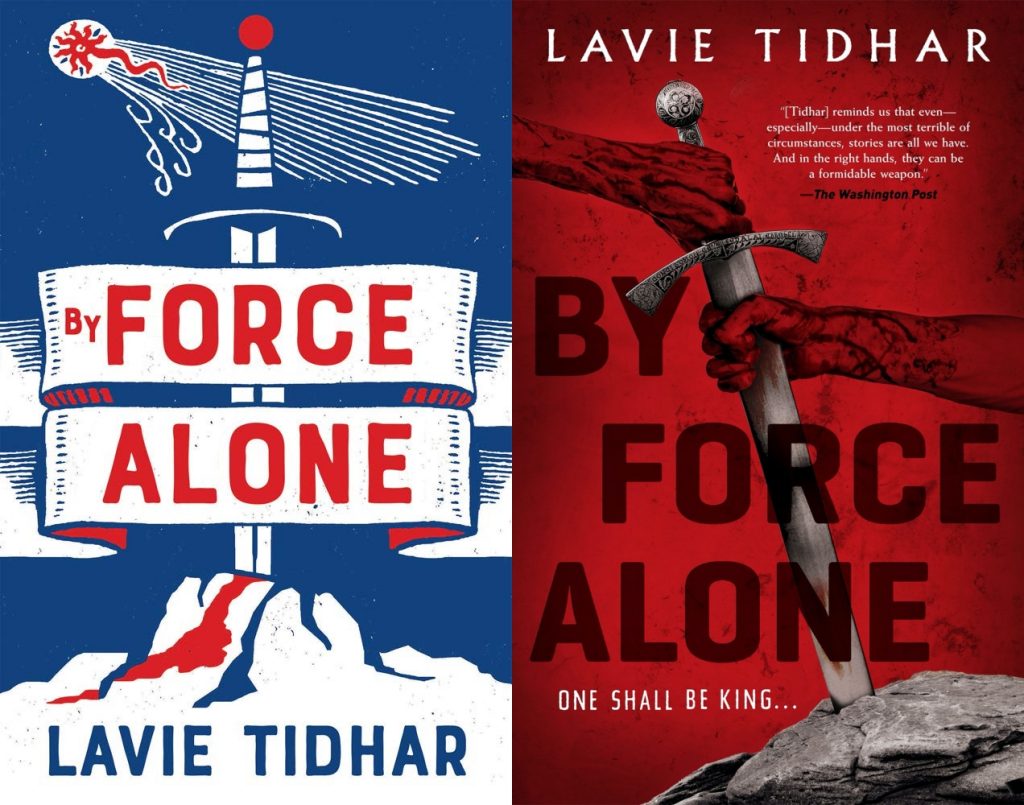 Here's just a small selection of the aforementioned acclaim for BY FORCE ALONE…
'Drawing on everything from wushu movies to The Wire by way of Tarkovsky and Tarantino, BY FORCE ALONE is wild, surprising and entertaining, and a hugely immersive read.' — M.R. Carey
'A twisted Arthur retelling mixing the historical and the magical with a very modern eye. Brutal and vicious, funny, Peaky Blinders of the Round Table.' — Adrian Tchaikovsky
'Profane, hilarious, brutal… kills as both sheer entertainment and canny political statement. To my fellow writers: the Arthurian Revision category is now closed. Take your ball and go home.' — Daryl Gregory
'Uther is a chancer and a shagger… [Arthur] is ruthless in pursuit of power… His Lancelot… is a ninja warrior, his Guinevere a killer — the writer is clearly having fun… Tidhar never lands direct political punches… but the very tone and shape of the book are a reminder that we need to treat national myths with caution… this is a novel that demands your attention and proves that sometimes when a writer has the audacity to revisit stories that others would avoid for fear of over-familiarity, they can steal the power of the oldest tales.' — SFX (4.5*/5)
'A violent, funny, absurd epic – Tidhar remains an utterly original voice in contemporary fiction.' — Daniel Polansky
'Tidhar saturates this epic adventure with profanity, dark humor, sword-sharp twists, and unexpected moments of pathos. Readers who hold King Arthur dear to their hearts will be gratified by Tidhar's attention to detail amidst the innovation. This dark, imaginative take on a classic is sure to impress.' — Publishers Weekly
'Lavie Tidhar has built a career out of not playing it safe. Over the last decade he has written bold, provocative novels… with a flair for metafiction and inspired by the pulps (both hard-boiled and genre)… given the political nature of his work, it's not entirely surprising that he would shift his focus to the question of nationalism and Brexit… with his latest novel, BY FORCE ALONE, Tidhar takes a mythology the English hold dear, the legend of King Arthur, and goes to town with it… For all its foul language and radical deconstruction, of which I've provided only a taste (you should see what Tidhar does with the Holy Grail), BY FORCE ALONE isn't a desecration of the Arthurian romances. Instead, he pays homage to the writers and poets – Robert Wace, Chretien de Troyes, Wolfram von Eschenbach, and Thomas Mallory (just to name a few) – who took their turn in adapting and refining Monmouth's text… BY FORCE ALONE is a jolt of pure entertainment, a brilliant, revisionist blend of magic, crime syndicates and Kung-fu knights.' — Locus
'The novel is a bloody, bravura performance, which Tidhar pulls off with graphic imagery and modern vernacular… a salutary antidote to the more romantic glossings of recent modern fantasy.' — Guardian