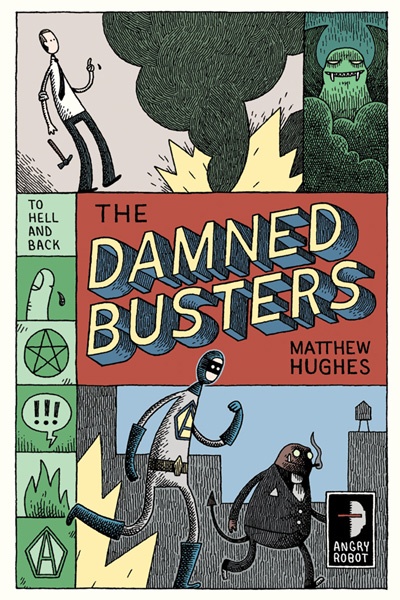 We're very happy to report that Angry Robot Books are reprinting Matthew Hughes's acclaimed To Hell and Back trilogy! First published between 2011-13, the trilogy includes THE DAMNED BUSTERS, COSTUME NOT INCLUDED, and HELL TO PAY. Here's the synopsis for the first novel in the series…
When mild-mannered Chesney Arnstruther accidentally summons a demon and causes Hell to go on strike, he doesn't expect to wind up as what he had always dreamed of being: the Actionary, a costumed crimefighter with a weasel-headed fiend for a sidekick.
But that's just the beginning of a journey that will see the "high-functioning" autistic actuary enmeshed in the schemes of a greedy televangelist, romancing a pepper-spray-wielding manicurist, and sitting down to a poker game with the Devil where the stakes include his immortal soul.
Here are just a few reviews the series has received…
'This is a funny and surprisingly endearing book with some interesting discussions about the role of sin and our reactions to it.' — The Guardian on THE DAMNED BUSTERS
'You're missing out if you haven't bought this book yet. Pure and simple.' — The Founding Fields on THE DAMNED BUSTERS
'A witty superhero story that's just plain fun.' — SFSignal on THE DAMNED BUSTERS
'Hughes continues to carve out a unique place for himself in the fantasy-mystery realm. A droll narrative voice, dry humor and an alternative universe that's accessible without exposition make this a winner.' — Publishers Weekly on COSTUME NOT INCLUDED
'Part mystery, part comic book, part religious treatise, and part crime drama, Hughes manages to work in entertaining twists and character confrontations on a regular basis without overloading his story.' — Sacramento & San Francisco Book Review on COSTUME NOT INCLUDED
'The first book in the series was very good, the second was better. The events of those books were leading up to this final volume in the trilogy and it's the best yet.' — The British Fantasy Society on HELL TO PAY
'A highly enjoyable read, with some interesting philosophical underpinnings and surprising twists. The book makes for a satisfying ending to the To Hell & Back series, which gave us a quirky, off-beat story about an unlikely super hero, with unexpected depths.' — A Fantastical Librarian on HELL TO PAY