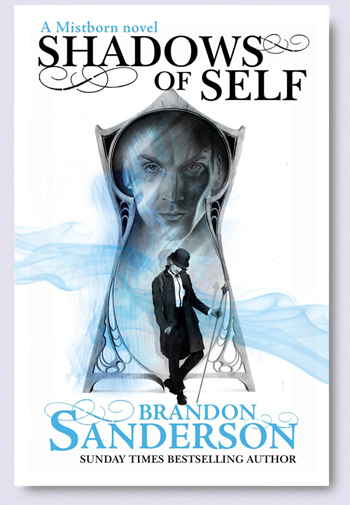 Today, Gollancz have unveiled the cover for Brandon Sanderson's highly-anticipated next Mistborn novel. SHADOWS OF SELF is due to be published in the UK on October 8th, 2015. Here's the synopsis…
In the first of two sequels to The Alloy Of Law the Sunday Times and New York Times bestselling author returns to the world of Mistborn.
It is more than 300 years after the events of the The Final Empire shaped Scadrial. Waxillium Ladrian has returned to the capital city of Elendel from the far flung roughs. Elendel is crisscrossed by canals and railways and towers reach for the sky but this is still a city of dangers and of magic; Allomancy and Feruchemy can still change the world. Wax faces many more adventures.
As the synopsis states, this is the first of two sequels to THE ALLOW OF LAW, which took the Mistborn setting forward a few hundred years. The next Mistborn sequel will be BANDS OF MOURNING, due out next year.
Here are all of the UK Mistborn covers together…
Zeno represents Brandon Sanderson in the UK and Commonwealth, on behalf of the JABberwocky Literary Agency in New York.