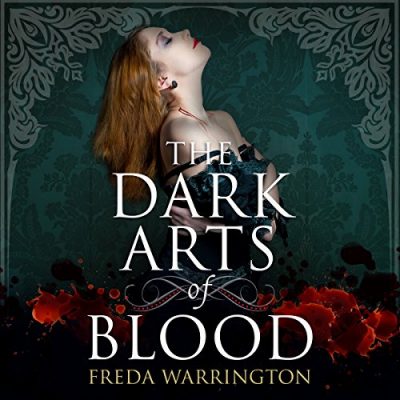 Freda Warrington's THE DARK ARTS OF BLOOD is available in audio! Published by Audible, it is the fourth novel in the author's beloved Blood Wine series. Here's the synopsis…
In 1920s Switzerland, vampire lovers Charlotte and Karl are drawn into turmoil as Godric Reiniger, a local filmmaker and activist with sinister ambitions, begins his rise to power. Meanwhile, fiery dancer Emil achieves his dream to partner the legendary ballerina and vampire Violette Lenoir until his forbidden desire for her becomes an obsession. Rejected, spiralling towards madness, he seeks solace with a mysterious beauty, Fadiya. But she, too, is a vampire, with a hidden agenda. When Karl and Charlotte undertake the perilous journey to rescue Emil, they unearth secrets that threaten the very existence of vampire-kind.
All four novels in the series are published in audio by Audible, and in print by Titan Books (in the UK and US): A TASTE OF BLOOD WINE, A DANCE IN BLOOD VELVET, and THE DARK BLOOD OF POPPIES. Audible has published many of Freda's extensive backlist of fantasy and horror novels.
Here are just a few of the great reviews the series has received…
'Dark and sensual and atmospheric, this stunning book continues the story of Karl, Charlotte and their friends, deftly expanding the mythos of vampires and introducing new characters that are sure to become favourites.' — Aliette de Bodard on THE DARK ARTS OF BLOOD
'Freda Warrington's vampire novels make for lush, intense dramas involving angst-haunted, fierce undead–lovers, enemies, family members, friends, despots, sometimes religious fanatics or raving lunatics… I remain very impressed by this author and the vampire saga she has crafted.' — Vampires.com on THE DARK ARTS OF BLOOD
'In the style of authors such as Anne Rice, Warrington has made a tale that beats convention and shows readers what is more likely to happen to vampires than in many other novels. It is great to see that what were once 90's novels have been re published for a fresh audience who have already indulged in the Twilight novels. The cover art for this one and the other three is striking and beautiful in a gothic way and tells a lot about the kind of novels they are. This is for those who want to curl up with a good book…' — Fantasy Book Review on THE DARK ARTS OF BLOOD
'I can't praise this series enough, the author's writing is poetic, enduring, and consumes you hook, line, and sinker. A superb ending to a marvellous series, and highly recommended.' — British Fantasy Society on THE DARK ARTS OF BLOOD
'Not merely one of the finest fantasy novels of recent years, but one of the finest ever. Should not be missed.' — Interzone on A TASTE OF BLOOD WINE
'… a tale which throbs with lush romanticism.' — The Times on A TASTE OF BLOOD WINE
'… a full-blooded gothique that rips more than bodices… Warrington's vampire dynasty has the grandeur of a cobwebbed cathedral, and her plot is forged in operatic passions. Treating her subjects with theatrical intensity, she creates lush images, awash in colour and shadow, and the ideal gothic mood is preserved; a dark romance to lose yourself in.' — Time Out on A DANCE IN BLOOD VELVET
'The third book in Freda Warrington's brilliantly evocative Blood Wine Sequence, and for me at least, possibly one of the best… I've yet to end any review of one of Freda's books without referring to the impressive style of her writing — it's smart, compelling, and simply fabulous… So easy to recommend this, and any of the others in the Blood Wine Sequence.' — British Fantasy Society on THE DARK ARTS OF BLOOD