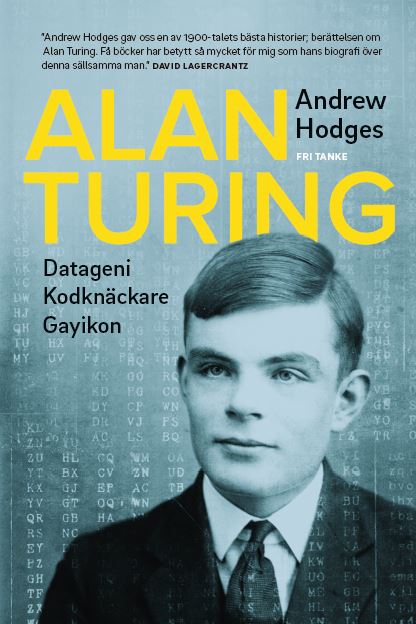 Andrew Hodges's critically-acclaimed, bestselling ALAN TURING: THE ENIGMA, is available in Swedish! Published by Fri Tanke as ALAN TURING: DATAGENI, KODKNÄCKARE OCH GAYIKON, here's the synopsis…
Den brittiska matematikern Alan Turing räddade de allierade från nazisterna, uppfann datorn, grundade forskningsfältet artificiell intelligens och förekom gayrörelsen med flera decennier – och allt detta innan fyrtioett års ålder då han tog sitt eget liv.
Andrew Hodges mångfacetterade och hyllande biografi över datavetenskapens grundare är ett djup­gående porträtt av ett extraordinärt liv och intellekt. I en rörande berättelse om matematik, datorer, kryptografi och homofobi fångar Hodges både den inre och den yttre dramatiken i Turings liv.
Hodges beskriver hur Turings revolutionerande idé om en universell maskin redan 1936 lade grunden för den moderna datorn och hur Turing med sin elektroniska design förverkligande samma idé 1945.
Boken beskriver också hur detta arbete direkt relaterade till Turings nyckelroll i arbetet med att knäcka tyska kryptokoder under andra världskriget, en vetenskaplig bedrift som var väsentlig för att möjliggöra de allierades seger.
Men det är också en tragisk berättelse om en man som trots sitt stora bidrag till världsfreden och vetenskapen blev arresterad, och tvingades genomgå en förödmjukande behandling, bara för att han ville leva ett ärligt liv i ett samhälle som betraktade homosexualitet som ett brott.
Boken blev film 2015, med Benedict Cumberbatch och Keira Knightley i huvudrollerna.
ALAN TURING: THE ENIGMA is published in the UK by Vintage, in the US by Princeton University Press, and has been published in translation many times. See Andrew's author page for details, and please do get in touch for more information about rights available. Here's the English-language synopsis…
Alan Turing was the mathematician whose cipher-cracking transformed the Second World War. Taken on by British Intelligence in 1938, as a shy young Cambridge don, he combined brilliant logic with a flair for engineering. In 1940 his machines were breaking the Enigma-enciphered messages of Nazi Germany's air force. He then headed the penetration of the super-secure U-boat communications.
But his vision went far beyond this achievement. Before the war he had invented the concept of the universal machine, and in 1945 he turned this into the first design for a digital computer.
Turing's far-sighted plans for the digital era forged ahead into a vision for Artificial Intelligence. However, in 1952 his homosexuality rendered him a criminal and he was subjected to humiliating treatment. In 1954, aged 41, Alan Turing took his own life.
The Oscar-winning The Imitation Game, starring Benedict Cumberbatch and Keira Knightley was based on ALAN TURING: THE ENIGMA.