We're delighted to announce that two Zeno authors are on the short-list (of six) for this year's coveted Arthur C. Clarke Award…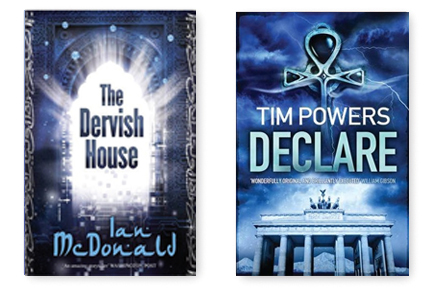 Not a bad hit rate for us! Ian has been on this shortlist in previous years and THE DERVISH HOUSE, listed in countless year's best lists, is  already winner of the SciFi Now award for best novel is a book on everyone's lips as a definite contender for this year's Hugo.
DECLARE is an interesting addition to the Clarke shortlist, not least because it was first published in the US back in 2000, when it won both the World Fantasy Award and the International Horror Guild award.  It has taken a lamentably long time for British publishing to see the value in Powers' work, but with the backing, support and vision of Corvus, DECLARE is now available directly to UK readers, with other books in the pipeline.
Award administrator Tom Hunter said 'For me this list is a great indication of just how deep, rich and complex the literature of science fiction can be. I think this list is a definite keeper, as they say, and my hope is that twenty-five years from now people will still be coming back to it as a representation of everything that's best about the diversity and strength of our genre'