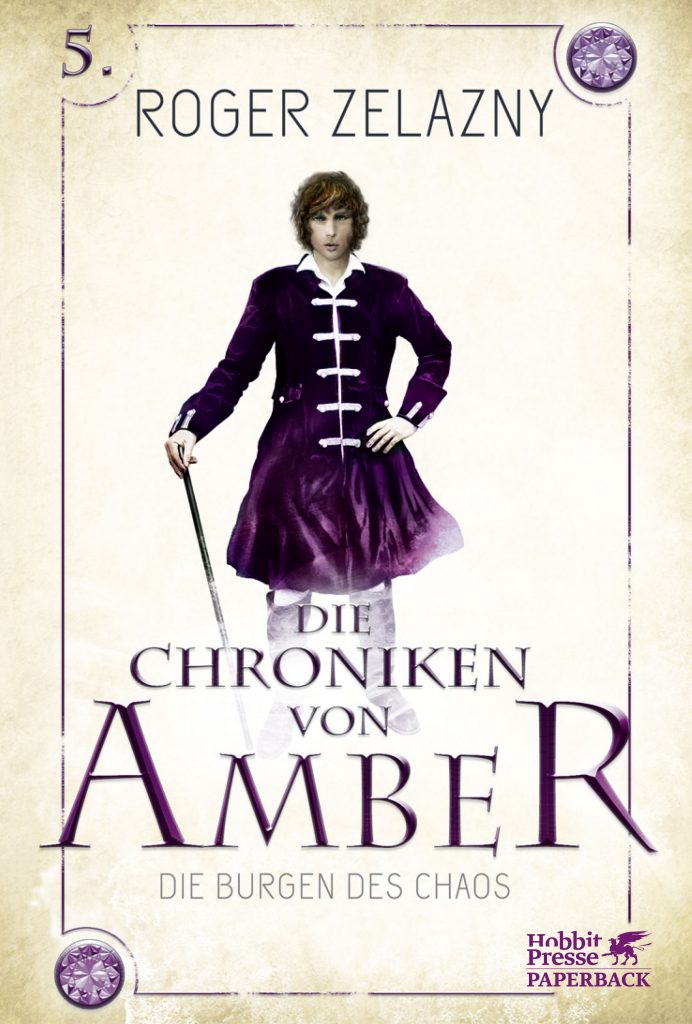 Tomorrow, Klett-Cotta publishes COURTS OF CHAOS, the fifth book in the Chronicles of Amber, Roger Zelazny's classic fantasy series. Published in Germany as DIE BURGEN DES CHAOS, here's the synopsis…
Corwin sieht sich gezwungen, eine Kopie des ursprünglichen Musters zu erschaffen. Währenddessen bläst Brand zum Kampf gegen Corwin, bei dem es nur einen Sieger geben kann und dessen Ausgang über die Zukunft Ambers entscheiden wird.
Prinz Corwin lebte nach einem Gedächtnisverlust auf der Erde, ohne zu wissen, wer er ist. Als eines Tages ein Mitglied seiner Familie versucht, ihn zu töten, beginnt er, nach seiner Vergangenheit zu forschen.
Und so setzt er alles daran, in das Königreich Amber zurückzukehren. Bald schon erfährt er, dass seine Verwandtschaft über einige sehr ungewöhnliche Kräfte verfügt. Alle Nachfahren des Königshauses können zwischen Amber, den Schattenwelten und dem Chaos hin- und herreisen, indem sie die Realität manipulieren. Sie benutzen magische Spielkarten, um zu kommunizieren und sich an andere Orte zu versetzen. Aber vor allem sind sie alle in einen erbarmungslosen Kampf um den Thron verstrickt. Und nicht zuletzt muss das Geheimnis um das Verschwinden ihres königlichen Vaters Oberon aufgedeckt werden.
The novel was first published in 1978. Here's the English-language synopsis…
Amber, the one real world of which all others – including our own Earth – are but Shadows…
For untold millennia, the cosmic Pattern sustained order in Amber and all the known worlds. But now the forces of Chaos have succeeded in disrupting the Pattern, unleashing destructive forces beyond measure… forces meant to reshape the universe.
To save Amber, Corwin, prince of the blood, champion of the perfect realm, must undertake the most perilous journey of his life. A journey that will take him through all the terrors of Shadows to the enemy's last stonghold. A journey beyond the very edge of existence… to the Courts of Chaos.
Klett-Cotta/Hobbit Presse have also published the first four novels in the series.

Zeno represents Roger Zelazny in Translation, on behalf of the Zelazny Estate.