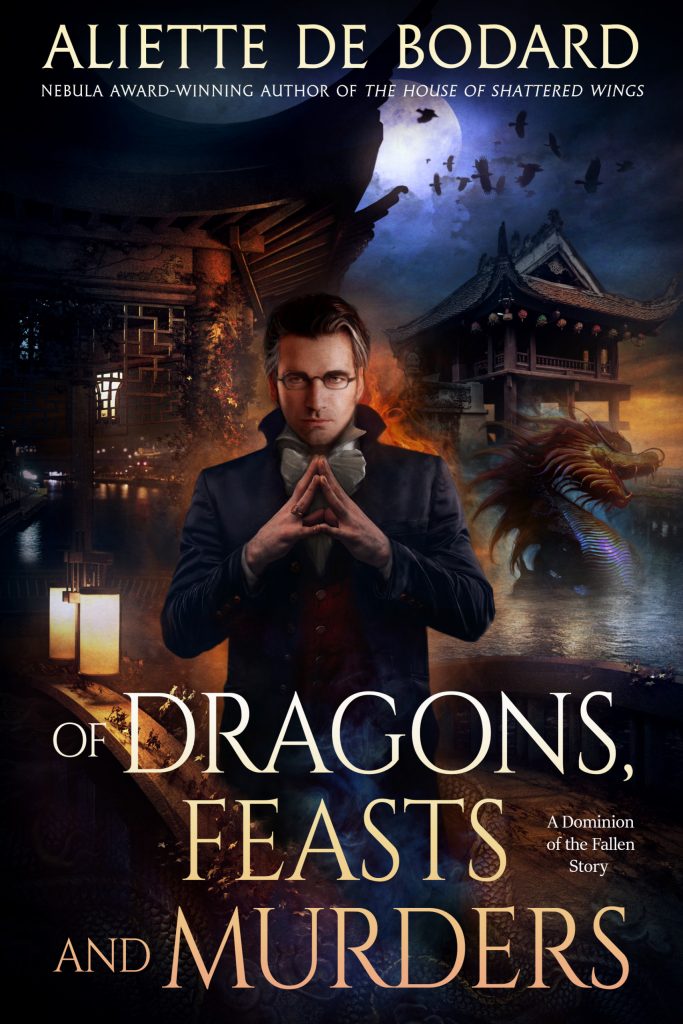 The wait is finally over: Aliette de Bodard's new, highly-anticipated Dominion of the Fallen novella, OF DRAGONS, FEASTS AND MURDERS is out today! Published by JABberwocky, here's the synopsis…
From the author of the critically acclaimed Dominion of the Fallen trilogy comes a tale of dragons, and Fallen angels — and also kissing, sarcasm and stabbing.
Lunar New Year should be a time for familial reunions, ancestor worship, and consumption of an unhealthy amount of candied fruit.
But when dragon prince Thuan brings home his brooding and ruthless husband Asmodeus for the New Year, they find not interminable family gatherings, but a corpse outside their quarters. Asmodeus is thrilled by the murder investigation; Thuan, who gets dragged into the political plotting he'd sworn off when he left, is less enthusiastic.
It'll take all of Asmodeus's skill with knives, and all of Thuan's diplomacy, to navigate this one — as well as the troubled waters of their own relationship….
A sparkling standalone book set in a world of dark intrigue.
A must read for fans of Aliette's Dominion of the Fallen series, the novella can stand on its own (perfect for newcomers, too)! Chronologically, it follows the third novel in the series: THE HOUSE OF SUNDERING FLAMES.
'A delightful political mystery featuring de Bodard's vibrant world-building, beautiful prose, and compelling characters.' — Juliet Kemp, author of Shadow and Storm
'Fantasy of Manners but with corpses and a stabby husband. The stabby husband may or may not have produced the aforementioned corpses.' — Fantasy Inn
The Dominion of the Fallen novels are published by Gollancz in the UK and Roc Books (#1-2) and JABberwocky (#3) in North America: THE HOUSE OF SHATTERED WINGS, THE HOUSE OF BINDING THORNS and the aforementioned THE HOUSE OF SUNDERING FLAMES.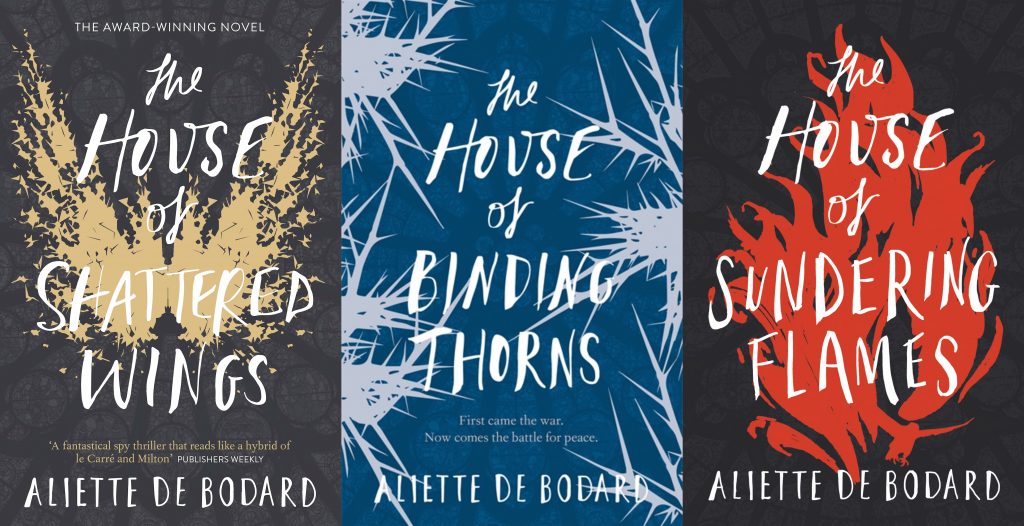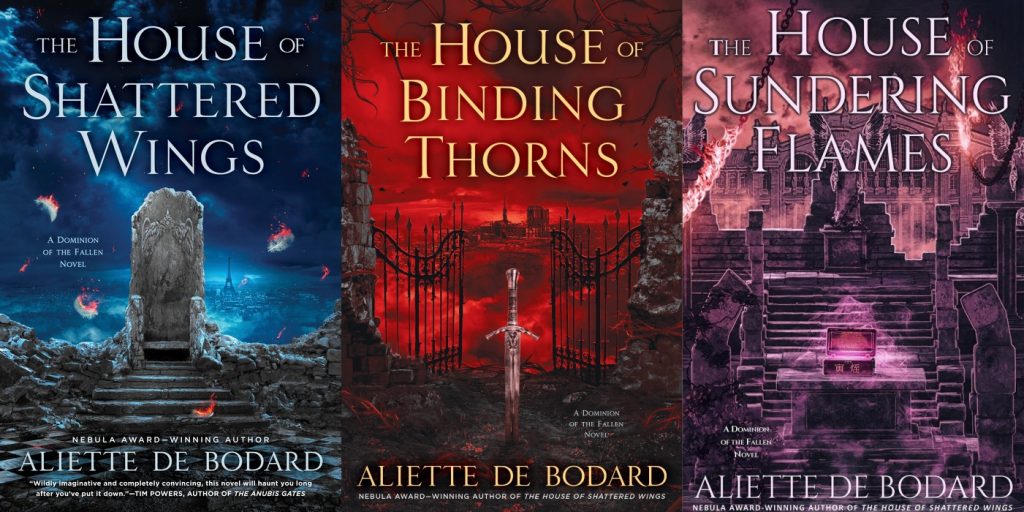 Here are just a few of the great reviews the series has received so far…
'A beautifully crafted novel full of complex characters, set in a post apocalyptic Paris – the image of which is truly haunting… vivid and fast-paced battles and intense political manoeuvrings… with carefully crafted characters both with layers and depth, De Bodard reflects the best and worst of human nature in her novel… an intriguing mystery, elegantly written… Something any avid fantasy reader with an open mind will devour!' — Guardian on THE HOUSE OF SHATTERED WINGS
'A gripping tragedy of forlorn individuals caught up in an angelic version of the Cold War… The story holds up well as a standalone, with clear possibilities but no pressing need for a sequel. De Bodard aptly mixes moral conflicts and the desperate need to survive in a fantastical spy thriller that reads like a hybrid of le Carré and Milton, all tinged with the melancholy of golden ages lost.' — Publishers Weekly (Starred Review) on THE HOUSE OF SHATTERED WINGS
'Will grab readers and force them to pay attention to the amazing writing and the phenomenal characters. de Bodard will sweep you up into the dark and dirty world Paris has become. The characters are very vivid and will stay with you until long after the last page, as each of them is fighting and longing for something. The writing style rendered the characters' feelings and emotional turmoil beautifully. Watching Philippe and Isabelle work through their "connection" is fascinating and lovely. There's so much going on, and every character has their own past, their own tragic history. It's a whirlwind, it's heartbreaking and it's one of the best fantasy novels of 2015.' — RT Book Reviews (Top Pick August 2015) on THE HOUSE OF SHATTERED WINGS
'De Bodard… has spun a fascinating Paris of decay and cruelty. ­Phillippe is a marvel of a character, unreliable as a narrator but compelling in his flaws and his deep well of homesickness.' — Library Journal (Starred Review) on THE HOUSE OF SHATTERED WINGS
'Meddling gleefully in the affairs of devils and dragons, this affective sequel to 2015's THE HOUSE OF SHATTERED WINGS touches the heart as often as it cuts throats… Having fully crafted her world, de Bodard is now completely in control: she can move swiftly from gentle poetic touches to bloody Grand Guignol gestures, and she sure-handedly holds the reader by exposing the vulnerabilities and needs that drive even the seemingly all-powerful figures of rebel angels and ancient serpents to surrender to a higher collective power. In this world lacking signs of heaven, redemptions are painful but possible.' — Publishers Weekly (Starred Review) on THE HOUSE OF BINDING THORNS
'The author spins a tale that's rich, emotional and gripping, and delivers that rare thing: a superior sequel… This is an incredibly rich novel. Even as the scheming, double-crossing and action set pieces unfold, the author never loses sight of the people whose lives are on the line… There's just so much going on here: social commentary, myths and fairytales that often feel under-represented in genre fiction, a gripping genre adventure and an affecting love story. The author has gone from strength to strength and we can't wait for this story to continue.' — SciFi Now (5/5*) on THE HOUSE OF BINDING THORNS
'De Bodard's writing is very precise, like a well-oiled machine. The tempo is piston perfect, with the prose style having a strong and steady rhythm throughout. The emotional journey is relatively predictable (especially when we get into a marriage sequence), but the narrative is not. In other words, you can pretty much tell that the big emotions are coming, but the how and the why is what keeps you on edge. This is not a villains book; this is a powerful sequel that shows us that the incredibly complex world of the last novel is even more involved than we first expected. Strong stuff which you won't stop reading till the end.' — Starburst on THE HOUSE OF BINDING THORNS
'Truly beautifully balanced: between new and old, birth and death, beauty and ugliness, inside and outside, beginning and, yes, ending. It walks the line, and walks it fine.' — Tor.com on THE HOUSE OF BINDING THORNS
'de Bodard's people feel real to me… There is hope even in the darkest of places, and there is a desire for love, for trust, for harbor, that takes root no matter how often it's destroyed. This is a stronger, more certain novel than THE HOUSE OF SHATTERED WINGS, and if reading it is sometimes walking the unfenced edge of a cliff, the vista is dizzying and beautiful. It is well worth the wait, and if you haven't read the first novel, I urge you to do so. But have THE HOUSE OF BINDING THORNS in hand before you reach the end.' — Fantasy & Science Fiction (Mar/Apr 2017)
'If you've loved the previous entries in this series, consider it a must read. If you haven't, know that it delivers an intoxicating blend of gothic mystery, apocalyptic fantasy, and Vietnamese myth—meaty, singular, and satisfying.' — B&N Sci-Fi & Fantasy Blog on THE HOUSE OF SUNDERING FLAMES