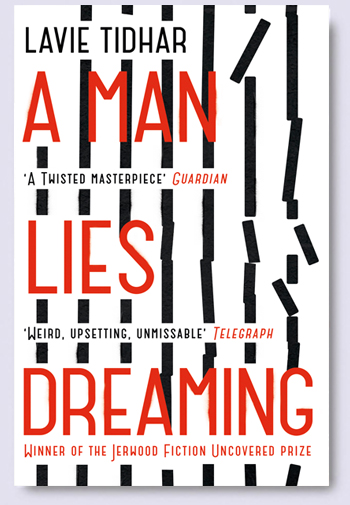 Lavie Tidhar's latest novel, A MAN LIES DREAMING, has been nominated for the Dublin Literary Award 2016! The novel, published in the UK by Hodder, also won the Jerwood Fiction Uncovered Prize earlier this year. Here's the synopsis…
Deep in the heart of history's most infamous concentration camp, a man lies dreaming. His name is Shomer, and before the war he was a pulp fiction author. Now, to escape the brutal reality of life in Auschwitz, Shomer spends his nights imagining another world – a world where a disgraced former dictator now known only as Wolf ekes out a miserable existence as a low-rent PI in London's grimiest streets.
An extraordinary story of revenge and redemption, A Man Lies Dreaming is the unforgettable testament to the power of imagination.
A MAN LIES DREAMING is due to be published in the US by Melville House in March 2016. Lavie's previous novel, THE VIOLENT CENTURY, is also published in the UK by Hodder, and in the US by Thomas Dunne Books. THE VIOLENT CENTURY was nominated for the Dublin Literary Award 2015. Here's just a small sample taken from the many glowing reviews the novel has received…
'Comes crashing through the door of literature like Sam Spade with a .38 in his hand. This is a shocking book as well as a rather brilliant one… Tidhar's novel treats its grim theme not as a comedy, although there is plenty of caustic humour, but instead as a pulp-noir tale of seamy city streets, gumshoes and lowlifes… Tidhar, who cut his teeth in the world of genre SF, understands how eloquent pulp can be… Like Tarantino, Tidhar may find that some people don't take him seriously. But the joke's on them. Seriousness is the least of it: A MAN LIES DREAMING is a twisted masterpiece.' — Guardian
'Savagely funny… A MAN LIES DREAMING, by the Israeli-born novelist Lavie Tidhar, has not been published with the fanfare bestowed on Martin Amis's The Zone of Interest or Howard Jacobson's J, but it is their equal for savage humour… Those who enjoy laughter in the dark will relish Tidhar's parade of mordant ironies… This novel is weird, upsetting, unmissable.' 5* — Telegraph
'No one can accuse Lavie Tidhar of being risk-averse… such an interesting writer… the novel is not without a fair amount of humor, and that might well be the boldest risk Tidhar is taking here…' — Locus
'When Tidhar writes of the Holocaust it is with brutal accuracy and a deep sensitivity… poetic and terrible… Many will find elements of this story deeply disturbing, not the least of which is a possible sympathy to Wolf… To top it all of course is Tidhar's voice itself — at times humorous, at times grim but never frivolous and always taught and controlled… As with his previous novels, Tidhar knows how to say a great deal in very little. There is eloquence and gravitas in the sparseness and brevity of noir fiction when it is good, and Tidhar's is quite incredible.' — Tor.com