This Thursday, Ian McDonald and Melinda Snodgrass will be hosted by The Last Bookstore in Los Angeles for interviews and book signing. The event is on September 24th, and starts at 7pm (full details at the link above).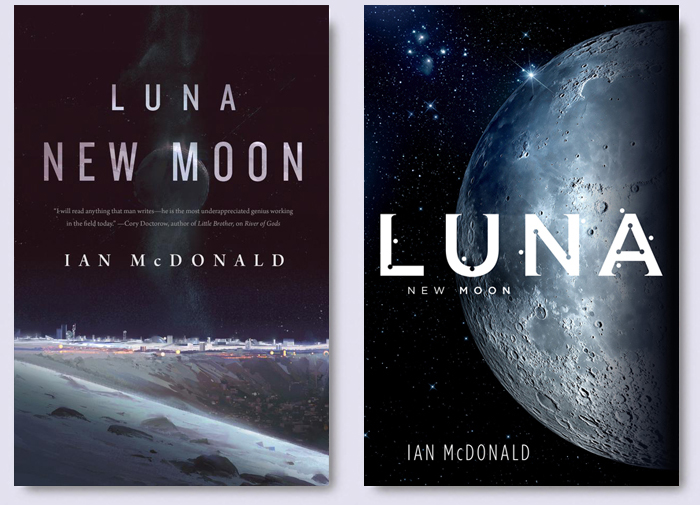 Ian McDonald is the author of, most recently, LUNA: NEW MOON. The first in a two-part science fiction series set on the moon, it is published today in the US by Tor Books, and in the UK by Gollancz. Here's the synopsis…
The Moon wants to kill you. Whether it's being unable to pay your per diem for your allotted food, water, and air, or you just get caught up in a fight between the Moon's ruling corporations, the Five Dragons. You must fight for every inch you want to gain in the Moon's near feudal society. And that is just what Adriana Corta did.
As the leader of the Moon's newest "dragon," Adriana has wrested control of the Moon's Helium-3 industry from the Mackenzie Metal corporation and fought to earn her family's new status. Now, at the twilight of her life, Adriana finds her corporation, Corta Helio, surrounded by the many enemies she made during her meteoric rise. If the Corta family is to survive, Adriana's five children must defend their mother's empire from her many enemies… and each other.
You can read an excerpt from the novel, here. Here's a selection of the great reviews the novel has received so far…
'McDonald… begins his superb near-future series… scintillating, violent, and decadent world. McDonald creates a complex and fascinating civilization featuring believable technology, and the characters are fully developed, with individually gripping stories. Watch for this brilliantly constructed family saga on next year's award ballots.' — Publishers Weekly (Starred Review)
'Fans of cerebral, high-concept science fiction will love this exploration of society on the moon many decades after it has been colonized. The focus is more on concept and plot than on character, but the former are compelling enough to make this an addictive page-turner. Including the stories of many characters gives the reader important insights into different facets of society, and although the book starts at a slow pace, it accelerates into a mesmerizing political thriller.' — RT Book Reviews
'A refreshing and complex science fiction of the best kind – one that is universally clever and thought provoking, and one that stays with you long after you close the final page.' — Upcoming4Me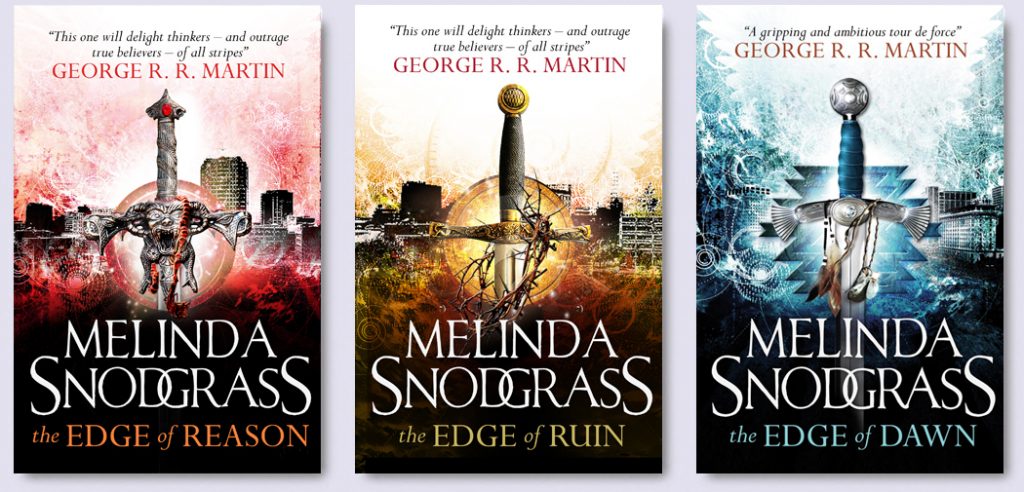 Melinda Snodgrass is the author of the critically-acclaimed Edge series: THE EDGE OF REASON, THE EDGE OF RUIN, THE EDGE OF DAWN. Published in the US by Tor Books, it is published in the UK by Titan Books. Here's the synopsis for the first in the series…
A contemporary fantasy that explores the tensions between science and rationality, religion and superstition. An intelligent blend of Dante's Inferno and Urban Fantasy…
Richard Oort is a cop. He's also the last Paladin: a reluctant hero, fated to defend the world against demonic forces that threaten to plunge us into another Dark Age.
Richard is on patrol one night when he leaps to the defense of a terrified young woman fleeing something impossible: beings that can only be described as monsters. Beings that can only have been created by magic. But in saving the beautiful Rhianna, he gets drawn into the machinations of a mysterious billionaire who just might be Prometheus and Lucifer. And who claims to be waging a millennia-old war on the side of reason and light, defending humanity from others of his kind who want nothing more than to see us destroy ourselves with superstition, religion, darkness, fear.
But when Richard discovers he's a Paladin — product of a genetic fluke that enables him to wield Lucifer's sword — he becomes a central figure in the battle between Light and Darkness. But is he strong enough to bear the burden?
Here's a selection of reviews the Edge series has received…
'[A] gritty narrative of a war between light and dark… Balanc[es] a harsh critique of organized religion with touches of humor and a good-hearted priest who grounds his faith in the Golden Rule…' — Publishers Weekly on THE EDGE OF REASON
'Snodgrass has a thick, meaty writing style that will satisfy the hungriest reader… she deftly weaves [her characters'] stories together to bind the interest and excitement of the story. Events in this novel will challenge the beliefs and thought systems of many and leave readers questioning themselves – but in a highly satisfying manner.' — RT Book Reviews on THE EDGE OF RUIN
'A rousing finale… A terrific conclusion to this epic urban fantasy, Snodgrass continues to define the genre on her own terms. This is one book readers should grab on to now, because it might prove to be a harbinger for the next phase of urban fantasy. Recommended.' — SF Revu on THE EDGE OF DAWN
Zeno represents Melinda Snodgrass in the UK and Commonwealth, on behalf of Kay McCauley at Aurous, Inc.