A little while back, we shared a fan-produced musical homage to Ben Aaronovitch's critically-acclaimed, bestselling Peter Grant Series. Today, we're very happy to be able to share with you the music video! It really is a sign of just how passionate Ben's fans are about his novels and the characters he's created. The song was produced by Ben's nephew, Mikis Michaelides, a composer and musician who works with Doc Brown on their hugely successful 4 O'Clock Club for the BBC.
Check it out…
In related Peter Grant news, the audiobook edition of BROKEN HOMES, the fourth in the series, has been nominated for a CrimFest Award in the Best Audiobook category! The audiobook was expertly narrated by the great Kobna Holdbrook-Smith, and published by Orion Audio.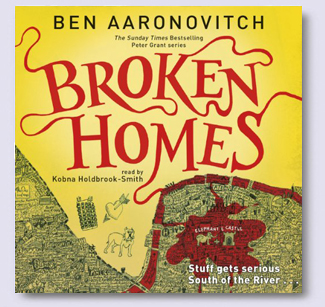 Ben's Peter Grant series is published in the UK by Gollancz. At the time of writing, the first four novels are available: RIVERS OF LONDON, MOON OVER SOHO, WHISPERS UNDERGROUND, and BROKEN HOMES. The fifth book in the series is due out in the summer of 2014. We'll be sure to share up-t0-the-minute information as soon as we get it. The series has been sold widely in other territories – including DTV (Germany), J'ai Lu (France), Del Rey and DAW Books (US), to name but a few.