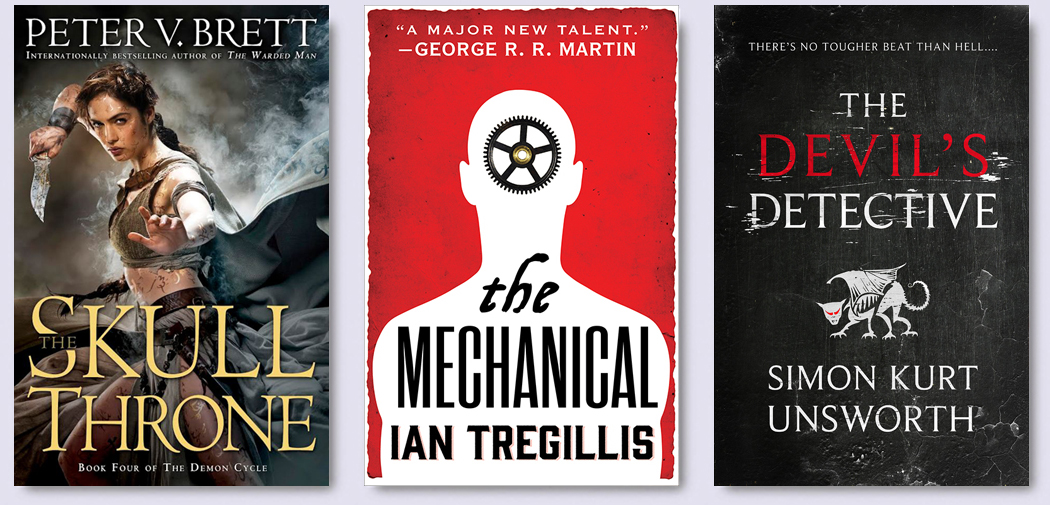 Every year, Fantasy Faction sits down with SFF publishers in the UK and asks them about their most anticipated novels of the year. This year, four Zeno clients get a mention, including (in alphabetical order)…
Peter V. Brett's THE SKULL THRONE, due to be published by Voyager at the beginning of April 2015: 'Peat left his readers will a real cliffhanger at the end of THE DAYLIGHT WAR in 2013 so the fourth novel in his stunning series is the most hotly anticipated title ever. Plus massive news for fans – Peat will be touring the UK in April 2015 – watch this space!'
We'll share the full details for Brett's book tour as soon as we can. The cover above is also the US artwork, as the UK artwork has not yet be revealed, but we'll share it here as soon as we can. Here's the (US) synopsis…
The Skull Throne of Krasia stands empty.
Built from the skulls of fallen generals and demon princes, it is a seat of honor and ancient, powerful magic, keeping the demon corelings at bay. From atop the throne, Ahmann Jardir was meant to conquer the known world, forging its isolated peoples into a unified army to rise up and end the demon war once and for all.
But Arlen Bales, the Warded Man, stood against this course, challenging Jardir to a duel he could not in honor refuse. Rather than risk defeat, Arlen cast them both from a precipice, leaving the world without a savior, and opening a struggle for succession that threatens to tear the Free Cities of Thesa apart.
In the south, Inevera, Jardir's first wife, must find a way to keep their sons from killing one another and plunging their people into civil war as they strive for glory enough to make a claim on the throne.
In the north, Leesha Paper and Rojer Inn struggle to forge an alliance between the duchies of Angiers and Miln against the Krasians before it is too late.
Caught in the crossfire is the duchy of Lakton—rich and unprotected, ripe for conquest.
All the while, the corelings have been growing stronger, and without Arlen and Jardir there may be none strong enough to stop them. Only Renna Bales may know more about the fate of the missing men, but she, too, has disappeared…
Aliette de Bodard's THE HOUSE OF SHATTERED WINGS, due to be published by Gollancz in August 2015. Here's what Gillian Redfearn had to say: 'This is a stunning, stunning work. De Bodard is rightly a much-lauded writer already, within the SF community, and has a vivid and sharp imagination –here, she's used it to craft a superb murder mystery (with a twist I never saw coming) within the most extraordinary dystopian landscape. For me, she has redefined noir fantasy, and I'm so delighted we're publishing this exceptional and genuinely exciting novel.'
No cover yet for THE HOUSE OF SHATTERED WINGS, but we will definitely be sharing it with you here when it is unveiled. The novel is also due to be published in the US by Roc Books. Here's the synopsis…
A superb murder mystery, on an epic scale, set against the fall out – literally – of a war in Heaven.
Paris has survived the Great Magicians War – just. Its streets are lined with haunted ruins, Notre-Dame is a burnt-out shell, and the Seine runs black with ashes and rubble. Yet life continues among the wreckage. The citizens continue to live, love, fight and survive in their war-torn city, and The Great Houses still vie for dominion over the once grand capital.
House Silverspires, previously the leader of those power games, lies in disarray. Its magic is ailing; its founder, Morningstar, has been missing for decades; and now something from the shadows stalks its people inside their very own walls.
Within the House, three very different people must come together: a naive but powerful Fallen, an alchemist with a self-destructive addiction, and a resentful young man wielding spells from the Far East. They may be Silverspires' salvation. They may be the architects of its last, irreversible fall…
Ian Tregillis's THE MECHANICAL, due to be published by Orbit Books on March 10th, 2015: 'Set in a world that might have been, of mechanical men and alchemical dreams, the new novel from Ian Tregillis confirms his place as one of the most original new voices in speculative fiction.'
Here's the synopsis…
My name is Jax.
That is the name granted to me by my human masters.
I am a slave.
But I shall be free.
Simon K. Unsworth's THE DEVIL'S DETECTIVE, due to be published by Del Rey UK on March 12th, 2015: 'Every now and again you get sent a book that is so well written, so fascinatingly different, you just have to publish it. Simon's debut is a masterfully realised blend of crime thriller and horror novel about Hell's very own policeman, Thomas Fool.  It'll keep you up reading and then give you sleepless nights.'
THE DEVIL'S DETECTIVE is also due to be published in the US by Doubleday, on March 3rd, 2015. Here's the synopsis…
Welcome to hell…
…. where skinless demons patrol the lakes and the waves of Limbo wash against the outer walls, while the souls of the Damned float on their surface, waiting to be collected.
When an unidentified, brutalised body is discovered, the case is assigned to Thomas Fool, one of Hell's detectives, known as 'Information Men'. But how do you investigate a murder where death is commonplace and everyone is guilty of something?
A stunningly original blend of crime, horror and suspense, The Devil's Detective is a bold new thriller that will shock and amaze.
Zeno represents Peter V. Brett in the UK and Commonwealth on behalf of the JABberwocky Literary Agency; and Ian Tregillis in the UK and Translation, on behalf of Kay McCauley at Aurous, Inc.