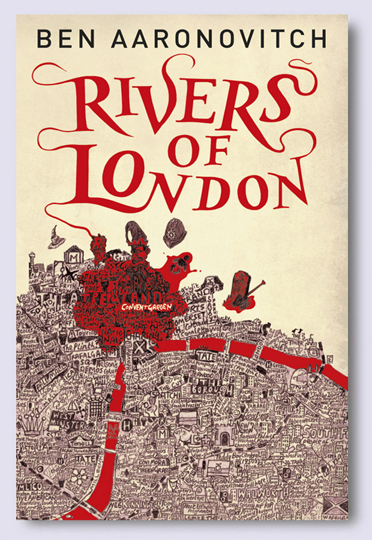 Today we can finally bring you the exciting news that Ben Aaronovitch's RIVERS OF LONDON has been optioned for television by Feel Films. Genre fans will be excited to learn that this is the same production company behind the highly-anticipated, forthcoming BBC adaptation of JONATHAN STRANGE AND MR NORRELL.
'In RIVERS OF LONDON,' says Nick Hirschkorn, Managing Director and Executive Producer of Feel Films, 'Ben has brilliantly fused the worlds of procedural crime and fantasy to create something undeniably unique. His wit and tone grabbed me from the very first page and I am hugely honoured to be entrusted to  bring Peter Grant, Nightingale and their London to life.'
Ben, naturally, is thrilled with the deal, and says, 'I'm looking forward to this with the mixture of mad anticipation and stark fear that is the only rational response to developing your own work forTelevision…Me and Nick will be looking to put something on TV that will blow the audiences' socks off out through their ears.'
In the event that you have not yet tried Ben's brilliant and highly-entertaining series (shame on you!), here is the synopsis for book one…
My name is Peter Grant and until January I was just probationary constable in that mighty army for justice known to all right-thinking people as the Metropolitan Police Service (and as the Filth to everybody else). My only concerns in life were how to avoid a transfer to the Case Progression Unit – we do paperwork so real coppers don't have to – and finding a way to climb into the panties of the outrageously perky WPC Leslie May. Then one night, in pursuance of a murder inquiry, I tried to take a witness statement from someone who was dead but disturbingly voluable, and that brought me to the attention of Inspector Nightingale, the last wizard in England.
Now I'm a Detective Constable and a trainee wizard, the first apprentice in fifty years, and my world has become somewhat more complicated: nests of vampires in Purley, negotiating a truce between the warring god and goddess of the Thames, and digging up graves in Covent Garden… and there's something festering at the heart of the city I love, a malicious vengeful spirit that takes ordinary Londoners and twists them into grotesque mannequins to act out its drama of violence and despair.
The spirit of riot and rebellion has awakened in the city, and it's falling to me to bring order out of chaos – or die trying.
The Rivers of London series comprises RIVERS OF LONDON, MOON OVER SOHO, and WHISPERS UNDER GROUND. The fourth volume, BROKEN HOMES, will be published on July 25th, 2013, by Gollancz.