FLIP BACK, the fourth novel in Andrew Cartmel's critically-acclaimed Vinyl Detective series is out today in the US and UK! Published by Titan Books, here's the synopsis…
At the height of their success, the electric folk band Black Dog invited journalists to a desolate island for an infamous publicity stunt: the burning of a million dollars. But the stunt backfired and the band split up, increasing the value of their final album vastly. It's this album that Tinkler's got his eye on, and he hires none other than the Vinyl Detective and Nevada to hunt a copy down.
Narrowly avoiding a killing spree, negotiating deranged Black Dog fans, and being pursued by hack celebrity Stinky Stamner and his camera crew, the Vinyl Detective and Nevada discover that perhaps all was not as it seemed on the island—and that in the embers of that fire are clues to a motive for murder…
Titan Books has also published the first three novels in the series: WRITTEN IN DEAD WAX, THE RUN-OUT GROOVE, and VICTORY DISC.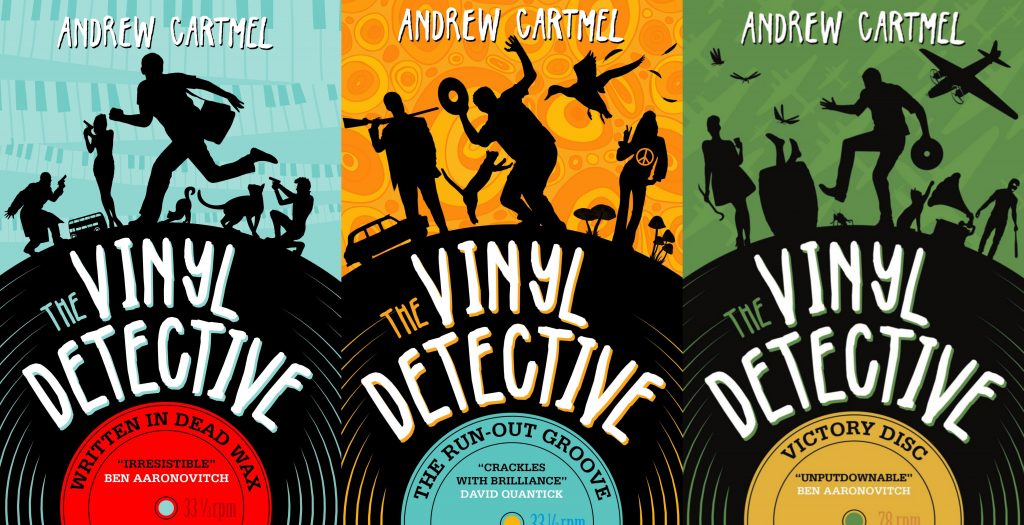 Here's some of that critical acclaim that the series has received so far…
'This charming mystery feels as companionable as a leisurely afternoon trawling the vintage shops with a good friend.' — Kirkus on WRITTEN IN DEAD WAX
'… fast-paced, lighthearted adventure… marvelously inventive and endlessly fascinating…' — Publishers Weekly on WRITTEN IN DEAD WAX
'Author Cartmel has combined the tropes of the several genres into a surprising, refreshing story centered around old-fashioned records… the story delivers multiple chuckles per chapter… Based on this volume, the series will be a hit.' — New York Journal of Books on WRITTEN IN DEAD WAX
'THE RUN-OUT GROOVE does a fantastic job of making its fictional history of music so fascinating and authentic that you'll forget it isn't all true… This a follow-up every bit the equal of its highly memorable predecessor, presenting a mystery you'll be eager to solve and characters whose company you won't want to leave. Written with infectious charm, the Vinyl Detective has more than proven he's no one-hit-wonder.' (9/10) — Alternative Magazine Online
'Polished, fast-paced and a ton of fun, this is a fantastic read that is easy to get lost in… more polished… keeps the story rolling forward at an incredible speed – and also makes it very hard to put down… Cartmel has created an intoxicating mix of adventure, humour and mystery to lose yourself in… a truly engaging and enjoyable read. THE RUN-OUT GROOVE surpasses even the opening novel in the series for polish and fun.' — The Crime Review
'… entertaining second record-spinning mystery… Cartmel treats music and records seriously, plays his strange characters for laughs, and provides a bit of danger and some unexpected twists in this affectionate nod to the vagaries of rock stardom.' — Publishers Weekly on THE RUN-OUT GROOVE
'… effectively integrates the lead's unusual specialty of searching out rare records into an intricately constructed plot… the clever resolution of the story lines is impressive. Fair-play fans, even those without an interest in music, will be pleased.' — Publishers Weekly on VICTORY DISC
'VICTORY DISC works beautifully both as a sequel and as a standalone novel… The story is splendid, continuing the fine tradition of the series to date of weaving fascinating fact with thrilling fiction… Andrew Cartmel is a fine mystery (and comedy) writer, keeping his readers smiling while never letting the elements of humour obfuscate the more serious moments… if you enjoyed the first two books, you'll undoubtedly enjoy this one too. The unsolved murder mystery is highly intriguing, the characters introduced throughout are fully formed and a delight to uncover more about, and the chemistry between the Vinyl Detective and his friends is absolutely spot on. In short, VICTORY DISC is beautifully orchestrated and well worth taking for a spin this summer.' — Alternative Magazine Online
Andrew is also the co-author of Ben Aaronovitch's Rivers of London comic series, published by Titan Comics.