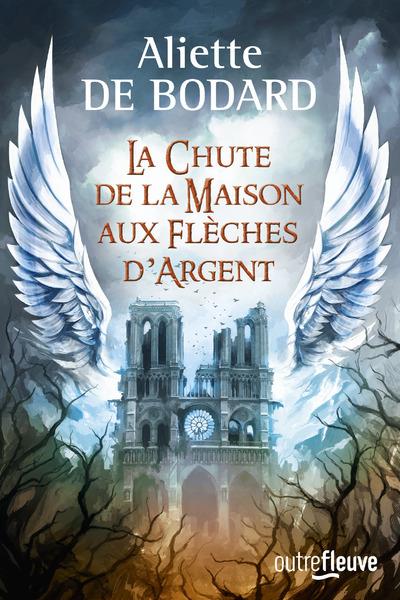 Aliette de Bodard's award-winning THE HOUSE OF SHATTERED WINGS is out today in France! Published by Fnac as LA CHUTE DE LA MAISON AUX FLÈCHES D'ARGENT, here's the synopsis…
La Grande Guerre magique a laissé Paris exsangue, couverte de débris, de poussière de sorts usés, de ruines et de décombres. Au cœur de Notre-Dame, une malédiction attend d'être libérée pour emporter tout ce qui reste.
Paris n'est que ruines et décombres depuis la Grande Guerre magique qui a opposé les Maisons régnant sur la capitale. Et celles-ci n'ont pas été épargnées : elles ne sont plus que l'ombre de leur splendeur d'antan. La Maison aux Flèches d'Argent fut la plus puissante parmi toutes. Mais sa position est précaire dans l'équilibre fragile qui s'est instauré. Et en son coeur, au sein de Notre-Dame, une malédiction terrible est dissimulée, prête à se déchaîner sur elle. Son destin est désormais lié à celui d'un jeune homme aux mystérieux pouvoirs et d'une nouvelle Déchue.
La puissante magie de l'ange suffira-t-elle à les sauver de la chute?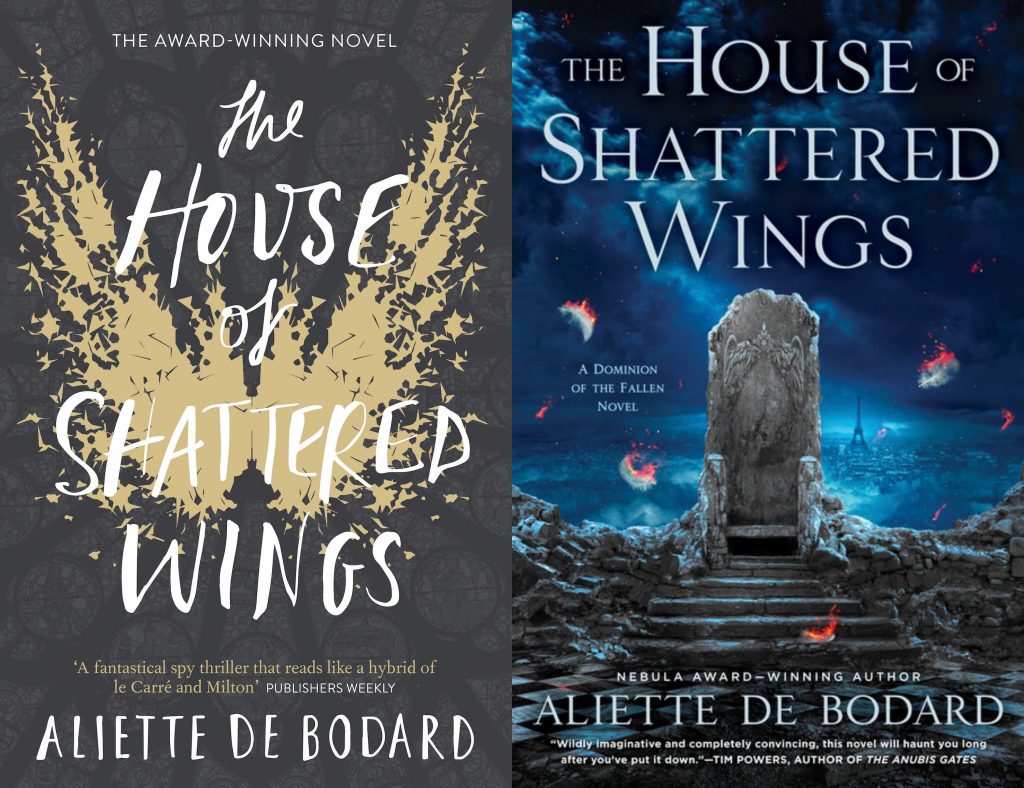 The BFSA Award-winning THE HOUSE OF SHATTERED WINGS is published in the UK by Gollancz and in the US by Roc Books. Here's the English-language synopsis…
A superb murder mystery, on an epic scale, set against the fall out — literally — of a war in heaven
Paris in the aftermath of the Great Magicians War. Its streets are lined with haunted ruins, Notre-Dame is a burnt-out shell, and the Seine runs black, thick with ashes and rubble. Yet life continues among the wreckage. The citizens retain their irrepressible appetite for novelty and distraction, and The Great Houses still vie for dominion over France's once grand capital.
House Silverspires, previously the leader of those power games, now lies in disarray. Its magic is ailing; its founder, Morningstar, has been missing for decades; and now something from the shadows stalks its people inside their very own walls.
Within the House, three very different people must come together: a naive but powerful Fallen, an alchemist with a self-destructive addiction, and a resentful young man wielding spells from the Far East. They may be Silverspires' salvation; or the architects of its last, irreversible fall…
The second novel in the Dominion of the Fallen series, THE HOUSE OF BINDING THORNS, is due to be published in April by Gollancz and Roc Books.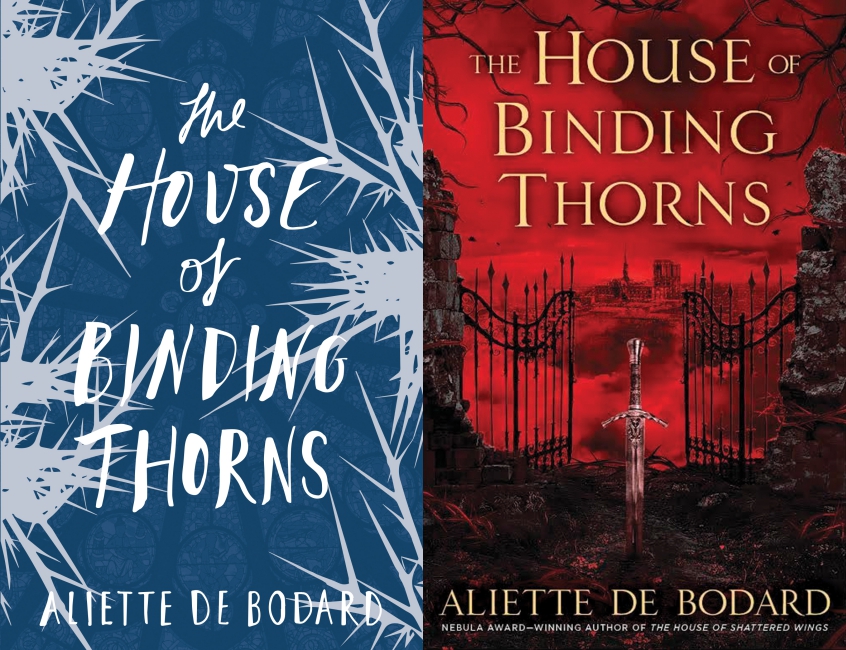 Here are a few reviews that THE HOUSE OF SHATTERED WINGS has received…
'Will grab readers and force them to pay attention to the amazing writing and the phenomenal characters. de Bodard will sweep you up into the dark and dirty world Paris has become. The characters are very vivid and will stay with you until long after the last page, as each of them is fighting and longing for something. The writing style rendered the characters' feelings and emotional turmoil beautifully. Watching Philippe and Isabelle work through their "connection" is fascinating and lovely. There's so much going on, and every character has their own past, their own tragic history. It's a whirlwind, it's heartbreaking and it's one of the best fantasy novels of 2015.' — RT Book Reviews (Top Pick August 2015)
'A gripping tragedy of forlorn individuals caught up in an angelic version of the Cold War… The story holds up well as a standalone, with clear possibilities but no pressing need for a sequel. De Bodard aptly mixes moral conflicts and the desperate need to survive in a fantastical spy thriller that reads like a hybrid of le Carré and Milton, all tinged with the melancholy of golden ages lost.' — Publishers Weekly (Starred Review)
'De Bodard… has spun a fascinating Paris of decay and cruelty. ­Phillippe is a marvel of a character, unreliable as a narrator but compelling in his flaws and his deep well of homesickness.' — Library Journal (Starred Review)
'It's a testament to De Bodard's skills that we're completely immersed in the world almost immediately, without her resorting to a 'here's what happened' information splurge. None of the fallen angels can remember why it was that they fell from Heaven… the Paris of fallen angels that the author has created is so compelling… It's brimming with ideas, some of which rush by so quickly that you might wish De Bodard had taken a little more time to explore them. This is a good problem to have though. It's fascinating, moving and hugely readable.' — SciFi Now
'A suspenseful supernatural narrative focusing on fallen angels as they fight for power in a post-apocalyptic Paris that boasts brilliant worldbuilding, powerful prose and a cast of terrifically conflicted characters. It's the year's best urban fantasy by far, and if it doesn't embiggen de Bodard's base, I don't know what will… Complicated as they are, its characters are clearly defined and deftly developed; its plot, Byzantine as it becomes, never feels false, or forced; its messed-up magic system is as insidious as it is rigorous; meanwhile its world, whilst confined to a cathedral, is wonderfully well-rendered. De Bodard doesn't talk down to her readers, or repeat herself needlessly; refreshingly, she has faith enough in us to put the pieces of the puzzle together ourselves. There's an intelligence — and, yes, an elegance — to THE HOUSE OF SHATTERED WINGS that is as rare and precious as angel essence. It's a wonder, in a word, and I for one want more.' — Tor.com