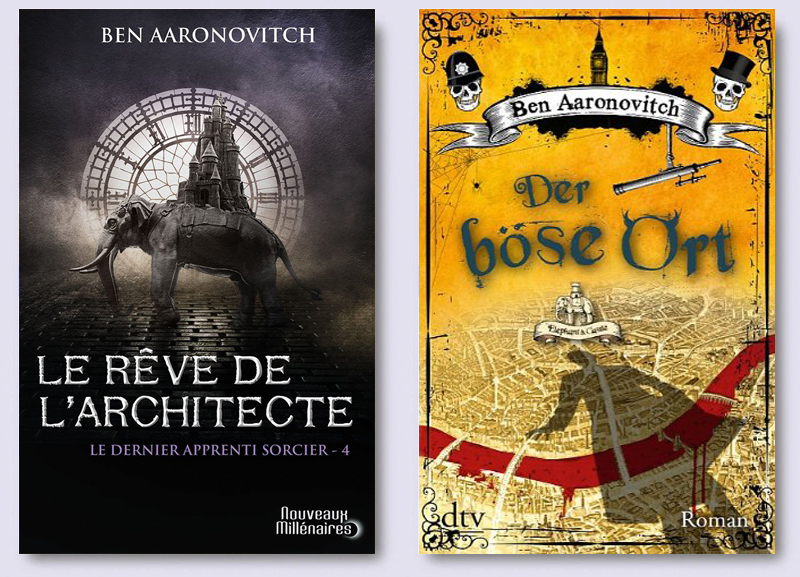 We're delighted to be able to share with you two great new covers for Ben Aaronovitch's BROKEN HOMES. The fourth in Ben's Peter Grant/Rivers of London urban fantasy series, BROKEN HOMES now has covers for the French and German editions!
Published already by Gollancz in the UK, BROKEN HOMES is due to be published by DAW in the US (Feb.2014), J'ai Lu in France (Feb.2014) and DTV in Germany (May 2014). Here's the synopsis…
A unique blend of police procedural, loving detail about the greatest character of all, London, and a dash of the supernatural.
A mutilated body in Crawley. Another killer on the loose. The prime suspect is one Robert Weil; an associate of the twisted magician known as the Faceless Man? Or just a common or garden serial killer?
Before PC Peter Grant can get his head round the case a town planner going under a tube train and a stolen grimoire are adding to his case-load. 
So far so London.
But then Peter gets word of something very odd happening in Elephant and Castle, on an housing estate designed by a nutter, built by charlatans and inhabited by the truly desperate. 
Is there a connection?
And if there is, why oh why did it have to be South of the River?
Full of warmth, sly humour and a rich cornucopia of things you never knew about London, Aaronovitch's series has swiftly added Grant's magical London to Rebus' Edinburgh and Morse's Oxford as a destination of choice for those who love their crime with something a little extra.