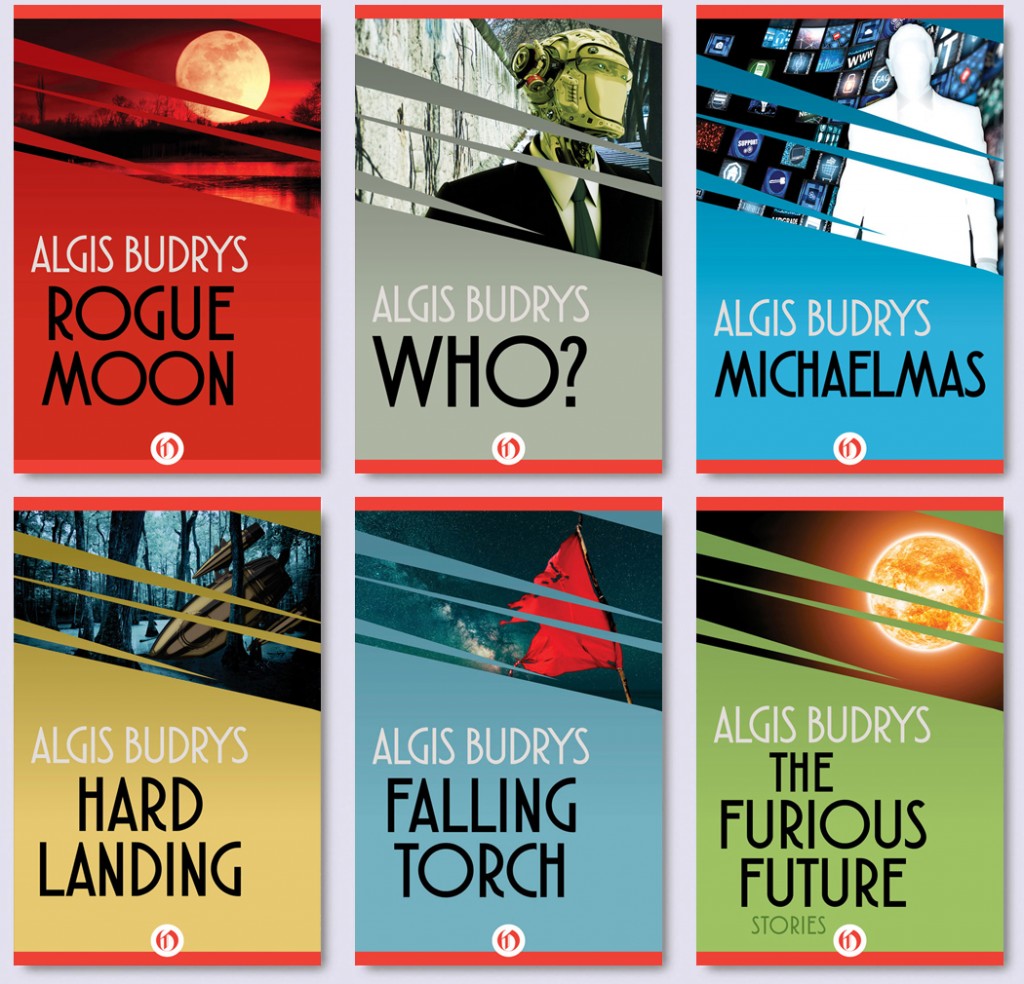 Today, Open Road Media publishes six books by Algis Budrys in eBook in the US, including his critically-acclaimed and award-nominated ROGUE MOON, WHO? and MICHAELMAS. The covers are above.
WHO? was adapted into a movie in 1973 (starring Elliott Gould and Trevor Howard). Here's the synopsis…
East and West have fused into separate superstates known as the Allied National Government (ANG) and the Soviet International Bloc (SIB). As the Cold War rages, brilliant scientist Lucas Martino works on a top-secret project known only as K-Eighty-eight that could alter the balance of world power. The project goes horribly awry at an Allied research facility near the Soviet border, and Martino is abducted. After several months of tense negotiations, he returns severely injured from the lab explosion, and under pressure from America, undergoes extensive reconstructive surgery. He has a mechanical arm. His polished metal skull — a kind of craniofacial prosthesis — contains few discernable features. Several of his internal organs are artificial. While his fingerprints are identified as belonging to Lucas Martino, they could be the result of transplant. Is he the real Martino? Or a technologically altered imposter sent by America's enemies for the purpose of spying and infiltration? Tasked with uncovering the truth, ANG Security Chief Shawn Rogers makes some shocking discoveries.
Narrated in chapters alternating between Rogers and Martino, Who? poses existential questions about the human condition.
ROGUE MOON, which is published in the UK by Gollancz as a SF Masterwork, is also due to be published in Germany by Heyne in July 2016 (covers below). Here's the synopsis…
A monstrous apparatus has been found on the surface of the moon. It devours and destroys in ways so incomprehensible to humans that a new language has to be invented to describe it and a new kind of thinking to understand it. So far, the human guinea pigs sent there in hopes of unraveling the murderous maze have all died terrible deaths. The most recent volunteer survived but is now on suicide watch. The ideal candidate won't go insane even as he feels the end approaching. Al Barker has already stared into the face of death; he can handle it again. But he won't merely endure the trauma of dying. Barker will die over and over — even as his human qualities are preserved on Earth.
With its cast of fascinating characters — like brilliant scientist Edward Hawks, who is obsessed with rebirth — Rogue Moon is a rare thriller that doesn't just make you sweat. It makes you think.
A number of Budrys's other books and novels are published in the UK by Gollancz's SF Gateway eBook program.